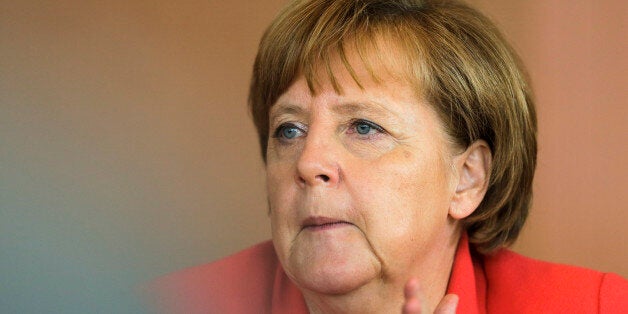 BERLIN, July 10 (Reuters) - The parties in Angela Merkel's coalition government sent conflicting signals on the latest reform proposals from Greece on Friday, underscoring the challenge facing the German chancellor before a pivotal summit of EU leaders this weekend.
Leading Social Democrats (SPD) welcomed concessions from Greek Prime Minister Alexis Tsipras on taxes, pensions, defense spending and privatization, saying the measures showed his government was finally getting serious about reform.
"This is a very important step forward, though it could have been taken long ago," Axel Schaefer, a top SPD member of parliament, told Reuters, urging an end to talk of a Greek exit from the euro zone, which he said would be "lunacy."
But senior lawmakers in Merkel's conservative bloc, many of whom are under pressure from constituents to cut Greece loose, questioned whether Tsipras could be trusted to enact reforms that he has long opposed and which Greeks overwhelmingly rejected in a referendum less than a week ago.
"I'm asking myself how seriously I can take these proposals when it was the government that campaigned against them," Ralph Brinkhaus, deputy parliamentary floor leader for Merkel's conservatives, told Reuters.
Hans-Peter Friedrich, a senior figure in the Bavarian Christian Social Union (CSU), went a step further, telling Reuters the proposals were "no basis for further negotiations."
"Greece needs a fresh start - with its own currency and with the good-hearted help of its European partners," he said.
According to sources close to Merkel, she remains determined to clinch a deal with Greece and avert a so-called "Grexit" which could badly tarnish Europe's image and her own legacy.
But cognizant of the deep skepticism in her conservative ranks and worried that Tsipras may not deliver on his promises, she has signaled that she will not do a deal at any price.
At a government news conference on Friday, her spokesman was guarded about the new Greek reform plans, declining to comment on them in detail, and making clear that Merkel could only go to the Bundestag lower house of parliament with a third bailout package if she was convinced Greece was serious about reforms.
Under the Greek plan, Tsipras has asked for 53.5 billion euros ($59.47 billion) from euro zone partners to help cover Greece's debts until 2018.
In exchange, Athens agreed to phase out tax breaks for its islands, hike taxes on shipping companies, cut defense spending and set a firm timetable for privatizations.
One of the most contentious issues in recent months has been debt relief. Backed by the International Monetary Fund (IMF), Athens has argued that the only way to get its debt -- which stood at 177 percent of GDP at the end of 2014 -- back on a sustainable path is with some form of restructuring.
Berlin has said a "haircut," or writing down the principal of the loans, would be illegal, but appears open to milder measures like an extension of the maturities of those loans. Germany has direct credit exposure to Greece of roughly 53 billion euros, but some economists believe the true cost could be tens of billions higher than that in the event of a "Grexit."
Merkel faces a delicate balancing act over the coming days.
She must push a hard bargain with Tsipras to ensure the backing of Schaeuble and other conservatives at home. But if she pushes too hard and a deal with Greece collapses she is likely to be blamed for causing a "Grexit" and the financial, economic and humanitarian chaos that could come with it.
French President Francois Hollande, who welcomed the latest Greek proposals as "credible and serious," has lobbied harder for a deal than Merkel, raising questions about how united Berlin and Paris truly are on the Greek question.
Were European leaders to back negotiations on a third bailout package for Greece at a summit in Brussels on Sunday, the Bundestag would have to vote, most likely on Wednesday, before talks could start.
A green light from the German parliament is probably not in doubt due to support from the SPD and opposition Greens. But if Merkel failed to get a majority of her conservatives behind her, it would represent a humiliating setback for the chancellor.
In the last Bundestag vote on a Greek bailout extension in February, a record 29 conservative lawmakers rebelled, while another 109 signed statements saying they had voted for the extension with reservations.
Eckhardt Rehberg, a budget expert for Merkel's Christian Democrats (CDU), told Reuters that constituents in his electoral district in the eastern state of Mecklenburg-Vorpommern were overwhelmingly against further aid for Greece.
"I can barely find anyone who still supports helping Greece," he said. "Tsipras and (former finance minister Yanis) Varoufakis, have destroyed all trust. No one believes them anymore." ($1 = 0.8997 euros) (Additional reporting by Holger Hansen, Matthias Sobolewski; Writing by Noah Barkin and Paul Carrel; editing by Philippa Fletcher)
Calling all HuffPost superfans!
Sign up for membership to become a founding member and help shape HuffPost's next chapter