Pedestrians' smartphone habits have become so dangerous that a German company has put lights in the ground to protect them from traffic accidents.
Stadtwerke Augsburg, a privately owned utilities company in the southern city of Augsburg, installed LED lights along the curbs at two tram stops in the city last week. The lights flash red whenever a vehicle is approaching, functioning as a traffic light warning pedestrians not to cross the street.
"We realized that the normal traffic light isn't in the line of sight of many pedestrians these days," Stadtwerke Augsburg employee Tobias Harms said, according to a video published by daily newspaper Augsburger Allgemeine. "So we decided to have an additional set of lights. The more we have, the more people are likely to notice them."
The project is being operated on a trial basis, Stadtwerke Augsburg said in a press release. It did not mention whether it had plans to build more curb lights across the city.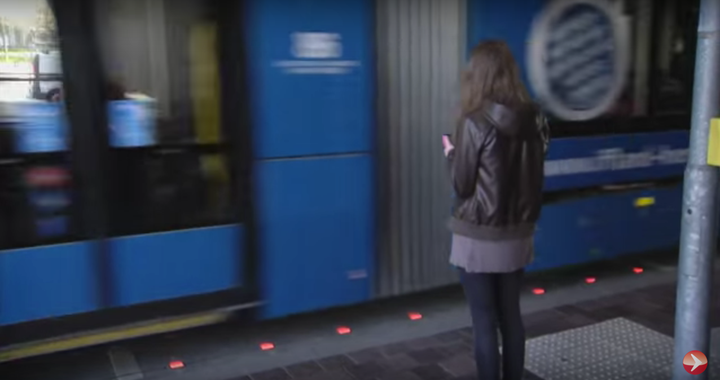 The program's launch comes one month after a 15-year-old girl died after getting hit by a tram in Munich, as she crossed the road staring at her smartphone with headphones plugged in, according to German daily Süddeutsche Zeitung.
About 1 in 6 people cross the road distracted by their smartphones, according to a survey published earlier this month that was conducted among 14,000 pedestrians in Amsterdam, Berlin, Brussels, Paris, Rome and Stockholm. Offenders included people who crossed the roads with children, the report noted.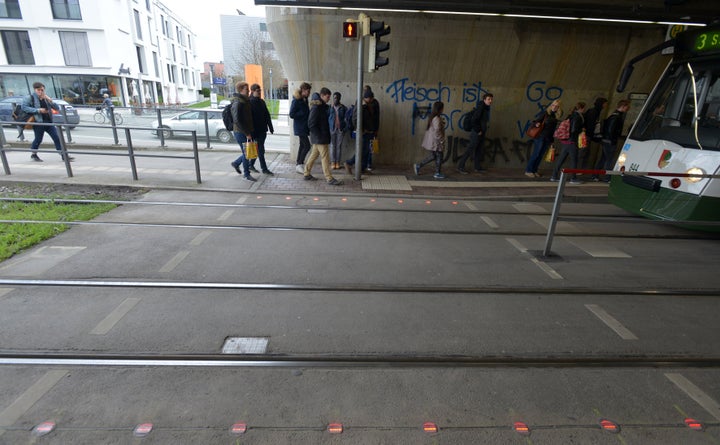 Other countries have also installed measures to protect smartphone users on the streets. In 2014, a company demarcated two sides of a 100-foot stretch of pavement in Chongqing, China, separating normal pedestrians from those with cell phones, in a satirical warning against dangerous cell phone usage. A cell phone company in Antwerp, Belgium, and artists in Stockholm, Sweden have also constructed similar joke warnings to signal the very serious danger of being preoccupied with smartphones on the street.
Last December, a woman drowned to death in Wenzhou, China, after walking into a canal while preoccupied by her cell phone.
Pedestrians who are found texting on crosswalks in the city of Rexburg, Idaho, also have to pay at least $101.50. Last month, lawmakers in New Jersey introduced a bill seeking to punish people who walk and text on the road with a $50 fine, 15 days in jail, or a combination of the two.
Inattentive pedestrians glued to their smartphones have become such a common occurrence in Germany that dictionary publisher Langenscheidt made the word "smombie" -- "smartphone zombie" -- the country's official Youth Word last year. A smombie is defined as "someone who looks fixedly at his smartphone like a zombie running through the area," according to the German Youth Word's official website.
Read more:
Support HuffPost
The Stakes Have Never Been Higher
Related
Popular in the Community