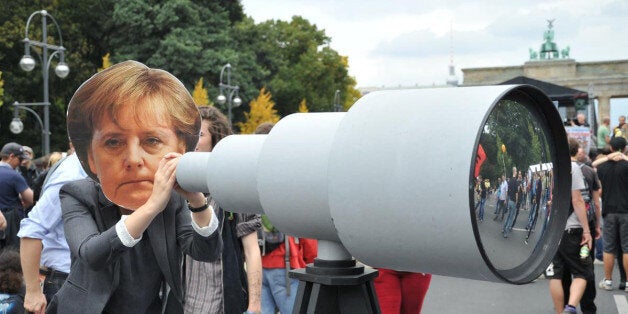 The German journalists seated before us shook their heads in disbelief. Why didn't we, their professional counterparts, understand their outrage over NSA surveillance in Germany?
They were shocked the United States would spy on its close ally, but perhaps equally astonished by how the American public is neither upset nor particularly surprised by the scandal. The news of tapping Chancellor Angela Merkel's phone certainly did not resonate in the States with nearly the same force as in Germany.
The simplest explanation for American nonchalance did little to allay their outrage: The U.S. government spies on its citizens, and nearly half of Americans believe that's fine. Why should we care or be surprised they do the same to you? American exceptionalism leaves little room for empathizing with foreign distrust.
As a journalist reporting from Berlin on an Arthur F. Burns fellowship, a program focused on German-American relations, I knew the official response to the spying revelations. Berlin expelled the CIA station chief, a delegation of German diplomats left Washington shamefaced without a serious promise from the Obama administration, and German officials used the event to rattle sabres in domestic politics. (German media later reported German foreign intelligence eavesdropped on calls by John Kerry and Hillary Clinton when each served as secretary of state, which received less attention.)
Yet in Berlin, public anger over data collection runs deeper than I expected. Unlike in the United States, wariness of how the government uses personal information affects the way many people interact with technology in daily life.
A popular narrative suggests German attitudes toward data collection are shaped both by recent history and cultural differences. Stasi-era spying is fresh in the public memory, and as a culture they place a greater premium on privacy.
I grew up in Silicon Valley and lived most of my adult life in New York City as part of the maligned Millennial generation. My contemporaries treat personal devices as proverbial extra limbs. Allowing services to track your location and log details about your health, relationships, and lifestyle provides convenience. In a world that demands immediate responses, tools such as online shopping, step-by-step mapping, and integrated address books are crucial for many young professionals.
In Berlin, it's a different story. The German capital is bustling with young, tech-savvy people who are reluctant to give up their information so easily. More often, mistrust trumps convenience.
Cash is king in Germany, partly due to suspicions surrounding the paper trail created by credit cards. Shoppers fork over euro notes even for large purchases at international supermarket chains and electronics stores, so it seems unlikely that mobile apps or contactless payment programs will capture the market.
On social media, more of my German friends use fake names and personas. Until recently, email addresses were more likely to include pseudonyms than the formulaic firstname.lastname@mailservice.com.
When information is available online, it's less likely to be reliable. If a business lists its hours as 9-5, there's a good chance it will be closed when you arrive at ten or not exist at all. I generally double Google's estimates for biking and walking around Berlin.
Franziska Holzschuh, a reporter for the German newspaper Nürnberger Nachrichten, has been working in Philadelphia for the past two months. She was shocked to see how easily one can access personal information in the United States.
"If I want to learn something about a person, I type his name into a search engine and find out a lot about his life: his address, telephone number, occupation and familial relations," she wrote.
We take this for granted. For example, the U.S. media industry encourages individual journalists to build "personal brands," often resulting in a race to the bottom of shameless self-promotion. In Germany I was surprised to find only the most prominent journalists yield any search results. Most remain incognito and can't be picked out by a headshot and self-supplied byline.
The difference in attitudes also become clear in news reports.
Holzschuh notes how when the U.S. media report on car crashes, homicides, and other crimes, they distribute the identities and photographs of all parties involved. In contrast, television reports in Germany blur faces of the accused. Although innocent until proven guilty is the law of the land in the United States, the court of public opinion has no such provision.
And if the person turns out to be innocent?
The shameful New York Post cover that incorrectly implicated two students in the Boston Marathon bombings comes to mind. One of the men said he was afraid to leave his home for days for fear of public backlash. The two men sued the Post and recently settled the lawsuit on undisclosed terms.
Do Americans value privacy less? We are stereotypically loud, brash, and bent on public recognition. Most of my friends are skeptical of data collection and aware of long-term implications, but don't foresee tangible consequences for their own lives. Some discuss the merits of using different messaging services or avoiding notorious data-driven businesses like Google and Facebook. Yet few follow through on taking any practical steps to avoid it.
Friends don't spy on friends. But until American attitudes reflect this maxim, it's not surprising when we do.
Clare Richardson is reporting from Berlin on an Arthur F. Burns fellowship.
Related
Popular in the Community