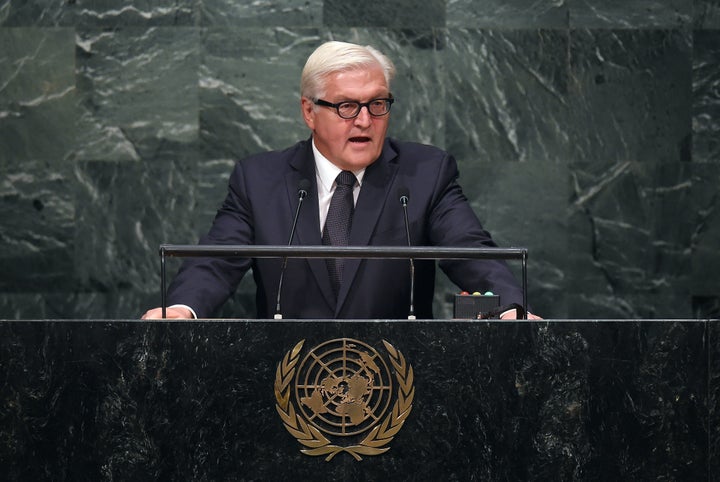 UNITED NATIONS -- German Foreign Minister Frank-Walter Steinmeier, whose country has spearheaded Europe's response to its ongoing refugee crisis, demanded in a speech before the U.N. General Assembly on Thursday that the international community "crawl out of [its] diplomatic trenches" to provide help for those seeking refuge.
He pushed for a pan-European refugee solution. Germany has taken in 600,000 refugees so far -- 100,000 in the last week alone, he added -- and one country cannot shoulder the burden alone.
"The world has become a village," Steinmeier said. "If that is so, then we're all neighbors, in which case I would advise us to act as good neighbors."
"The world has become smaller but the crises are no fewer," he added. "And it is time for us to reaffirm once again that we Germans want to be a people of good neighbors, near and far."
Steinmeier also urged the international community to forge a political solution to the civil war ravaging Syria through U.N. Resolution 2139. Last year, the U.N. Security Council unanimously adopted 2139, which allows safe humanitarian assistance delivery into Syria and allows the "unhindered evacuation" of all Syrians who wish to leave the country. 
"Slaughter knows no end," he said. "We will only stop it by acting together. We have to end the brutality of the [Bashar] Assad dictatorship, we have to break control of the Islamic State and silence the guns in Syria, and provide for humanitarian access."
Germany is at the epicenter of the refugee influx that has escalated across Europe in recent months and left many countries fumbling for a response. Merkel's administration has been thrust into the spotlight for its leadership role in the crisis. In his speech, Steinmeier yet again underscored the need for the world to take collective responsibility.
So far this year, more than 520,000 people have crossed into Europe, according to the International Organization for Migration. Germany alone expects to receive upwards of 1 million refugees and asylum seekers before the end of the year.
The country has proven itself particularly accommodating to those seeking refuge while some of its European counterparts work to shut their borders. Germany disbanded the Dublin regulation -- a European Union law stating that people must claim asylum in the country in which they first arrive -- for Syrians, ostensibly allowing any Syrian to apply for asylum in Germany.
Merkel beefed up a German assistance package last week that will spread approximately $4 billion across the country next year to manage the refugee influx. All German states will be allocated 670 euros per refugee or asylum seeker. Also included are additional funds for education, housing assistance and mechanisms to streamline asylum processing.
Experts explain that Germany is leveraging its pan-European leadership to step up to the plate more globally.
"To create a European consensus on asylum (that will pressure others to share the burden with Germany), [Merkel] needs to convince European partners that this is a temporary situation," said Magdalena Kirchner, associate fellow at the German Council on Foreign Relations. As Kirchner predicted, Steinmeier announced that Germany will increase its support toward Syria's neighbors.
Although Germany will likely not eclipse the involvement of countries like the United States, Kirchner explained, "it could take a role as a mediator between conflict parties involved," such as Russia and the U.S., or Turkey and the Kurds.
Some attribute Germany's sensitivity toward refugees' plight to Merkel's own place in history. "She grew up and came into politics as a young woman in East Germany and she's sensitized, in a way many others in Germany aren't, from the experiences of 1949, when many refugees from the eastern areas of pre-war Germany migrated westward," explained David Cameron, director of EU studies at Yale University.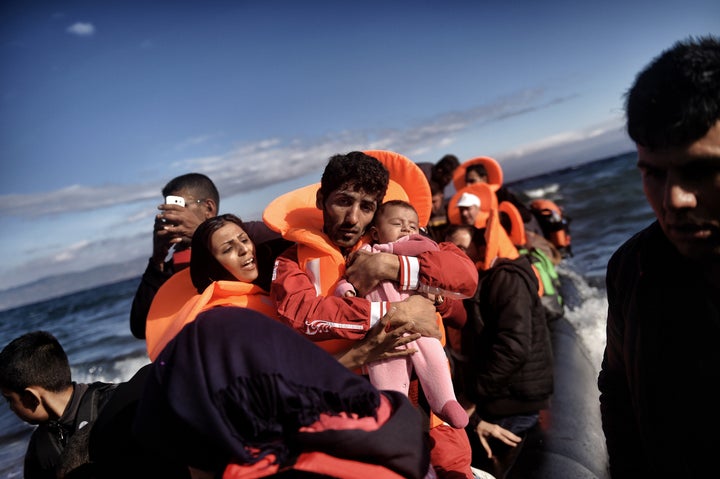 Germany also continues to face opposition from other European countries like Hungary and Slovakia, which have been fiercely against taking in refugees. The vast majority of refugees coming from the Middle East are Muslim, which is unsettling to some countries staunchly rooted in Christian tradition.
"We don't have any mosques in Slovakia, so how can Muslims be integrated if they are not going to like it here?" Slovakian Interior Ministry spokesman Ivan Netik told the BBC in August.
REAL LIFE. REAL NEWS. REAL VOICES.
Help us tell more of the stories that matter from voices that too often remain unheard.