It would be like the Chicago Cubs closing in on the World Series -- the baseball world would be gaga!
That's what happened with the national football team of Wales, managed by Chris Coleman, and inspired by Real Madrid's Gareth Bale, when this little principality of 3 million people won 3-1 over Belgium, FIFA's No. 2 ranked team. The win gets them to the semifinal (July 6) of Euro 2016, against Portugal's CR7 and Pepe, football's bête noire -- and just one step from an unprecedented final against hosts France or world champs Germany.
All over the world, people are going gaga for the underdog team with the fierce Welsh dragon crest on the team's chests. After the Belgium win, Twitter went wacky for Wales, a country that had never even qualified for the Euro tournament previously.
Actor Iwan Rheon, who plays that Game of Thrones' uber miscreant Ramsay Bolton, tweeted: "Cymru am byth!!! Anhygoel! (Wales forever. Amazing.)"
Matthew Rhys, who adroitly plays an undercover Soviet spy in The Americans, tweeted: "Neithiwr, fe grëwyd hanes. - (Last night we created history.)" He also retweeted soccer superstar Gareth Bale's post: "The dragon on my shirt, that's all I need."

That great Welsh performing icon, Sir Tom Jones, also exclaimed: "Congratulations Wales, what a fantastic game, so proud of you all!" And, comic genius Rob Brydon (Gavin & Stacey) posted: "So proud of those boys. So proud to be Welsh. Just incredible."
And Welsh soccer pundit Robbie Savage, who previously played for the national team, exulted: "Wake your kids up something special is happening."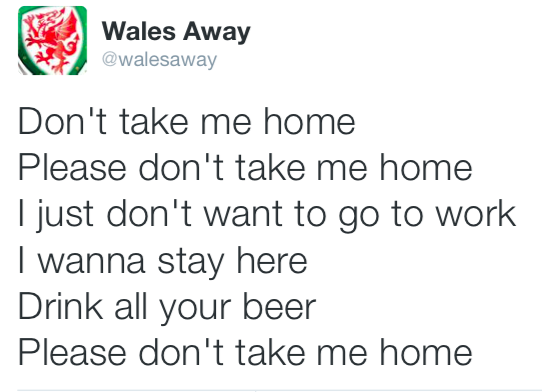 I've been an Angeleno longer than I lived in Wales, but my early years there imprinted the love of poetry whispered from the heart of the green, green grass in the Valleys, and of things mystical. And this run by Wales in Euro 2016 is truly magical, a sporting story that is propelled by a brave, mostly no-name team, and inspired by the Welsh national anthem that is sung before, during and after games.
When the hairs rise up on your skin, people watching the televised Wales games ask, What's that song they're singing?
In Welsh, it's called Hen Wlad Fy Nhadau, and in English, Land of My Fathers. In 1905, Hen Wlad Fy Nhadau became the first national anthem to be sung at the beginning of a sports event. As an Anglo-Welshman, who grew up close to the border, I knew the song in English, and it's pretty awesome -- there's a English version by legendary American vocalist/actor Paul Robeson that just rocks. The chorus in English goes as follows:
"Wales! Wales! Land of mist and wild,
Where'er I roam, Though far from my home,
The mother is calling her child."
The chorus in the original Welsh goes:
"Gwlad, gwlad, pleidiol wyf i'm gwlad.
Tra môr yn fur i'r bur hoff bau,
O bydded i'r hen iaith barhau."
So when my dad Ashley Sr. took this little nipper to his first international soccer game in Cardiff, where England were visiting to play Wales, I heard 30,000 Welshman sing the anthem in Welsh as one, and I was just blown away. The soaring vocals and overwhelming passion of the people surrounding me, in the cathedral of Ninian Park, left an indelible impression on my heart and soul. This is when sport transcends the human condition. I've heard the anthem many times since at Wales rugby games, but Euro 2016 is the first time any of us have heard it gloriously sung at a Euro soccer tournament.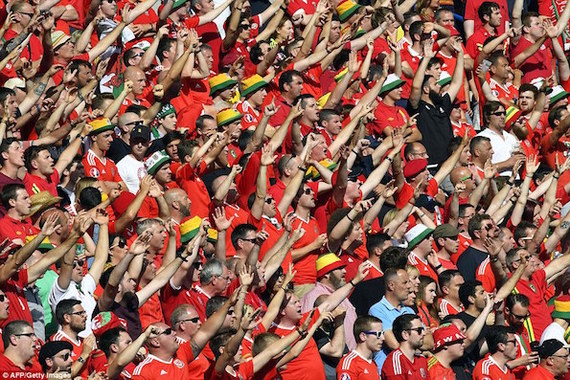 Euro 2016 has featured 24 teams, including the continent's usual "big name" teams (Germany, France, Belgium, Spain, Italy, England) and a stellar cast of minnows, including Iceland, with a population of 329,000, who shocked former World Cup winners England and gave the fans and viewers their eye-opening "hand clap" celebration.
But for me, the Welsh anthem has now become symbolic. And it, along with the hashtag of the Football Association of Wales -- #TogetherStronger -- underscores what the players on the pitch are achieving. Let's face it, this tournament has been one for the minnows from heroic but now KO'd Iceland to still breathing Wales. It's been about lesser nations being competitive, playing as a team and not depending on superstar players to lead the way.
Yes, one of the favorites will most probably still hoist the cup on July 10 -- perhaps one of two goalkeepers, either France's captain Hugo Lloris or Germany's captain Manuel Neuer whose teams play each other on July 7 in the other semifinal. Or even Portugal's Ronaldo. Then again, it could be magnificent Wales captain Ashley Williams, as stout as a Stonehenge rock at the heart of his Welsh rearguard.
Stay tuned. Or as best-selling, inspirational author Malcolm Gladwell says, "The underdog winning is the romantic position."
So, here's to more romance being written. And, English fans like comic Jack Whitehall are now welcome to support Bale and Wales. Because as Game of Thrones' Iwan Rheon proclaims, "Cymru am byth (Wales forever)!"
REAL LIFE. REAL NEWS. REAL VOICES.
Help us tell more of the stories that matter from voices that too often remain unheard.