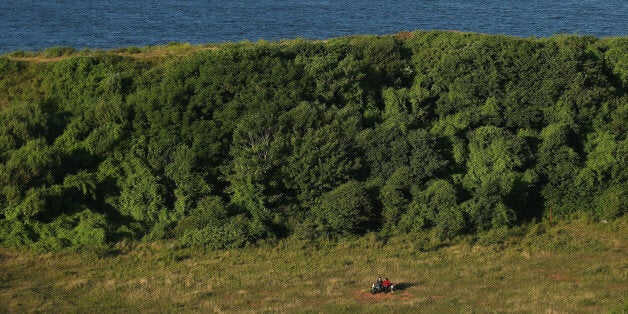 BERLIN, May 2 (Reuters) - The danger of unexploded World War Two aerial bombs lurking in the soil still haunts Germany 70 years after the war ended on May 8, 1945, exploding without warning or surfacing after frost.
More than 2,000 tonnes of live bombs and munitions are found each year in Germany, even under buildings. They are defused or detonated in controlled blasts but not before causing disruption, evacuations or sometimes even death.
"The older they are, the more dangerous they become," said Detlef Jaab, a Berlin police munitions expert who has defused thousands of the devices over 23 years.
"It's a dangerous job but there's a lot of variety and freedom to make decisions, whether a bomb can be defused or is too deteriorated and has to be detonated where it's found."
The sounds and smells of World War Two, which Germans will mark next week, come back to life at a police blasting ground in Berlin's Grunewald forest eight times each year when Jaab's squad blows up stockpiled munitions.
Air raid warning sirens wail before the earth in the high-security area erupts in successive explosions. The ground shakes, red-hot shrapnel sometimes flies through the forest and smoke wafts over the site.
"There are still an estimated 2,500 bombs buried in Berlin and many more artillery shells. Since 1948 we have found 1,395 bombs," said Jaab.
About 56 tonnes of unexploded ordnance were retrieved last year in Berlin, the prime target of British and American aerial bombs that was further devastated by Soviet artillery and grenades during the climactic Battle of Berlin 70 years ago.
The country was pummel by 1.5 million tonnes of bombs from British and American warplanes that killed 600,000 people. German officials estimate 15 percent of the bombs failed to explode, some burrowing six meters deep.
Many are found by city planners studying war-era aerial maps, construction workers or people digging in gardens. Farmers sometimes find bombs weighing up to 4,000 pounds pushed, like boulders, to the surface by the process of frost and thaw.
"The dangers lurking grow more acute as time passes," said Wilfried Mueller, who oversees the removal of munitions on federal and military properties from his Hanover headquarters.
Mueller said while some of the bombs can be found by studying aerial photographs and looking for signs: "Dredging canals, rivers, lakes, seashores or waterways is very difficult. Unexploded bombs are everywhere."
Germany's Luftwaffe began bombing civilian targets early in the war before the Allies responded with aerial attacks that destroyed many German towns and cities.
Three police explosives experts in Goettingen were killed in 2010 while preparing to defuse a 1,000-pound bomb and last year a construction worker in Euskirchen was killed when his power shovel struck a buried 4,000-pound bomb. In 1994 three Berlin construction workers were killed in a similar accident.
In 2012 a fireball lit up the sky in Munich, causing millions of euros of damage to 17 buildings, when authorities had to detonate a deteriorated 500-pound bomb. In April this year a 1,000-pound bomb ripped a three-meter-deep hole in a motorway near Offenbach.
Hardly a week goes by without a bomb being found, often forcing thousands to evacuate their homes or offices. Germans are often unperturbed by the disruption, taking it in their stride as a fact of everyday life.
"Germans have developed an obsession about security and safety yet when it comes to World War Two bombs that are found just about everywhere we just accept it," said Jessica Gienow-Hecht, an historian and war scholar at Berlin's Free University.
"It touches on Germany's responsibility and war guilt," she added, saying she grew up playing in bomb craters and was matter of factly told about bomb damage by realtors while looking to buy a house. "It's part of what we did and you can't undo it." (Editing by Janet Lawrence)
Calling all HuffPost superfans!
Sign up for membership to become a founding member and help shape HuffPost's next chapter