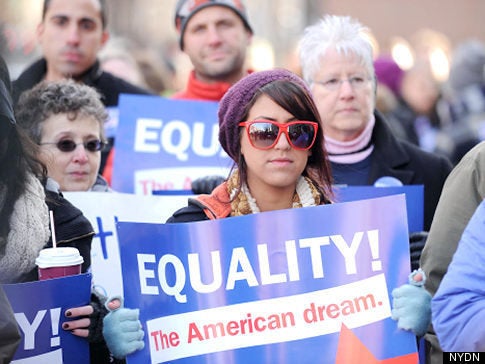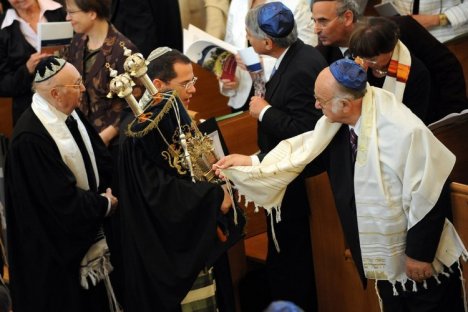 One year later to the day, in a modest purple-stucco building on Pico Boulevard in Los Angeles, that same cantor, 31-year-old Juval Porat, will be installed as the newest member of the clergy at Beth Chayim Chadashim (BCC), a congregation whose very existence made history several years before he was born.
BCC is no ordinary synagogue and Porat no ordinary cantor. Each embodies a liberal modern Judaism that remains deeply and passionately rooted in tradition. Each has succeeded in creatively integrating seemingly incongruous facets of a complex identity.
Founded as a spiritual home for gay and lesbian Jews in 1972, Beth Chayim Chadashim -- whose Hebrew name means House of New Life -- was the first LGBT congregation to be accepted by a mainstream religious movement (formally inducted into the Union of American Hebrew Congregations in 1974). No strangers to the media spotlight, BCC and its members have been featured in countless news reports, most recently in connection with the long and still unfinished fight for marriage equality in California and at the federal level. Led by Rabbi Lisa Edwards since 1994, the Reform congregation comprises nearly 200 member households ranging from individuals and couples to multigenerational families.
As a member myself for more than 10 years, I can attest to the congregation's "big tent" of welcome -- I was not yet Jewish when I joined. Our eldest member, a retired L.A. public school teacher and out-and-proud lesbian, will turn 90 this year. Our youngest, just two weeks old, is the son of a married heterosexual couple; nearly 25 years ago his mother was herself one of the first babies born into the then-fledgling BCC community. While first-time visitors may find their way to our door through a Google search for "gay synagogue," long-timers stay for the congregation's vibrant ruach (spirit) and liturgy, brilliant and compassionate clergy, and educational programs for all ages. For years our synagogue has been a top choice for rabbinic interns regardless of their sexual orientation, probably because our raison d'etre, thanks to dramatic progress in the fight for gay civil rights, today transcends that singular category.
Juval Porat transcends categories, too. An Israeli and a German, a scholar and a musician, he finds inspiration in Talmud and on iTunes and is as comfortable on the bima (altar) as he is gliding on his bicycle through the streets of his West Hollywood neighborhood. Fluent in German, English, and Hebrew, he can be shy in personal conversation yet remarkably candid on his blog, which also features clips of his music (both religious and secular). His outward appearance -- that of a hip young Berlin architect, trim and clean-shaven, dressed in form-fitting shirts and snazzy eyewear -- belies a traditional upbringing and years of study at a Yeshiva in Israel.
It was in fact only after embarking on a career in architecture that the gifted tenor and multi-instrumentalist, having freelanced as a cantorial soloist in congregations around Germany, shifted gears and decided to pursue cantoring professionally. In 2004 he enrolled at the Abraham Geiger College in Berlin, becoming the first-ever graduate of its newly formed Jewish Institute of Cantorial Arts. (A cantor is the musical prayer leader of a congregation. Like rabbis, they go through years of seminary training, including at least a year in Jerusalem, before being ordained.)
How, you might ask, did this classically trained European cantor end up in our tiny storefront shul in L.A.? It all started with a chance meeting two years ago during the Berlinale film festival. A vacationing member of BCC who was serving on its search committee for a new cantor attended a talk by American filmmaker Sandy Dubowski at a Berlin synagogue. There he encountered Porat who was just wrapping up his cantorial studies.
Despite a resurgence of Jewish life in Europe, the demand for full-time cantors there remains relatively low. Though Porat had never heard of BCC, and moving to L.A. had never been on his radar, he was intrigued by an invitation to audition for a gig as guest cantor for BCC's High Holiday services in the fall of 2008. The audition was conducted via Skype, Porat singing and playing guitar one night in his Berlin apartment for the committee that convened in the early morning hours at the synagogue back in Los Angeles.
That Internet date went well and Porat was soon winging his way to LAX for his first-ever visit to the U.S. and to Beth Chayim Chadashim. The young cantor found a welcoming new community in Los Angeles, a liberating sense of freedom and wholeness. Simply getting his California driver's license turned into an exhilarating spiritual journey.
Rabbi Edwards and her congregation, meanwhile, found an energetic new clergy member with whom to move forward into an exciting future. To accommodate its growing membership, including 20 children under the age of 16, BCC recently completed a capital campaign and purchased a larger building just west of its current site. Renovation will soon get underway and the synagogue will open its new home -- and an expanded children's education program -- in 2011.
The Jewish community in Germany has also been growing, part of a larger revival of Jewish culture extending deep into Central and Eastern Europe. Some 70 years after the near-total extermination of Europe's Jews, these are unarguably positive developments. But Jewish community in Europe remains far more traditional -- and far less inclusive -- than in the United States. For young, out, gay Jews, the options are limited.
The diversity of Jewish life in America is unrivaled anywhere in the world, and Los Angeles has been a particularly hospitable home for Jews across the spectrum. Here, LGBT Jews find a warm reception not only at BCC, but at any number of local Reconstructionist, Reform, Conservative, and even Modern Orthodox synagogues. Here, LGBT Jews have earned the respect of Jewish officialdom, from the Southern California Board of Rabbis (whose current president, Rabbi Denise Eger, a lesbian and founder of Congregation Kol Ami, was BCC's first full-time rabbi) to Hebrew Union College and the local Jewish Community Foundation (which has funded gay causes from Nechama in the 1980s, started by BCC as the first Jewish social service program for people with HIV and AIDS, to JQ International in 2007, a nonprofit social network and educational organization for people in their 20s and 30s). Here, LGBT Jews are woven into the very fabric of Jewish life.
Heading down the central aisle of Germany's largest synagogue after his ordination last year, newly minted Cantor Porat carried a Torah scroll that had survived Nazi efforts to destroy the Jewish people. In his kippa and tallis (the traditional skullcap and prayer shawl), he paused frequently along the way so that those gathered to commemorate this important day might reach out from the pews to touch their own tallis to the sacred scroll.
The scene on Pico Boulevard will be similar, a bit cozier perhaps, and enlivened by BCC's special flair for celebration.
This time the scroll the cantor holds will be one that came to BCC in 1975, a precious remnant of a once-flourishing Jewish community in Chotebor, in the Czech Republic. A few years ago, members of BCC worked with a sofer (a scribe) to repair the worn and broken letters of part of the scroll. When my own turn came to dip the quill pen and shape one letter on the parchment, I felt, as surely as my friend Juval does, that Jewish life must constantly be reinscribed -- refreshed and reinterpreted -- community by community, generation after generation, one hand and one voice at a time.
Juval Porat will be installed as Cantor of Beth Chayim Chadashim, 6000 W. Pico Blvd., Los Angeles, during Friday night services, June 18, 2010, at 8:00 p.m.

The 20th World Conference of GLBT Jews, co-founded by BCC in 1980, will take place on the campus of UCLA, August 13-15, 2010.

Read my 2005 article on the history of BCC's Czech Torah scroll.
Popular in the Community