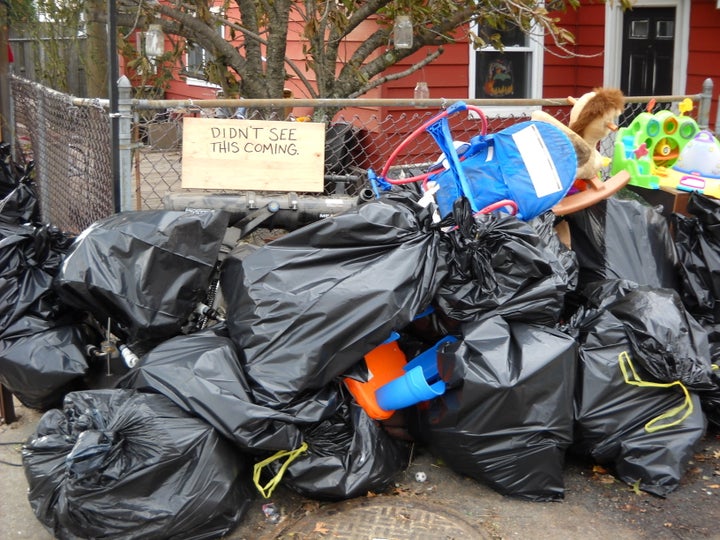 Walking the streets of Gerritsen Beach, a peninsular neighborhood in southeast Brooklyn that was devastated by Hurricane Sandy, a visitor carrying a notebook and pen is likely to be mistaken by beleaguered residents for a representative of the Federal Emergency Management Agency, or an insurance claims adjuster -- people whose presence is desperately wanted.
"This here is a mini-Katrina," said Anthony Testaverde, special assistant to state Sen. Marty Golden, who represents the area. Testaverde was sitting at a desk in Resurrection Church, which had been turned into a makeshift shelter, supply depot and food service center. A couple dozen residents were sleeping on cots set up inside the auditorium, but Testaverde said that most people didn't want to leave their homes, despite the lack of power and heat -- even with temperatures dropping.
According to Testaverde, New York City officials have been helpful, bringing in cots and water and lending a MTA bus. But residents complained of being neglected by relief agencies. They had praise for the police and fire departments, but several asked pointedly where the Red Cross and FEMA were, despite occasional reported sightings. (Testaverde described searching houses with a FEMA employee; in one home, he said, they discovered a man who had drowned.) And everyone seemed to agree that City Hall had erred badly in designating Gerritsen Beach -- which is surrounded by water on three sides -- as part of Zone B, meaning that evacuation was not required.
"This should have been an A zone," Testaverde said. "Whenever you get storms, any type of storms, there's always water."
Dennis Olsen, who lives in the community's new section north of the Gotham Avenue Canal, told The Huffington Post, "It seems like Gerritsen Beach is the last neighborhood on Earth."
"As far as City Hall goes, this neighborhood doesn't exist," he said, though it is worth nothing that photographs of Mayor Michael Bloomberg visiting the area are online at the neighborhood's news and events website. Olsen and others complained of power outages even during less dire times. "It's been going on for at least 20, 25 years," Olsen said. "ConEd doesn't do the job it's supposed to do for this neighborhood."
"It feels like I'm living in 1812," said neighbor Kenny Cardone, who was keeping his house warm by boiling pots on the stove -- "lighting it with a match, the old-fashioned way." Olsen and Cardone warned ominously that conditions were far worse in the neighborhood's old section, which they likened to a zombie film.
Down in the old section, south of the canal, the contents of basements and first floors were bagged, stacked and piled outside houses. A sanitation truck maneuvered through the cramped, sidewalk-less streets, picking up only "bulk" trash—furniture, appliances and structural materials. Regular garbage had to wait.
"It's total devastation," said the driver of the truck. "Everybody's house got f***ed up," another sanitation worker said.
"It was like Niagara Falls when it came in here," said Matthew Walker, a 42-year resident, of the storm surge. "We tried to get out, trek up the block, but it was no use. We rode it out on the second floor." Walker's father-in-law, who drove up from Florida with a generator and gasoline, bought the house in 1970 and said he had never seen a flood like this.
Inside houses, water level marks could be seen some seven feet high on walls. The pungent stench of seawater mixed with sewage, oil and fungi was thick. "People found fish in their basements," Walker said. "Fish from the sea."
Like many residents, Walker lost his car to the irreparable damage caused by seawater. Gerritsen Avenue was lined with inert automobiles, some deposited at awkward angles by the receding flood, the inside of their windows heavy with condensation. In an area with limited access to mass transit -- the BM4 and B31 bus lines run down Gerritsen Avenue, but the closest subway is in Sheepshead Bay -- people rely on their cars. Now, the lucky ones whose vehicles survived are driving as far as Pennsylvania to get gas.
"The bottom line is if Bloomberg had told us to leave ..." said Dana Ryan, trailing off as she emptied her home of ruined possessions. "He did not tell us to prepare. Even the last storm [Irene], they gave us a heads up. We did not get one iota of anything." Ryan recounted how her son, whose newborn child had just been released from the ICU, brought his baby home in the belief that the neighborhood would be safe. As the water poured in, he had to escape with the bassinet held over his head.
Now, Ryan worried about looting. She had heard that people were robbing damaged houses, even ripping into disabled refrigerators to extract Freon, which they could sell. NYPD were out in force in the area on Saturday, but there were also rumors -- unconfirmed by police, and reminiscent of stories from earlier storms -- of criminals posing as first responders to gain access to residences.
Ryan said residents were considering a class action lawsuit over the city's failure to order an evacuation or give adequate warning. As time goes on, she said, the hardships are increasing. "It's not like anybody in Gerritsen Beach doesn't live week-to-week," she said.
Lauren Slavin said she had to quit her job as a perfume saleswoman at a nearby mall, having lost all her clothes and shoes in the flood. "How could I be friendly?" she asked, taking a break from emptying her home of everything it had contained: couches, stereo, decorations. Inside, her husband Frankie summarized the damage.
"That wall is buckling, that window's cockeyed," he said. "I think it's totaled." A level confirmed that the house was tilting significantly. The Slavins bought it 22 years ago; there is $9,800 left on the mortgage.
Lauren, who mourned the loss of a home she was so close to owning, didn't expect much from the insurance company: She and her husband hadn't heard back from the company since Frankie got through on the phone on Tuesday.
"They said, 'I'll email you,'" Lauren recounted. "I have two computers underwater, how are you going to email me?"
A message from FEMA suggested that the agency would be able to provide the couple with two months' rent, but Lauren wondered whether she could find a place that would allow her to bring her dog. Another animal, a parrot, died during the flood -- when she and Frankie made an abortive attempt to move their cars to higher ground, wading through waist-high water and dodging floating debris -- and she was adamant about keeping her surviving pet.
"We need gas, and first aid stations," said Louis Ruperto, who stayed behind to protect his property when his family evacuated. Subsisting on one or two meals a day of canned goods, Ruperto was waiting for FEMA and his insurance company. "The temperature is going to start dropping, and I'm afraid my water pipes will freeze," he said. He suspected that his house had shifted in the flood; the doors upstairs no longer close. "Gerritsen is like it doesn't exist," he said, "and the longer we stay here the uglier it's gonna get."
For all the bleakness, there was a robust response being coordinated and carried out by the community. Gerritsen Beach is home to Brooklyn's only remaining volunteer fire company, affectionately known as the Vollies, who worked to rescue people during the storm and are now providing food, clothes and functioning power outlets out of their headquarters.
But the chief of the Vollies, John Czap, sounded changed by the storm: For the first time, he's considering leaving the neighborhood, maybe moving to Virginia. He's 65 years old, retired and living on a pension, and he thinks his house is beyond saving. From the outside, he pointed out, it looks more or less untouched -- inside it's a ruin. FEMA has offered a low-interest grant, but Czap doubts he could afford to take even that. He plans to sell his property as it currently stands: Let someone else tear down the house and start over.
"There are a lot of us that are concerned about this," Czap said, meaning the possibility of future storms. "Neighbors are trying to take care of each other as best we can, but there's only so much we can do."
*************************
The Huffington Post is eager for insights from our community, especially people with experience in power, infrastructure and engineering, on the adequacy of emergency preparation in advance of Hurricane Sandy, and the degree to which past disasters have informed adequate planning and construction. Please send a note to sandytips@huffingtonpost.com with insights and suggestions for the important questions that need to be asked of relevant private sector and government officials, and point us toward stories that need to be pursued.

Related
Popular in the Community