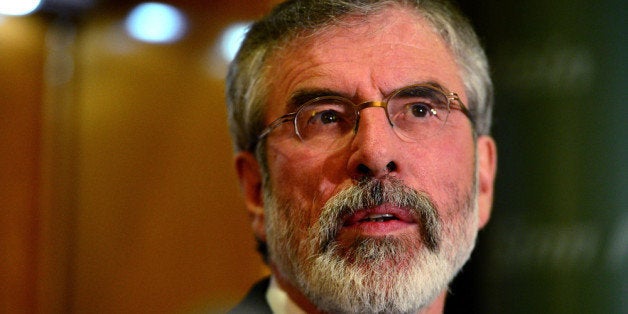 "That's not the Gerry Adams I know!" I said to myself. Gerry Adams, President of Ireland's Séin Fein political party since 1983, was being questioned about possible involvement in an unsolved 1972 crime. I have no special knowledge of the Troubles. But I am personally acquainted with Mr. Adams. I found him to be a man of peace, not of violence, when we welcomed him to our program in 2004.
Mr. Adams was in Atlanta for personal reasons. Fortunately for us, his publisher had already sent us his newly issued, 8th non-fiction book, A Farther Shore: Ireland's Long Road to Peace. I had opened it with some trepidation. Mr. Adams has never hidden his support for the "physical force republicans" but was unequivocal that his own path was political and he'd never been a member of the IRA. I wanted to believe him, yet there's wisdom in "trust and verify." Read the book, I said to myself.
A Farther Shore was a revelation, Irish* to the core. It opens with a revealing chronology which begins in 1169 CE (really!) and Mr. Adams was never far from Nobel Laureate Seamus Heaney's oracular vision from which Mr. Adams derived his title:
"...hope for a great sea-change
On the far side of revenge.
Believe that a farther shore
Is reachable from here."
In Mr. Adams' illuminating book, I got to know a man of deep intelligence with a fierce love for his country. He was also modest, self-effacing as he honored freedom fighters across the centuries. These were people whose courage and integrity offered him a legacy on which to build his own life-long commitment as an activist working for a united and independent Ireland.

Then came the offer to bring him into our home where we had our studio. I'm sure we were "vetted" before arrangements were made, but I was still surprised to be asked to drive over to The Carter Center to lead the way back.
But I was taken seriously aback when I walked out of the Center with him and his entourage and the ebullient Mr. Adams popped open the passenger side of my extremely modest car, pushed back the seat to accommodate his long legs, and waved his companions (read: body guards) into a separate car, instructing them to follow us. (My driving has never, ever, ever been better.)

It's no wonder Mr. Adams was elated as we drove across town, never mind the flu he was fighting. He had begun the day paying homage to Dr. Martin Luther King, Jr. at Dr. King's sarcophagus and had just concluded a meeting with former President Carter. (It was Mr. Adams from whom we learned that Atlanta is the only city any of us knew about that's home to two Nobel Peace Prize winners.)
In Gerry Adams' presence, I felt his sincerity as an authentic republican and as a peace-seeking human being. With no effort on his part, he also called to the Irish part of my heritage, scant though it is, as he did to my husband whose lineage is much more closely associated with both sides of the Irish dilemma.
Mr. Adams was amused but not surprised that he'd been virtually incognito, not only to me but to the wider world. For starters, the information most people get about Northern Ireland is filtered mainly through London and tabloid journalism, he reminded me. Plus, from 1988 to 1994, the British and Irish governments had banned his (and others') voices from radio and television.

When he was quoted at all, an actor read Mr. Adams' words. His hero, Nelson Mandela had been treated the same way in apartheid South Africa. Coincidence? No, according to Mr. Adams. "It's impossible to know what separates a 'patriot' or 'freedom fighter' from a 'terrorist'." So much for reportage. Generally, the winners get to say.
If, like me, you do not remember "No Dogs or Irish Permitted" signs across America, we still must keep fresh the appalling bigotry Irish immigrants experienced in America, having fled even worse from the English. "Ireland was England's first and final colony," Mr. Adams told us, describing 800 years of oppression. He recounted how colonialism worked in Ireland, including the creation of the "plantation" system the British eventually took all over the world. "(T)he British Establishment think that they have an Empire; that we're it," he said. More importantly, he also said that the time for physical-force republicanism had passed.
To understand today's larger world, Mr. Adams carefully detailed for us why it's worth educating yourself about Ireland, even if you do not share my own sharp memory of injustices enforced by occupying British forces and Northern Ireland's "Unionists" in particular. (Mr. Adams counters careless journalists who apparently are unaware that the founders of Irish republicanism were Protestants and mistakenly use "Catholic and Protestant" instead of "sectarian" when reporting.)
There was so much more to that very good afternoon together, but one later "shoe to drop" is an important part of the larger story.

It was my custom at the time to write a quick note of appreciation to our guests who very occasionally replied. Never, however, had I received a letter postmarked "Belfast" and never had I been confronted with the arrogant clumsiness of harassment posing as censorship. No pains whatsoever had been taken by whoever it was who'd torn open and resealed Mr. Adams' note to me. What must the censor have thought of someone so gentlemanly as to thank me for thanking him?
The Gerry Adams we met in 2004 was no less full of promise then than he continues to be for me -- and millions like me -- as he takes Séin Finn into May 23rd's local and European Parliamentary elections. Then, he was saying, "The days of second-class citizens are over. Let me be clear that Irish republicans will never treat unionists the way the British government and the old unionist regime treated us."

Now, Mr. Adams, emerging from jail (as he has more than 30 times before) in search of a united Ireland, is quoted saying, "'Sitting in my cell in recent days, I reflected on the dreadful summer of 1981' (when hunger striker Bobby Sands died in H-Blocks at the Maze prison) adding that we are no longer in those days and that Sinn Féin's focus is now on peace. 'Peace needs to be built with determination and a focus...that is Sinn Féin's constant endeavor.'"

American's hold a romanticized view of the American Revolution. That ultimately successful struggle to end British colonialism has been an inspiration to people all over the world, the Irish among them. Glossing over the extreme violence, the moral ambiguity, the equivocal justice, the self-righteous certainty on both sides of revolutionary action renders us simple-minded and uncomprehending. Inevitably, elements on both sides behave badly.
I'm confident that Mr. Adams believes that justice is essential to human community. "Whose justice?" is the problem. As ever, the struggle is to lift justice beyond parochialism and partisanship. It is a challenge any responsible citizen must accept.
*--For more riveting (and unabashedly engaging) looks at Ireland, look to the work of two more of our favorite Guests: Thomas Cahill's How the Irish Saved Civilization and Frank Delaney's mesmerizing Ireland: A Novel (and others).
REAL LIFE. REAL NEWS. REAL VOICES.
Help us tell more of the stories that matter from voices that too often remain unheard.