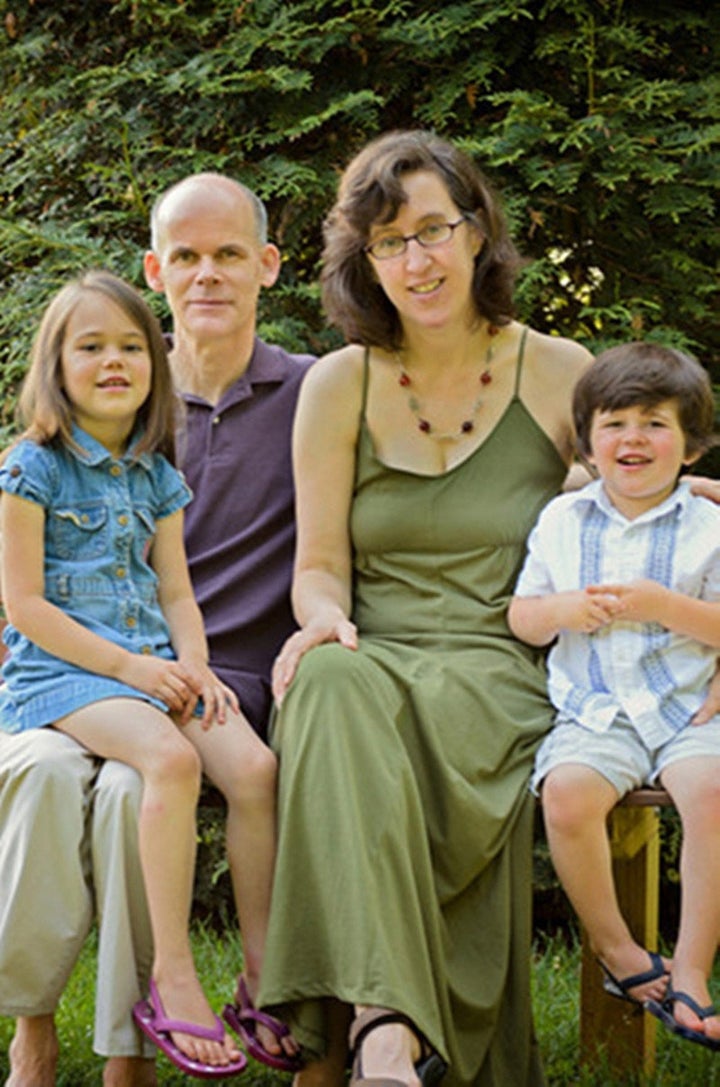 WILMINGTON, N.C. (RNS) While burning through their savings looking for jobs, Gerry Murphy and Andrea Kanelopoulos-Murphy and their two young children were invited by a local businessman to stay in his condo this summer until they found a position.
With 10 percent unemployment in this corner of North Carolina, their story could be a common one. But the couple believe their unique marriage sometimes makes it harder to find the right workplace.
After three years in the priesthood serving a Catholic parish in Oakland, Calif., Murphy, an Irish-born Catholic, felt a tug in his heart. He wanted a family, but his vows of celibacy prevented that.
"I got ordained at 37 in 2001, and I had been in a couple of relationships before that, so the whole celibacy issue was a question for me -- even on the day of my ordination," he said.
Murphy didn't want to betray his personal integrity -- or his vows -- by taking a mistress. "I know lots of people right now who are priests and in relationships -- gay and straight," he added.
The subject of married priests in the Catholic Church has been controversial for hundreds of years. That controversy returned this year after an auxiliary bishop in Los Angeles admitted he had fathered two children -- about the same time the Vatican released guidelines for accepting married priests from Episcopal churches in the Catholic priesthood.
Nationwide, about 80 Protestant clergy have left to become Catholic priests, according to research from Catholic University in Washington. Some Eastern Rite Catholic churches, which are loyal to Rome, ordain married men. And after 1980, the Vatican allowed Protestant clergy who converted to Catholicism to remain married to their wives.
But Murphy isn't necessarily a supporter of married Catholic priests -- the issue could cause resentment within the ranks of a majority celibate priesthood, he said, even though it might help bolster the priest shortage in the country.
When Murphy was struggling with whether or not to leave the priesthood, he weighed having a family with the risk of losing his priestly calling.
"I resolved this dilemma by recognizing that my journey into ordained ministry was a necessary and enriching part of my spiritual formation," he said, "but there was more I was called to experience and explore in my life."
He ultimately resigned his post in Oakland, taking time to meditate on his life. During that time, he explored a Catholic online dating site. That's where he met his wife, a devotee to Our Lady of Lourdes who had once considered becoming a nun.
She still gushes about their first online conversations. They were engaged after five weeks, and married about five months later.
Once Murphy left the priesthood, he still wanted to be involved in ministry in some way.
"But once you resign, you're blacklisted from a lot of jobs," within the Catholic Church, he said. And when he did find a job at a Catholic high school, his bosses told him, as a condition of his employment, he couldn't mention his time as a priest nor why he left the priesthood.
The couple lost a lot of their closest friends, "and neither of our families are supportive of us wanting to continue our ministry," Kanelopoulos-Murphy said.
They did find jobs in campus ministry, two funeral homes and running religious retreat centers in Arizona and Virginia.
It was at the Virginia retreat center where they met businessman Tom Harris. He met them shortly after they had resigned from the center to take another position in California.
But that position fell through. Harris offered them a place to stay in Wilmington while they searched for their next opportunity.
"When I learned that they were losing both Gerry's job and their home, it just seemed like the natural thing to do to reach out and help them," Harris said. "Just imagine what a difference it could make if the head of a major bank that owned thousands of empty foreclosed homes decided to open the doors of those unused homes to families in the same situation as Gerry's family."
Spiritually, Murphy has changed. He no longer considers himself Catholic. The couple have considered starting their own church or retreat center.
"I think the future of the church is in small, basic communities," he said. "The Catholic Church is stuck. It's not relevant to where people are in their walk today. I don't have any bitterness. I've just outgrown it."
His wife is in a different place.
"Growing up in a strict Catholic family, I have a strong devotion to Our Lady," she said, referring to the Virgin Mary. "And if the church changed today and allowed priests to marry and ordained women, I'd be there."
Each coped with joblessness in different ways. She prayed nightly at her computer's webcam to the grotto in Lourdes, France, where St. Bernadette had her visions of Mary.
"I enjoy the rosary still as it carries a deep closeness for me. When I can, I meditate (and) pray. This is where my gift of faith comes in as well," she said.
Through the trials of this summer, Murphy was reminded of Jesus' time in the tomb, "that apparently inert time between Good Friday and Easter Sunday, when the seeds of new life and transformation are germinating -- albeit imperceptibly."
In early August, the couple's wait came to an end when they were hired as directors at a winery in New Jersey. They're relieved and ready to wrap their arms around a new adventure.
"When we embrace the unknown, the field of all possibilities," Murphy said, "we surrender to the creative mind that orchestrates the dance of the universe."
(Amanda Greene is the editor of WilmingtonFAVS.com in Wilmington, N.C.)
Related
Popular in the Community