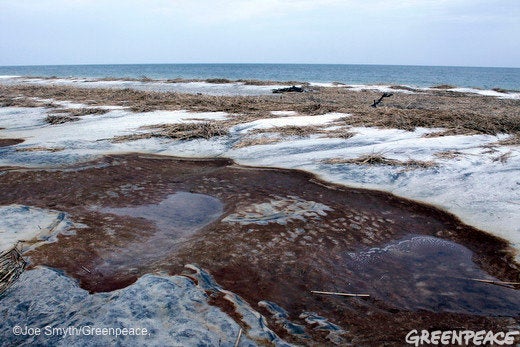 This article was published in The Louisiana Weekly in the Oct. 15, 2012 edition.
Residents of Gert Town in the Sixteenth Ward of New Orleans say they see economic development on the outskirts of, but not inside, their community. Speaking up about it hasn't done much good. Parts of the city look better than they did before Katrina struck in 2005 while Gert Town is in worse shape.
Third-generation Gert Town resident Big Chief Larry Bannock said "we've had little say in what happens to our community since Katrina." He presides over the Golden Star Hunters Mardi Gras Indians. "We've been 'y'alled' by City Hall and told what's best for us," he said. "Historically, we were an important Black community, where musicians like Allen Toussaint and Ellis Marsalis, along with athletes and doctors were raised."
But he said well before Katrina, Gert Town struggled with industry in its midst--notably the Thompson- Hayward Chemical plant, which closed in 1986 after filling the air with toxins from Agent Orange herbicides and dry-cleaning fluids.
Gert Town's population hasn't returned to its pre-Katrina size of 4,000 but people are coming back, Bannock said. The community is bounded by South Carrollton Ave. to Howard Ave. along I-10, and South Jefferson Davis Parkway across Earhart Blvd. to Colapissa St.
Gert Town lies within the city's 2.4 mile BioDistrict for health care and research.
Reverend Kaseem Short, executive director of Gert Town Community Development Center, said "other parts of town are receiving more improvement and upgrades than we are." Infrastructure in particular needs work. "We've got some gravel roads, many potholes, and the block where I live has no drain," he said. "When it rains a little bit hard, our streets flood and we're hopping into our houses. We've got abandoned buildings."
Residents are upset about a July decision by the state-run Recovery School District to demolish the Mary Church Terrell Elementary school on Broadway St. "We need it to expand the Lafayette Academy charter school, especially since some of our kids are being bused over to the West Bank" across the Mississippi River, Short said. The school's 35-year-old building could be refurbished and "the million-dollar question is why RSD decided to get rid of it," he said.
Short said Gert Town will probably be the last community to get a city swimming pool after Katrina. "It's in the city's budget but they had a walk-through many months ago to select a site and still haven't chosen one," he said. "I'm concerned the money might be removed from the city budget during cost cutting."
Reverend Lois Dejean, executive director of the Gert Town Revival Initiative, said residents attend community meetings but have seen little progress. She said "we've tried and tried and can't get anything accomplished. We know the city has money for us from bonds and other sources but it's not being spent. Gert Town has a sense of hopelessness." Questions have been raised by the city and others, however, about how Dejean spent $404,000 allocated to her organization by former Mayor Ray Nagin's Administration.
Short said neglect has led some residents to wonder whether the city has a secret plan for Gert Town. The burgeoning BioDistrict, which needs structures for health science and housing for medical students, fuels such talk.
Dejean said "we've been told by City Hall that we're fussing and fighting among ourselves. We have five nonprofits in Gert Town, and we've been told we need one voice." She said "we have our differences like all groups of people--City Council members or Democrats and Republicans. But in Gert Town, we all want what's best for Gert Town."
For their part, city officials say they've made post-Katrina improvements in Gert Town and plan to do more. Ryan Berni, spokesman for Mayor Mitch Landrieu, said the city has invested roughly $650,000 in the Norwood Thompson Playground since Katrina. And Berni said "the city is currently working to select a site for a new Gert Town Pool facility. Approximately $7.3 million has been budgeted for the pool."
Improvements at Norwood Thompson Playground include a refurbished basketball court, new baseball field sod and dugouts and landscaping; new water fountains, fencing and concrete sidewalks; renovated restrooms and a new concession area. The last phase of work on the playground will start in early November and end in February, Berni said.
Soil at the playground has been remediated, according to the city. But from what they've seen and been told, Kaseem Short and Lois Dejean have their doubts that the soil, which contained toxins from industry, was changed.
Before it closed 36 years ago, Thompson-Hayward mixed pesticides and herbicides outdoors in large vats and stored dry-cleaning chemicals at its plant. Residents' health complaints resulted in a $51.5 million class-action settlement in 1996. Bannock said "today many of us are still sick from Thompson-Hayward, and we're also concerned about dust that's coming from the Lafarge Cement Factory" in Gert Town.
Meanwhile, community members have mixed views about having Xavier University as a neighbor. "Xavier is moving forward but Gert Town isn't," said Bannock--who recently sold his house, damaged by Isaac, to Xavier. He now plans to live in nearby Hollygrove.
"When Xavier opens its multiplex this fall, the lights will be so bright you'll be able to read the paper outside at 1:00 in the morning," Bannock said, referring to the university's new Convocation Center. Broken streetlights are an issue in Gert Town.
Dejean said "Xavier has plenty of money and they make decisions that affect us." But she said "other universities, like Dillard in Gentilly, do more community outreach than Xavier."
Dr. Kenneth St. Charles, Xavier's vice president for institutional advancement, said the Convocation Center is slated to open in November across Washington Avenue on a site bounded by Short, Palm and Stroelitz Streets in Gert Town. The $25 million center is a 4,500-seat arena for basketball and volleyball and replaces a 75-year-old gymnasium. New tennis courts will be built nearby at the former Roc-a-fella nightclub site in Gert Town. The tennis courts will cost $1 million, funded by Federal Emergency Management Agency after the school's courts were flooded in Katrina.
"These will be well-lit, well-maintained facilities," St. Charles said. "We consider the needs of the community when we expand, and property values are protected. In the case of the tennis courts, we tore down a nightclub where there had been many arrests and a murder."
St. Charles said "we already have two parking lots on the Gert Town side but need more for our new facilities. We're considering what it will cost to build an up-and-down garage. But for the immediate future, we'll use property we own or recently bought for onsite parking. Houses owned by Xavier and by private individuals were torn down this year for parking."
Xavier's student body of 3,200 is below its pre-Katrina peak of 4,100. "But we were overcrowded before and now we're at a comfortable size," St. Charles said. Half of the students are from out of state. He declined to say how many homes were demolished recently for parking.
But Kaseem Short, who works as a realtor, said "I know of ten to twelve home owners who sold their property to Xavier recently." He hasn't heard any complaints about prices paid, however. "Those home owners could have found other places to live in Gert Town but they've decided to move to other neighborhoods," he said.
St. Charles said Gert Town residents have access to Xavier facilities. "We don't know the logistics yet but we plan to let community members use the tennis courts," he said. "A senior center that we ran in Gert Town teaching computer skills and serving as a meeting place was damaged by fire this month, but space will be allocated for it in the Convocation Center."
He said "the Convocation Center is near Xavier's Art Village, where our students teach local kids art in the summer." Xavier this month dedicated its new St. Katharine Drexel Chapel, and Gert Town residents can attend mass there. "A lot of area churches have closed since Katrina," he noted.
Bannock said he seldom sees Xavier students in Gert Town. But St. Charles said "Gert Town is a viable, safe place and we don't deter students from going there. We have staff and faculty going into Gert Town to our Art Village, to the non-profit Daughters of Charity--where they work--and to eateries, including Five Happiness, McDonald's and Subway."
Short said he knows at least four Gert Town residents who work at Xavier and thinks the total is probably higher. He's optimistic about Costco, which expects to open a $45 million, big box store in the former Carrollton shopping center in Hollygrove a year from now. "Costco has met with the surrounding community and plans to hire from the community," Short said. "I saw a list of jobs they need to fill, and they pay well, with good benefits. Many of the jobs are above entry level, like supervisors and fork lift operators."

The 72-unit, Blue Plate Artist Lofts opened this summer on South Jefferson Davis Parkway on Gert Town's perimeter. Earlier talk about possibly including some senior-citizen units at Blue Plate fizzled because of the structure of the federal subsidy for artists' housing. Blue Plate houses artists who have moved in from other areas, and it has a small maintenance staff. Kaseem Short said he hopes to get the artists engaged in Gert Town advocacy issues.
Also on Gert Town's periphery, reconstruction of Earhart Blvd. was completed more than a year ago. "The City was a partial funder of the Blue Plate Lofts, did the Earhart work and is financially supporting the Costco project, which is one of the city's most important retail developments," Ryan Berni said.
Since Katrina, Gert Town has been populated by some long-time residents, along with new renters. "When you hear about crime in Gert Town, it isn't necessarily our people," Bannock said. "The number of people here now who grew up in Gert Town would probably fit in a U-Haul." A lot of people come in, rent under Section 8 vouchers from the Housing Authority of New Orleans and move on, he said.

"Outsiders prey on Gert Town," Bannock said, referring to industrial plants and Xavier and future BioDistrict developers. "This community has fattened more frogs to feed snakes over the years. We pay taxes but we don't seem to get much in return." end
Calling all HuffPost superfans!
Sign up for membership to become a founding member and help shape HuffPost's next chapter