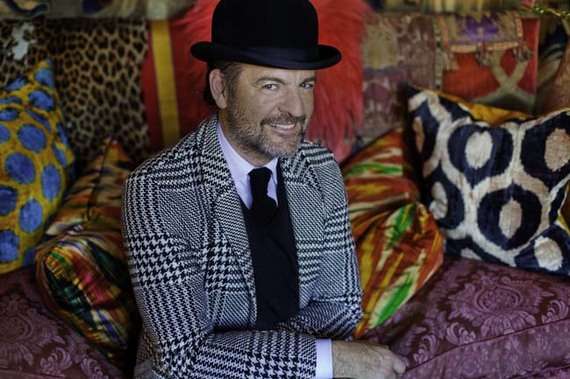 Before launching his book Interior Life, the easiest way to view and appreciate Gert Voorjans' aesthetic was to visit a Dries Van Noten stand-alone store. Voorjans has created for Van Noten environments that are richly layered with influences from the East and West and from varied style periods and yet the overall effect is warm, suffused with color, and visually stunning. His look is that of studied nonchalance and eclectic elegance. Now with this monograph we can all bear witness to his creative mind. The Interior Life, a visual feast of a book, captures his style and gives us a clue to his methodology and way of thinking.
Below, Gert Voorjans talks about art, serenity and the legacy he wants to leave.
When I wake up... while taking a shower I imagine my outfit.
Before I go to bed... I contemplate about tomorrow's schedule.
A well-dressed man... never carries a backpack.
Women should always... wear lipstick.
Men should never... wear shorts in town.
The best thing that's been said about me... is that I became who I wanted to be.
The biggest misconception about me... is that I am a Sunday child.
If I weren't doing what I'm doing today... I would be active in development aid.
My legacy... would be a more colorful world.
A great idea... is to integrate more art and green in public spaces.
Botox is... very useful in reconstructive surgery, but often misplaced in cosmetic surgery.
My mother... has strong views on individuality, personal point of views. Read no mainstream.
The soundtrack of my life... is Orefeo and Euridice by Christoph Willibald Gluck, 1714-1787, Vienna.
The future... is very challenging.
Happiness... is a state of mind.
There's a time and place... for serenity.
There is too much... "would be" and "look a like".
In the end... there is only the truth.
All photos with permission from Gert Voorjans.
Follow me on Twitter and Instagram: @bluecarreon