Plays Nearly 3 Months in NYC, Now Out in Cities Across U.S.
No one was more surprised than I to see the documentary Yoo Hoo, Mrs. Goldberg enter its third month at the Quad Cinema in New York City while it played simultaneously at the Westhampton Theater in Richmond, VA, just a few miles from where I grew up. Being a classic film junkie, there's nothing I like more than a large helping of nostalgia. Obviously, there is something similar audiences currently feel as they embrace the character of Molly Goldberg in this fascinating documentary.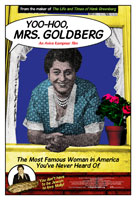 The irresistible nostalgia of Yoo Hoo, Mrs. Goldberg as depicted in its theatrical poster.

Aviva Kempner's film covers the life of the scriptwriter and actress Gertrude Berg. This skilled director imparts a deeply personal story, masterfully juxtaposes it with U.S. social history--crossing the Great Depression, WWII, the birth of television, and the tumultuous McCarthy Era--and provides a feminist lens on a woman who conquered radio, television, and the theater. Yoo Hoo, Mrs. Goldberg underscores a unique moment in our history when the Jewish experience crossed over into households composed of African Americans, corn-fed Heartland Americans, and even Catholic-American nuns looking riveted as they listened to The Rise of the Goldbergs.
The time was the Great Depression; the medium was radio. FDR credited a fictionalized radio family with getting America through its darkest hours. When wife Eleanor was the most admired woman in the United States, Berg was a close second (and, among the highest-earning women, Berg ranked above the First Lady). In watching the film with my own mother--a Greek-American who, in 1955, found herself in Hopewell, Virginia (after her quasi-arranged marriage to my late father) where ordering a bagel at the local, drug-store counter drew puzzled looks and a plate of white toast spread with southern hospitality, and whose Easter was so audacious as to fall on a different date--we marveled at the universal appeal of Berg's character, Molly Goldberg. This enormous popularity lasted from her 1929 radio days through her bittersweet, 1949 transition to television.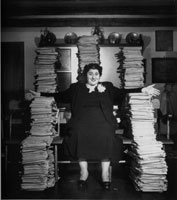 The actress Gertrude Berg was also a prolific scriptwriter. She penned more than 12,000 scripts for radio, television, and the theater.
Berg won an Emmy as Best Actress, a Tony for her performance in the play A Majority of One on Broadway (adapted for the screen starring Rosalind Russell), and fame beyond her wildest dreams. However, her life was not always so charmed. As a child, her brother died from diphtheria, a loss from which her mother, Dinah, never recovered. As Dinah's mental condition worsened, Berg was forced to institutionalize her. In sublimating personal tragedy and throwing herself into work, she created more than 12,000 scripts for television, film, and the stage. After Dinah passed away, Berg found she had visited her only two times, but wrote what is thought to be one of The Goldbergs' funniest episodes in which the character who plays Molly's brother, Uncle David, says to his friend, the proud father of a dentist, "I'm sorry, but a dentist is not a doctor. DDS is not M.D. My son is a real doctor." (I hasten to add that this isn't just an old-fashioned, Jewish point of view, but the current Greek-American position on "M.D." as well. Ask my mother, Aphrodite, her son is a real doctor too. And, like Uncle David, she will never let you forget it.)
Many fascinating examples of social and political events that affected both Berg and America unfold in this compelling documentary. Most notable among them involved her co-star, social activist, Philip Loeb. He was blacklisted and became one of the casualties of the Red Scare whose flames were fanned by Congress's House Un-American Activities Committee. Loeb could no longer find work in film or television, but only occasionally on the New York stage. Tragically, he committed suicide in 1955.
Candid interviews with Berg's family, friends, and colleagues coalesce almost seamlessly with interesting, socio-cultural perspectives by Supreme Court Justice Ruth Bader Ginsburg, television pioneer Norman Lear, and Emmy-winning actor Ed Asner, admitting how uncomfortable the Yiddish-inspired accents he heard on the radio made him feel as a Midwestern teen wanting nothing more than, "to blend." Perspectives also come from women who saw their African-American and Greek-American grandmothers in Molly. Another woman describes the joy her mother, who had no relatives survive the Holocaust, felt in claiming the Goldberg family as her own. In Yoo Hoo, Mrs. Goldberg, Kempner frames not only the heart and soul of an extraordinary woman, but her parallel in a troubled, yet resilient, America surviving in the best of times and the worst of times.
***1/2

Yoo Hoo, Mrs. Goldberg. Directed, written, and produced by Aviva Kempner. Cast: Supreme Court Justice Ruth Bader Ginsburg, Norman Lear, Ed Asner, Susan Stamberg, Chris Milanos Downey, and others. Running time, 1:32. Unrated.
REAL LIFE. REAL NEWS. REAL VOICES.
Help us tell more of the stories that matter from voices that too often remain unheard.