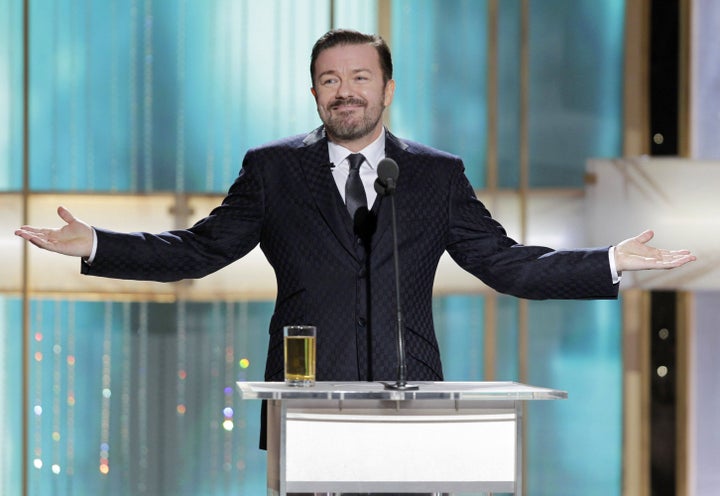 As he proved at last year's Golden Globes, for Ricky Gervais, no one is safe and nothing is sacred.
But in true Gervais-fashion, he's not finished.
He took to his blog - not to confirm or deny - but to muse about the prospect of hosting. Or kind of hosting.
What do you think of this? A live 3 hour podcast during The Golden Globes. Me and a few chums (like Louis CK, Chris Rock, Karl Pilkington, John Stewart, Larry David popping in and out) doing our own alternative commentary. People at home can have the telly on with the sound down listening to us online say things that no broadcaster could get away with. No one could do a f-cking thing.

After "opening pandora's box" (again?) Gervais wrote a follow-up post to clarify and tease fans a bit more.
Fun basically. Although, if I actually do it, it will show people how tame my official hosting was last year. I still can't quite understand how anyone would think I overstepped the mark, was cruel, or pushed any boundaries of taste and decency. It was a network friendly gentle ribbing of the industry. Nothing more. I didn't even dress as Hitler in the end. Anyway. I'm looking into it. Might not happen. I might not even be available. Who knows, I might be at The Golden Globes. (awkward silence.)
Popular in the Community