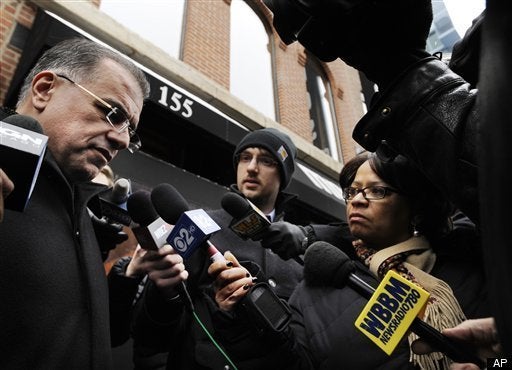 According to documents obtained by Huffington Post Chicago, mayoral candidate Gery Chico appears to have been closely involved with a scandal-plagued high-profile charity.
Though the exact details of Chico's involvement with the now-shuttered Save A Life Foundation are not yet known, documents state that he was on the foundation's board of directors near the height of its alleged fraudulent activity. Puzzlingly, in the face of those documents, the Chico campaign has persistently denied that he was ever on the board.
Save A Life was established in 1995 with the stated goal of preparing schoolchildren for emergency situations. It won praise from politicians throughout the nation and received millions of dollars in federal grants to fund its operations. By the mid-2000s, the organization was claiming to have taught the Heimlich maneuver and other techniques to over 1 million U.S. schoolchildren.
Those early successes appeared due in large part to the organization's charismatic founder, Carol Spizzirri. Her story was compelling: she told anyone who would listen that she, a registered nurse, lost her daughter in a hit-and-run car accident in 1992, due to first responders' failure to know the emergency first-aid techniques needed to stop the daughter's bleeding.
Spizzirri later said she founded Save A Life to make first aid as universal a skill as brushing one's teeth. A 1999 resolution signed by Gery Chico, then the president of the Chicago School Reform Board of Trustees, certified that Save A Life had trained 10,000 students in the city, and was training another 23,000 that year through volunteer programs.
But in November of 2006, Chuck Goudie of ABC's "I-Team" published a scathing report called "The Maneuver," which alleged a series of deceptions at the heart of Save A Life. Spizzirri was not, it turned out, an RN; her daughter had died after driving drunk, not being struck in a hit-and-run, and didn't bleed out on the scene; and the foundation appeared to have trained far fewer students than it reported.
Save A Life lashed out with defamation lawsuits that ultimately failed, as did the charity itself, which shut its doors in the summer of 2009.
The collapse of the foundation was politically uncomfortable for a number of major figures in Illinois, from President Barack Obama to now-Education Secretary Arne Duncan, who were connected to it in some way.
One of those figures was Gery Chico -- and records show that his ties to SALF were very close indeed. There was the 1999 resolution he signed supporting the organization's efforts. But more tellingly, a copy of the foundation's 2002 Annual Report lists Chico as a member of its board of directors:
When asked about Chico's involvement with the foundation, campaign spokeswoman Brooke Anderson flatly denied his involvement. "Gery wasn't on this board," she said. When presented with page 53 of the above document, Anderson responded, "That link you sent is wrong. Gery was not on that board."
According to Maura Possley, the deputy press secretary for the Illinois Attorney General's Office, a nonprofit misrepresenting the makeup of its board of directors in an annual report would be perjury, a Class 3 felony.
The Huffington Post asked the Chico campaign if it was willing to accuse Save A Life of perjury, and if so, whether it would be willing to publicly call for an investigation into the matter. So far, his campaign has not responded on that question, despite several further attempts at contact.
In a news release from that same year, Chico's wife, Sunny, described her husband as "instrumental to bringing SALF to the Chicago Public Schools" during his tenure there.
It is unclear at this point why Chico would deny he was on the board, or, if indeed he was not, why he would be unwilling to press for further investigation, given his forceful campaigning on ethics reform.
Related
Popular in the Community