 When Bon Appétit Management Company's CEO and founder Fedele Bauccio recently read a Pork Network op-ed by food industry and consumer advocate Rick Berman blasting the movement to ban gestation crates, he was moved to draft a response.
Gestation crates, which have been covered heavily by the media in recent months, are devices that confine pregnant sows. They prevent the pigs from injuring one another, but often result in the animals' confinement for the majority of their lives. Animal rights groups including the Humane Society of the United States (HSUS) have decried the practice as inhumane, and a slew of major players in the food industry have pledged to phase out purchases from producers that use gestation crates. They include McDonald's, Burger King, Wendy's, Smithfield Foods and, of course, Bon Appétit, a food service company that serves more than 500 locations in 32 states in corporations, colleges and universities and specialty venues.
Getting rid of the crates, though, would result in an extraordinary expense for the pork industry, and there's been remarkable push back from producers unwilling to make the change. Berman, executive director of the Center for Consumer Freedom, emphasizes that challenge in his Pork Network piece.
Despite Berman's assertion to the contrary, Bauccio believes -- along with many in the food industry -- that their customers, the public, do care about getting rid of the practice.
In his piece crafted in response to Berman, Bauccio explained his company's position:
In 2012, Bon Appétit announced our newest animal welfare policy, creating higher standards for our suppliers raising farm animals. A key component to this commitment is to eliminate all pork that comes from operations confining their sows inside gestation crates by 2015. This decision came with a deep understanding of consumer sentiment regarding animal confinement. We also reviewed the best science on the issue, and listened to pork industry expert Dr. Temple Grandin who said, "We've got to treat animals right, and gestation stalls have got to go." And our decision was echoed by dozens of others in the industry.
But Pork Network, an independent, influential trade publication from Vance Publishing, declined to publish Bauccio's response, according to correspondence between Bauccio and the editors that was passed along to The Huffington Post. Editor JoAnn Alumbaugh cited lack of compelling data backing up Bauccio's points, although Berman's piece was also devoid of hard data supporting his case. The response from Alumbaugh seemed to echo Berman's assertion that gestation crates are not the evil they're made out to be:
Having raised animals myself, I've seen what happens to smaller sows in open pens. I appreciate the fact that Mr. Bauccio listened to Temple Grandin, however there are other pork industry experts who hold different opinions. Finally, I'm curious why there was correspondence from HSUS regarding this opinion piece before I received it? It seems fairly certain that organization had something to do with the content in the opinion piece.
The heated exchange between a high-profile member of the food industry and a trade publication highlights the many competing interests in the gestation crate debate: the food industry and its companies, individual food producers, industry representatives whose job it is to lobby for their clients' interests, animal rights advocates and consumers.
Some of the loudest critics of the gestation crates have been animal rights groups such as HSUS, which Alumbaugh implies may have been involved in Bauccio's response. Following Alumbaugh's question, Bon Appétit reps told the Pork Network editor that HSUS had tipped them to the existence of Berman's piece.
But Bon Appétit and other groups against the crates have very publicly partnered with these organizations, and the goals of HSUS and the pork industry aren't inherently at odds.
In Berman's initial piece, titled "Commentary: Playing Chicken with Pork," he critiques HSUS several times. "The 'family farmer versus factory farmer' narrative of HSUS is false," he writes. "So is the idea that doing things the way they were done 40 years ago is somehow more 'humane.'"
As Alumbaugh, Pork Network's editor, noted, she has experience raising animals herself. In an email to The Huffington Post, she said current data suggests there is no difference from gestation crates and open pens, from a production standpoint. "If animals aren't comfortable, production levels will decline, but that's clearly not the case," she wrote. "I've yet to see data (production research) supporting the stance that Bon Appetite [sic] has taken -– that is why I asked for it."
Alumbaugh's point assumes that productivity is a proper measure of a pig's discomfort, but that's a moot point. What's troubling about this incident is not the question of whether or not gestation crates are good, but the apparent reluctance of a media organization to address both sides of a debate in which the stakes are high -- both for profit, for the pigs and for the public.
Related
Before You Go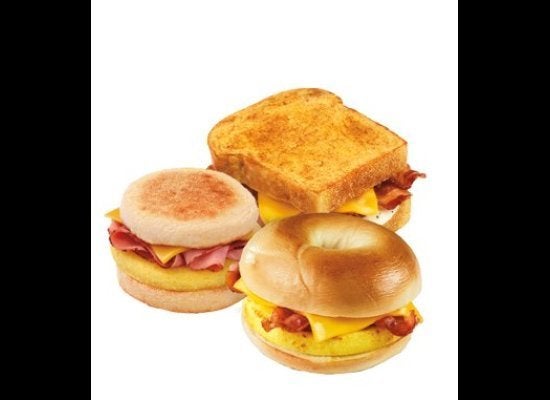 Companies Pledging To Go Gestation-Crate Free
Popular in the Community