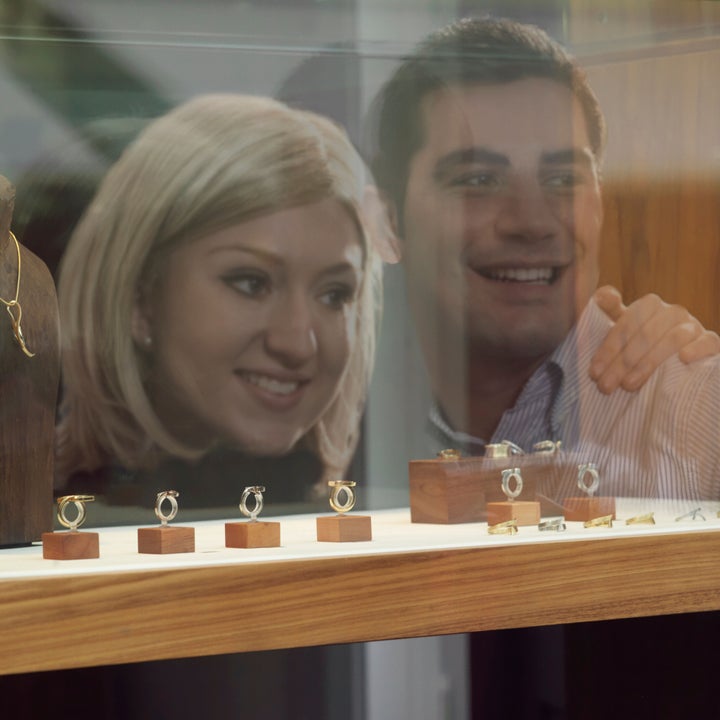 All judging aside about whether or not Courtney was the right choice (we'll leave that job to Ellen), lets have a look at the Neil Lane-designed engagement ring that Ben Flajnik proposed with on Monday night's finale of 'The Bachelor'.
There's no doubt that this is a stunning ring. According to People, the primary diamond is a cushion cut that weighs just over three carats. It is set in a platinum band inlayed with 96 round pave diamonds. The ring is not only beautifully and intricately designed, it is also the pinnacle of what's in style these days in bridal jewelry.
Cushion cuts have exploded in popularity in the last few years and are now probably the second most popular shape after round brilliant diamonds. Just a few years ago, they probably weren't even the fifth or sixth most popular shape. Likewise, this vintage pave style halo setting is also now all the rage. Buying a ring like this certainly won't make you unique, but it's definitely what is hot now in the industry.
People also reported, however, that this ring cost $50,000. That's quite a load for any bachelor to bear -- especially if he's not backed by a major TV network!
Here are some tips Ben could have used to bring down the cost of his ring by thousands and thousands of dollars (not that he needed to, of course, but the lessons are applicable to anybody shopping for an engagement ring):
Pick the lowest color that still looks white - This is different for every shape. For cushion cuts, I advise my readers to shoot for an H color. Anything lower, and it starts to look yellow. Anything higher and the added cost doesn't justify the extremely slight boost in color.
Pick the lowest clarity that is clean to the naked eye - Brilliant cut diamond shapes like rounds and cushions hide impurities very well. A lower clarity diamond that is still clean to the naked eye (i.e., without magnification) will look identical to a flawless diamond, so spending extra money on higher clarity is a waste.
Try to avoid big name designers - You can almost always find a non-branded version of whatever ring you're looking for. If not a perfect exact match, you'll find something very close. The difference in price can be staggering. Just think about how much Neil Lane had to pay for all of his exposure on 'The Bachelor'!
Following these tips, 'Bachelor' Ben could have scored a nearly identical ring for about $33,000. Here's a great diamond choice following my tips above: 3.01ct H Color SI1 Clarity Cushion Cut from James Allen. This diamond costs "only" $31,090.
Altogether, that's $33,358 -- a far cry from $50,000 for a nearly identical ring. The only visible variation is a slightly different design on the setting -- certainly not worth $17,000!
Ira Weissman+ is a diamond industry veteran with nearly a decade of experience at one of the world's largest diamond polishers. He has traveled the world buying and selling diamonds and now dedicates his time to helping consumers make the most of their diamond buying decisions. He has been featured on Anderson Cooper, and has been quoted by MarketWatch, The Village Voice, and BankRate. Visit Truth About Diamonds to educate yourself about diamonds and for free help in your diamond search according to your budget and needs.