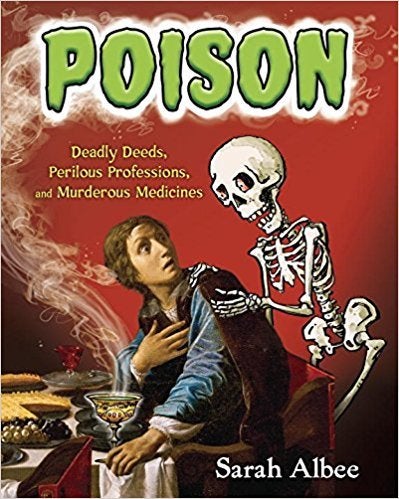 The Author's Note, when you first open Sarah Albee's Poison: Deadly Deeds, Perilous Professions, and Murderous Medicines, states: "Let's get one thing straight, right off the bat: this is not a how-to book. It's a history book. It's about how people have poisoned one another from ancient times to the present."
What an intriguing idea! The threat to life, how people die, and how to avoid it is one of the great motivators of literature. Fairy tales, stories of orphans, sagas of disease allow readers to fantasize about their own mortality from a safe distance. History books are full of stories of battles but those involve armies of people. Poison is so, well, personal and individualized. It brings death to life in a way that makes for riveting storytelling. Why not use it as a lens to tell a much bigger story that involves politics, geography, culture, medicine, pollution, and human passions?
Death can be a difficult topic of conversation, especially for children in grades 3 to 7, for which Poison is targeted. But Sarah Albee's sense of humor and witty writing keeps the reader smiling. Information about specific poisons are summed up in a "Tox Box" that discusses a poison's source, products, delivery system to the body and its effects on the body in delightfully gruesome detail.
She has dead-on perception about stories that will fascinate kids, which she calls "Freaky Facts:"
"At the court of Louis XIV, enemas were extremely fashionable—they were thought to be good for your complexion and to keep the mind sharp. The king had as many as four enemas a day—sometimes in full view of government officials and advisers. Certain pharmacists specialized in enemas and hung huge, plunger-shaped wooden plaques outside their shops."
Then there are a whole series "Nice Work if You Can Survive It" of how workers in different professions were poisoned. I didn't know that hat makers, who breathed in poisonous mercury vapors when making felt, eventually wound up with "tremors, drooling, muscle weakness, tooth loss, memory loss, and extreme irritability…. People called it mad hatter's disease." Lewis Carroll knew that when he created the Mad Hatter. The order of anecdotes tells a much larger story of human triumphs and failures through the ages.
Albee's meticulous research and love of story-telling make Poison a painless romp through history with a strong dose of learning.
Support HuffPost
The Stakes Have Never Been Higher
Related
Popular in the Community