Back in September, I wrote an article about the madhouse experiences that a good friend of mine Myles Berkowitz had trying to get a small business start-up off the ground with his business partner Stephen Cates. It was for a new weight-loss product, Lifesize Portions, based on portion control. At the time, they'd finally had their first break, a recent rave article about the new company that had just appeared in the New York Times
Now, I'm sure that there people who read that and saw me yammering about the experience a couple of friends and rolled their eyes and moved on. Hey, me buckos, I always try to be honest with people and tries not to steers ya wrong. I have friends who have done lots of things pretty stupid, and I haven't tried to foist them on anyone. The experiences of Berkowitz and Cates were not only telling in the world of small business start-ups...they were also reasonably entertaining. (Myles Berkowitz by himself is a one-man circus. Barnum and Bailey are thinking of merging with him.)
Whatever the subject, we try to provide you, the dear reader, with interesting, informative tales that hopefully will not only offer earth-shattering insight on the level of "Oh, my God, I never thought of it that way!!," but also things you can impress good-looking people with in bars with, so that you can get lucky with them. The story of Lifesize Portions was just that.
For those of you who paid close attention, and took it seriously, no doubt you've been reaping the benefits ever since - not only impressing others in bars and random gatherings, but perhaps even losing weight you gained over the holidays. All others, well...stand in line. But - you now have a second chance. It's just another service we like to provide those folks gracious enough to read this stuff.
Because that brings up to this week.
The popular website About.com has a Weight Loss Expert, Malia Frey, and she did a column on Tuesday that was about new weight loss products on the market, "The Good, The Bad and They Ugly" And...well, see below -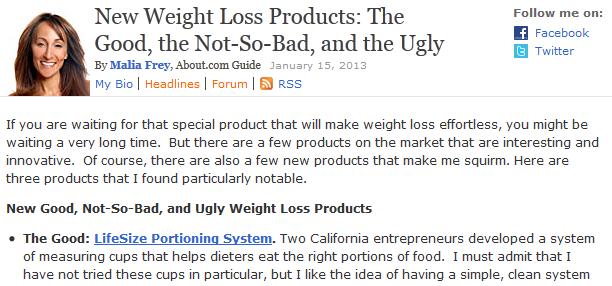 -
Like I said, I tries not to steers ya wrong. The only "Good" new product she singled out was Lifesize Portions.
The full article goes into a bit more detail, but you get the point.
The only oddity is that she says, "The product is not cheap (just over $92 for a complete program)." The thing is, though, if you bought just three diet books -- and I know people with shelves of them -- it would cost you as much. More to the point, when checking the Best Diet Tips website, they write that the average Jenny Craig dieter "pays $500 to $675 per month." That works out to an average of $7,200 a year. Every year. Now, yes, that includes the cost of food, and you'll have to also pay for food with Lifesize. (Unless you prefer to go on one of those starvation diets, not recommended...) But with Lifesize Portions, you aren't paying high prices for proprietary, individual, pre-packaged meals and (often) shipping. You just go to the grocery store and buy your regular groceries and make whatever you want with your own, favorite recipes. Food costs therefore are significantly less.
Really, truly, I tries not to steers ya wrong.
(I believe our new motto here is "Watch This Space." Either that, or "Oh, My God, I Never Thought of It That Way!!")
I suggest you print out this article and keep it with you for quick, easy reference the next time you find yourself about to go into a bar.
Just a final word of warning - when you do bring up the article as a line in the bar to hit on someone you're attracted to, be sure that when you say, "Y'know, this might really interest you...", you make it absolutely clear that it's because you think the other person seems so extremely bright that they likely want to be on top of the latest, hottest news first. Not because you think they should lose weight.
To see more writing from Robert J. Elisberg, visit his website at Elisberg Industries.
REAL LIFE. REAL NEWS. REAL VOICES.
Help us tell more of the stories that matter from voices that too often remain unheard.