In my last post, "Type 1 Diabetes Finally Explained," I talked about the challenges and intense management one endures living with, and managing, Type 1 diabetes.

Thousands of people shared the post and hundreds wrote telling me that I had perfectly described their lives -- how hard we work at every day, "staying between the lines."
Joslin Diabetes Center, one of the world's renowned diabetes clinics, knows how hard we work. They award people medals for living with Type 1 diabetes 50, 75, and as of last year, 80 years! The 25-year medal became a certificate as so many people are, as once unheard of, living with diabetes beyond 25 years.
Dr. Elliott Joslin, founder of the Joslin center, believed that good self-management was key to reducing long-term complications.
Also, that recognizing patients for the care and attention they pay to their diabetes management would serve as motivation. It does.
"This is no less true today than when the first 25-year medal was awarded in 1948," Stephanie Hastings, coordinator of the medals study, told me. "One of our 80-year recipients said he is now working toward his 100-year medal!"

Giving a medal for living with diabetes is remarkable in so many ways. Too often people with diabetes are scolded by their health professionals for "bad" blood sugar numbers or not working hard enough -- as if managing diabetes was a perfect science.
Too often people with diabetes see themselves as failing for not being perfect in their care -- which is all but impossible.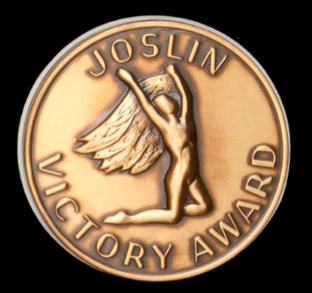 The prescience of Joslin is very forward-thinking. While we recognize those who've lived through cancer as "survivors," with the intention to honor them for their accomplishment, the word "survivor" actually focuses on the past and reminds one of the hardship.
Yet a Joslin medal is nothing but thunderous applause.
Joslin's medals program is also more than merely motivation. Over 900 medalists are currently participating in Joslin's medalist study launched in 2005.

Noticing that medalists were not just surviving, but thriving, Joslin is researching what genetic, environmental and physiological factors contribute to living long and well with Type 1 diabetes, with an aim to improve quality of life and move us closer to a cure.
These results were given to me by Ms. Hastings.
One big surprise so far is that a lower A1C does not always correlate with fewer complications.
Researchers think those with less glycemic control who are not developing complications have a protective factor.
Many who live 50 or more years with Type 1 diabetes don't suffer from diabetes' major micro-vasular complications -- eye (retinopathy), kidney (nephropathy) and nerve-related (neuropathy) complications -- or cardiovascular disease.
Close to 50 percent of medalists do not have serious complications. About 40 percent do not have retinopathy, even after 50 to 80 years living with the disease. And less than 10 percent have any kidney disease.
Over 66 percent of medalists who've had Type 1 diabetes for more than 50 years are still producing some insulin.
One might imagine that to live with Type 1 diabetes 50 years or more you must have a certain hardiness. Medalists appear to. They've managed their blood sugar levels well for most of their diabetes lives. They are physically active, have high HDL, low LDL and low to average weight.
Psychological Protective Factors
Medalists also have a certain heartiness. They tend to have a positive outlook, be socially connected and have a support system. They don't feel sorry for themselves, let diabetes define them or beat themselves up for lapses.

Hastings says another prime ingredient for their success is knowing that they are responsible for their care. For the Medalists who got their initial diabetes education at the Joslin Center, they learned from Joslin's two week educational program that it is their responsibility, not their physician's, to take care of their diabetes.
The study also researches protective factors for cognitive function, sexual dysfunction, stem cell and bone health and the impact of physical activity, now viewed as imperative, and nutrition.
I spoke with four medalists to hear their thoughts about the medal and living with diabetes.
Sixty-nine-year-old Don Francisco, who got Type 1 diabetes at 15, told me he knew a girl in college who had gotten it at age 9 and died at 25. "She didn't take care of herself, and I knew I didn't want that to be me. I've had hurdles along the way but I say to myself, 'I'm going to go around them and go on.' I heard a wise man say when obstacles are in our way, we go on. 'Go on' is what guides me."
Cliff Bourie, diagnosed on his eighth birthday, told me opening his medal box he felt all those years he'd worked so hard to stay well overwhelm him. "This medal is just so personal and so big."
John Landin's major interest in the medalist program was contributing to the research. Having gotten Type 1 at age 3, and having had it now 59 years, he said, reflecting, "The medal doesn't just belong to me. It belongs to my parents, educators and doctors who gave me the structure, confidence and support to succeed." He also chided me several times to get my medal.

Deborah Langosch, who got diabetes at 4, also wanted to be part of the research. She described her contribution "as a way of giving back and paying forward." I felt a small tingle when she described her feeling at the medalist ceremony last year. "To be standing in a roomful of more than two hundred people living with Type 1 diabetes who are healthy and committed to their care and their loved ones was unbelievably moving."

Receiving a medal for living most of one's life with diabetes is such a beautifully simple, deeply human way to acknowledge the hard work this illness demands -- and those doing it.
As Don told me when he opened his medal box, "Wow, somebody recognized what I've been doing all these years. That feeling is amazing."
So I'm now in the process of applying for my 50-year medal, still 8 years away. You can apply for your medal as early as you'd like but within 10 years, says Hastings, makes the most sense. Your application will be filed for your anniversary.
To apply you can e-mail: medals@joslin.harvard.edu or write to: Medalist Study Coordinator, One Joslin Place, Boston, MA 02215 or call 617-309-4532. To access an application packet click here. For the 25-Year Certificate, apply here.
If you're nearing a medal anniversary, why not join me? Calling on family and friends to write letters documenting my diabetes-beginning has brought both bittersweet remembrances and deeper acknowledgement for what this is like to live with. And, personally, an appreciation for how hard I've worked at living with this all these years.
Now I just have to tell my husband where he's taking me to celebrate Feb. 22, 2022!
Photo credit for 75 and 80-year medals John Soares ©Joslin Diabetes Center.





Riva's latest book, Diabetes Dos & How-Tos, is available in print and Kindle, along with her other books, 50 Diabetes Myths That Can Ruin Your Life and the 50 Diabetes Truths That Can Save It and The ABCs Of Loving Yourself With Diabetes. Riva speaks to patients and health care providers about flourishing with diabetes. Visit her websites DiabetesStories.com and DiabetesbyDesign.com.
Related