A friend of mine posted on Facebook a while ago that she doesn't get why people become so Disney travel obsessed. Personally, I am not Disney obsessed when it comes to travel. All in all, we have taken more trips abroad than trips to Walt Disney World with our children. I was in my early twenties when I visited The Happiest Place on Earth for the first time, so I don't have any fond childhood memories of the parks. And yet, now I completely understand why people get so infatuated with Disney travel.
Have you been pondering the same thing? Read on!
They offer the best customer service on earth.
When it comes to Disney, they take customer service to new heights. Their attention to detail is impressive. When my family and I were on our first Disney cruise, the waiter addressed our girls as Princess, and cut their steaks (so I didn't have to). The next day, he remembered everyone's drink orders, and when I ordered "nothing" for desert, I received a plate that had the word "nothing" written on it in chocolate. These details might sound silly to you, but they're just a very tiny example of the incredible customer service experience Disney offers.
Disney is so much more than "just" an amusement park experience.
I get that some people are not fans of amusement parks, so I am going to spare you the list of my favorite rides (ahem, Soarin' of course). But I can tell you a few other things about the parks that might come as a surprise. Did you know that Disney offers a completely separate Adventures by Disney travel service? You can travel around the world with Disney and rest assured that you'll only see the best of each destination. Disney makes sure they vet the greatest places to see, eat, and explore. If the Disney peeps love it, it's going to be good! You can visit Norway, and see what the beautiful scenery in Frozen looks like in real life, or visit Germany and tour the "real" Cinderella castle in Bavaria with a local guide, or gain access other to behind the scenes experiences never deemed possible without Disney.
They've even mastered cruising.
Remember that cruise I mentioned earlier? Disney Cruises will whisk you to the Bahamas to explore Disney's private island, Castaway Cay (The island is divided into three sections, one for adults, one for teens, and one for kids!), or to visit ports in the Caribbean, Europe, or Alaska. Personally, I'm excited that, this year, Disney Cruise Line is visiting my home country, Finland, and that next summer I can again cruise from New York City to Nova Scotia, Canada.
Disney magic abounds and you can meet lots of characters on the ships, but what's special to me, is the amazing old-world luxury cruising experience Disney offers. Even better, it's a great way to take a multi-generational trip because they find a way to make the experience magical for every member of the family, even for adults! From grandparents to kids, everyone will find something to love.
You can always visit Disney World in style.
The first few times we traveled to Walt Disney World, we wanted to save money and chose to stay outside the resort. Then, the day we started saying in the official Disney Resort, we discovered a whole new world. Now I fully believe that the only way to truly experience Disney World is to bite the bullet and stay in one of their resorts. That way you can take advantage of the transportation service from the airport to the resort and from resort to the parks. We love riding the Monorail from the Grand Floridian to Epcot, or taking the boat from the Boardwalk Inn to Magic Kingdom. The Disney experience starts the moment you wake up, not just when you are already a bit frazzled at the gates.
Truly want to experience Disney in style? Hire a private guide to shepherd you through the parks, get you to the front of every line, share behind-the-scenes insights, and guarantee you get the picture with Elsa without waiting in line for two hours. Private guides are not cheap, but if you have ever used one, I totally understand why you might be Disney-obsessed.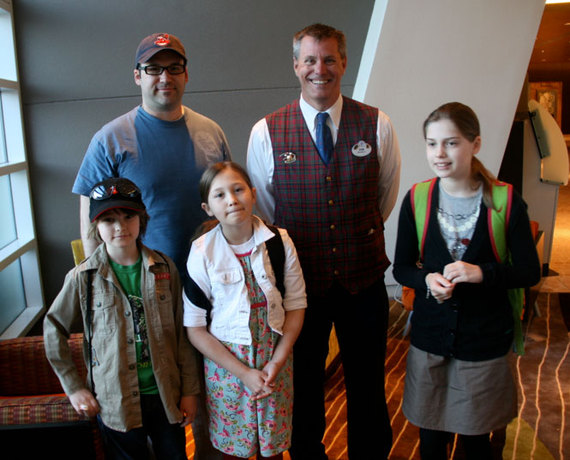 "We had so much fun with our private guide Sam Loomis - the best travel guide we've ever had! We'd also like to congratulate him for his 20-year-Disney-anniversary today!" Photo by Katja Presnal
Disney makes every magical dream come true.
Want to travel around the world to eat croissants in Paris, bratwurst in Germany, and sake in Japan and then go see giraffes on a safari? It might not be ideal for your adventurous mind, but it's something you can actually do at Disney. Taste the world at Epcot and bounce over to safari through Animal Kingdom for a fraction of the price of flying around the world. Of course, it doesn't compare to the real deal, but, for a few magical moments, it almost feels like it. That's what Disney all about, the creation of unique experiences not often available to all.
The offshoot is that no trip to Disney World is ever like the last one. In fact, book your trip right and you you can enjoy a special event experience! For example, at spring you can experience the Epcot International Flower & Garden Festival (pictured) and, in the fall, the Epcot International Food & Wine Festival. And of course the parks feature special programming on all major holidays. I really love the Flower & Garden festival because all of the parks show off stunning topiaries that bring Disney stories to life in the form of flowers. But my real dream is to one day to participate in the Disney Princess Half Marathon.
They let you think beyond the amusement park experience.
A Disney World vacation can truly be so much more than an amusement park trip. Pace yourself going to the parks, focus more on the experience than on riding every ride, and make sure you leave plenty of time to visit Downtown Disney and the Disney Boardwalk, both are free to enter and provide entertainment and plenty of fun outside the parks. You can even ride the world's largest helium balloon, rent a surrey bike, or design your own t-shirt at the Design A Tee shop! For the best-ever summer camp feeling, go camping at Fort Wilderness where you can try archery, horseback riding, kayaking, or making s'mores by the fire with Chip 'n' Dale.
Still not a believer? Disney lets you create your own event.
I admit, I have been completely spoiled by Disney. I have attended several private Disney events -- from witnessing Cinderella-worthy wedding vows at the wedding chapel to a private pirate party on the beach. If you have a fairytale dream, Disney can bring it to life for you. Honeymoon, family reunion, school trip, or even corporate retreat? They have you covered.
So, in short, your own imagination (and the size of your wallet) is the only limit to the kind of magical travel experience you enjoy with Disney.