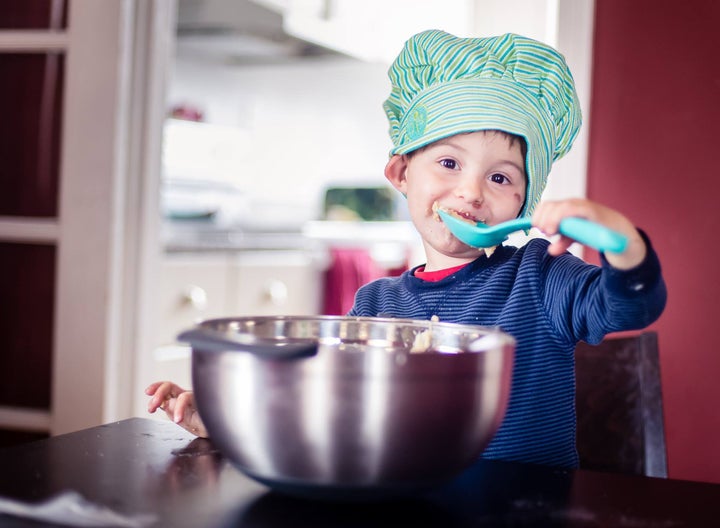 With the holidays right around the corner, many families are starting to plan Thanksgiving feasts and elaborate Christmas Eve dinners. While it may be tempting to kick the kids out of the kitchen while you cook, including them in preparing not just big meals but everyday meals as well can be a great way to bond as a family and inject a few math lessons as well.
Lee Scott, Chair of The Goddard School Educational Advisory Board, believes that cooking with children is a terrific way to enjoy time with your family and support learning. It can sometimes be difficult if your children have different ages and abilities, but you can include even the youngest children.
Scott recommends by starting with a plan of what to make. Work with your children to list the ingredients you will need. If you are using ingredients you already have, talk with your children about what they like and plan from there. You will be helping your children develop decision-making skills and learn about different foods. You can simplify the process for young children by giving them easy choices, such as whether to have carrots or celery in the salad.
Another fun way to involve your children is to ask them to help with measuring, which can be a great math lesson. Place a piece of tape horizontally just below the correct line of a measuring cup to help younger children pour the correct amount. Older children can read the recipe out loud and measure ingredients as you cook.
As you get ready to eat, everyone can help set the table. This teaches sorting, counting and organizing skills. When you sit down to enjoy the meal you have created together, ask your children what they like best about the experience and based on their answers start planning your next cooking adventure together.
When cooking with my kids, I've found a few ways to help make things easier!
Kid-Friendly Recipes: All kids love baking cookies, but get them interested in cooking healthier dishes as well by using a kid-tested cookbook like the Cooking with Curious Chef cookbook. One big advantage of a cookbook over looking up recipes is that kids can flip through themselves and look at colorful pictures. Another advantage is that you know you will find recipes designed with kids in mind so you don't inadvertently choose a complex recipe complex that will end in tears.
Kid-Sized Everything: Kids love anything made just for them! That includes kid-sized aprons and bake-ware. Pampered Chef has a collection made just for kids that gets them excited about both dressing for the part in adorable aprons and chefs' hats as well as using mini-versions of the cookware they see grown-ups using all the time. My kids love being able to use appliances, but of course it's often not safe for them to do so. One trick I've learned is to use smaller, safer appliances that allow kids to feel as though they are part of the process. Instead of waiting for water to boil in a pot then trying to keep my little ones away, I use the Krups Cool Touch Kettle to not just get water to boil quickly but also ensure no burns. Another trick is to use an oversized toaster oven that can fit a small batch of cookies or even a small pizza. It's also important that kids can get up to counter height. The True Tot Tower gets kids up where the need to be to get right in the action and it's adjustable so it can accommodate kids who are very little until the are tall enough not to need it anymore!
Make it Fun: Sometimes doing something different is what it takes to get a kid in the kitchen. Anyone who has ever watched a young child fascinated by the process of seeing an apple peeled knows how interesting children find ordinary foods prepared in different ways to be. Try an appliance like the BLACK+DECKER Spiraluxe 6-in-1 Electric Spiralizer and watch kids' eyes light up as ordinary veggies come out twirled, wavy, chipped, or looking like noodles - all without worrying about kids' hands getting near the blade. Another fun way to get kids interested in making their regular food more exciting is by juicing it - or making it into ice cream. A Hurom juicer can do it all from turning oranges into orange juice to making nut milk and turning fruits and veggies into ice cream and smoothies. As a plus, safety features ensure it won't operate unless assembled correctly to ensure little fingers stay out of harm's way.
Make it Simple: Want an all-inclusive box? It exists. Check out Red Velvet NYC that sends all-inclusive boxes for baking treats right to your door. Even the milk and butter are included. My kids love getting a box full of ingredients that they know will turn into a treat and I love knowing that I won't discover I'm out of salt at a crucial moment. Another fun option is Kidstir, which includes a themed box each month with picture-based recipes that are easy to follow complete with a couple of kid-friendly tools used to make the recipe.
Contributor has no interest in anyone or anything mentioned.
Popular in the Community