Have you considered how using social media today can help you realize your vision and accomplish your long-term goals? Whether you are a student contemplating career paths, a young entrepreneur seeking to establish your business, or an experienced professional you can grow through social media by engaging in insightful conversations and supporting the leaders, projects and organizations you care about.

Allow me to share with you my recent experience using twitter to support the vision of a Latina entrepreneur as one of many examples of social media's potential to be a tool for growth.

Deborah Deras, international speaker and Principal of Synergy Unlimited, produced and hosted the Global Latino Summit, the first online conference celebrating Hispanic Heritage Month. Through a series of daily conversations with successful entrepreneurs in technology, finance, entertainment, spirituality, health and other fields, Deras created a space for transformational conversations at no cost. Her mission for the conference was to use the power of collaboration to inspire others to take the action and make the decisions necessary to go on their desired professional and personal paths.

It was through my twitter feed that I discovered the Global Latino Summit official website where I read the impressive and diverse backgrounds of the speakers. I decided to invest my time and skills to contribute to the success of this conference. My first step was to share what seemed to be a thought-provoking conference with people in my network.

Furthermore, I tweeted the highlights of each day's conversation to the @GlobalLatinoSum conference handle and to each corresponding speaker. After several days of doing this and interacting with Deras and the speakers I was supporting through my tweets, Deras asked whether I was interested in joining the conference social media team. I gladly accepted the offer and as the official Global Latino Summit Correspondent continued to share the invaluable messages, advice, and resources given by each leader or as Deras calls them, trailblazers.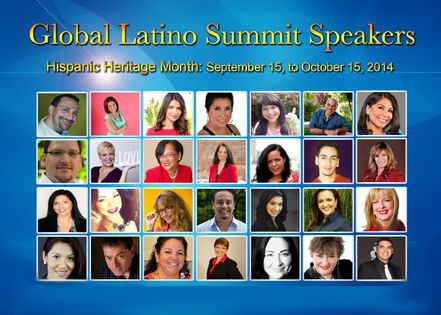 My active engagement with the Global Latino Summit team and speakers is enriching my life in unimaginable ways. As a young Latina leader it is inspiring to learn from the experiences of successful Latino trailblazers demonstrating "que si se puede", yes we can. From their journeys I was reminded that a key to success is owning our voice and embracing our unlimited potential to create products and services that transform our communities and lives. As a nation we are stronger when we are able to find and pursue our calling and it is opportunities like the Global Latino Summit that can be catalysts for us to embark on that journey.

This online conference exemplifies the power of technology and social media to build connections and create opportunities with immeasurable ripple effects. The conference bridges the gap of the digital divide that precludes brown and black communities from accessing information. It is up to us to take the initiative to reap those benefits and to support the continuous success of these online initiatives. Social media is providing an unprecedented level of access to decision makers, advocates, and experts in all fields but it is up to us to get creative with the online tools at our fingertips.

A common theme in the conference was the concept of servant leadership as a way of reaching higher success by supporting the growth of others. When we genuinely use the resources and skills we currently have to support others we will naturally benefit from the collaboration in unthinkable ways. "With the power of synergy, anything is possible", believes Deras.

Every single one of us has an interest we wish to pursue or vision we would like to make a reality, so why not use social media to take the first step? We need to encourage each other to reflect on the ways in which we can be servant leaders in our online and offline communities. In what small and big ways can we use the tools available to us to collaborate with others on a common goal?

No matter where we are in our personal or professional path, having the life we want starts with taking action today. If you want some inspiration and resources, consider ordering the audio and transcripts of the month-long dose of inspiration from the Global Latino Summit trailblazers. Together let's give each other the tools to empower ourselves to become our best selves and to be the change we wish to see in our homes, communities, country and world.
Popular in the Community