It was 2008 and I was very pregnant with my first son. I had moved back to Florida, and in an effort to deal with my anticipatory anxiety, I looked for new friends who had just had babies themselves. Luckily, I live in a small town and it took no time for me to be introduced to Maria Florencia. Our first "meeting" took place at at a restaurant. At 36 weeks pregnant I was hot, bothered, bitchy and ready to pop. Maria Florencia (aka the Martha Stewart of Florida), looked the complete opposite. She carried her baby in the car seat, and was calm and collected. Right from the start, I stared at Maria Florencia and wondered how on earth someone could have just given birth and still looked that slim. As Maria Florencia sat chowing on nachos and a soft taco, I rubbed my aching back and looked at my swollen feet, squished into my Gucci thong sandals. I chewed on my healthy salad-and-beans dish and watched Maria Florencia.
For starters, I noticed my new friend was easy going, sweet and, well, low-maintenance. Her cargo pants hung loosely on her hips, and she wore a breastfeeding-friendly top. New Balance sneakers were her footwear of choice. I had pushed through most of my pregnancy without buying a single piece of maternity clothes because I couldn't stand the designs and cuts. Maria Florencia, however, was practical, and had no problem wearing simple, comfortable clothes. (Maybe that's why she was also able to breastfeed easily -- no matter where she was.)

She was happy to carry her diapers and bottles in her plain, brown, no-name purse. I, on the other hand, could not wait to be a mother, not just for the baby, but also for the amazing accessories, strollers and bags that would accompany said child. Maria Florencia smiled as I used my iPhone to show her the Louis Vuitton diaper bag I had been stalking. I think my new friend was shocked to find that someone would go to such lengths to find a baby bag (not to mention pay such an outrageous price). It became obvious, fairly quickly, that Maria Florencia did not think or care too much about accessories. When I asked what her husband was getting her for her birthday, Maria Florencia excitedly announced that he was buying her a sewing machine.

I don't sew my own clothes and never plan on putting a vacuum on my wishlist. But, thanks to Maria Florencia, I do have a new appreciation for her practical and sensible ways. From her, I have learned that with patience and a good eye, shopping a sale rack is akin to searching for hidden treasure: unique items can be found with enough persistence. I now understand that patience is a virtue, and that finding the correct size and color on sale provides a sense of accomplishment and satisfaction. Maria Florencia would argue that the reward is in the savings. I'm still working on that part. I'm just happy I have extra cash for the makeup I wanted.
Maria Florencia's down-to-earth style has also taught me that brand names and price tags are (mostly) for show. Maria Florencia often appears at a get-together wearing a stylish look. I am always amazed to hear the ridiculously low price she paid for her clothes. She is pleased to announce that the piece I am admiring was purchased at Target or T.J. Maxx. From far away (and even close up), I could have sworn the sweater was from Armani or Elie Tahari.
Maybe Paula Abdul's hit song "Opposites Attract" was not solely about romantic partners. I can't help but wonder if maybe we do each look for friends who will teach us to create a new balance and order within ourselves. I will continue to hope that someday Maria Florencia will learn to appreciate the fine art of shopping, purchasing and finally wearing the perfectly overpriced and non-handmade Gucci pumps. Until then, I will take her advice, and try to spend a little more time browsing and comparing prices. And if nothing else, I'll put all that saved money in my very own personal shoe fund.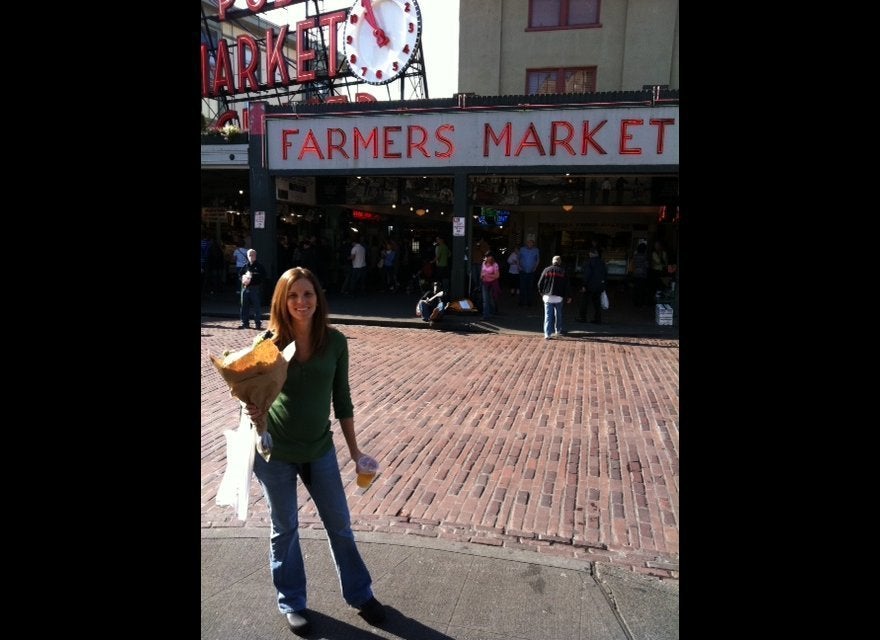 My Low-Maintenance Friend Is Teaching Me To Be Less High-Maintenance