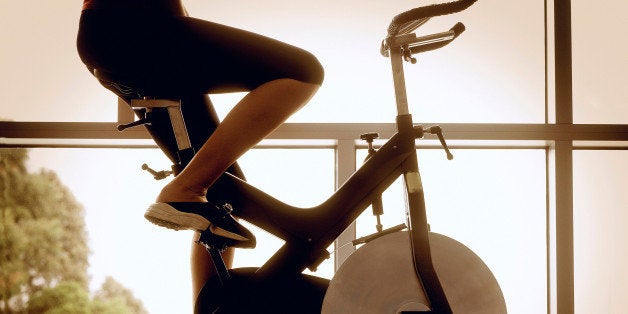 Summer is almost officially here, and with it comes bathing suit season (eep!). Whether you want to get in shape or just look good lounging by your apartment community's pool, exercise is an essential part of a healthy lifestyle -- and your apartment can help you attain it.
If your community offers apartment fitness amenities that can help you get in shape, use them! It's way cheaper than joining a gym, and you don't have to travel far from home to get your workout in. Apartment Guide data has revealed the top five areas where renters can get fit right in their own communities, whether they choose to play basketball, play tennis, go swimming, go hiking, lift weights or just play on the playground.
Apartment Guide obtained this data from all the apartment communities that list on the site for May 7, 2014. The data reflect the areas that have the most fitness amenities to offer renters.
So what is America's top fitness area?
That crown belongs to our nation's capital: Washington, D.C., made the top 5 list for each of the six fitness amenities we researched. Of the 839 listings on ApartmentGuide.com that included at least one amenity in the Washington metro area:
559 communities offer a fitness center
65 have a basketball court
135 have a tennis court
167 are in close proximity to hiking and jogging trails
379 have a playground
592 include a swimming pool
You hear that, Washington? You've got plenty of amenities to use, so get out there and enjoy them!
Other top metros include Phoenix, which ranks in the top 5 for all fitness amenities except tennis courts, and Atlanta, which is great for pools, playgrounds, tennis courts and fitness centers. Two of Texas' major metro areas ranked highly as well -- the Dallas/Fort Worth metro area and the Houston area both have a lot of pools and fitness centers.
More about fitness on the AG Blog:
So where will you find the most apartments with basketball courts, fitness centers, etc.? Here's how the Apartment Guide data shakes out: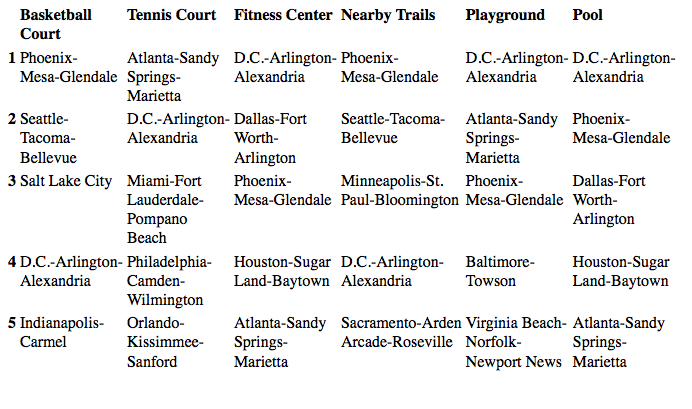 More fun with data on the AG Blog:
Apartment Guide identified the top five areas with the most apartment communities that offered at least one of the following fitness amenities as of May 7, 2014: Basketball court, tennis court, playground, swimming pool, fitness center and nearby trails. The apartment communities were grouped by core-based statistical areas (CBSAs, also known as metro areas) and Apartment Guide identified the top five CBSAs that offer the most apartments with each kind of fitness amenity. Communities that did not include any fitness amenities were omitted from the total number of listings.