The front page of Google's search results is the dream destination for all websites, but getting on that coveted first page can seem as difficult as getting into Harvard. It doesn't have to be. Indeed, even a child can do it.
Case in point: my daughter (who also happens to be a HuffPost blogger). Chloe started blogging and doing SEO (search engine optimization) at 14 years old. Her blog was on the topic of Neopets - the virtual pets site owned by the Nickelodeon TV network, which at the time (a decade ago), was all the rage. She ranked for various Neopets related keywords, even "neopets" by itself. Sure, I gave her some tips, but she did all the heavy lifting. She turned the resulting traffic into passive income by using Google's AdSense program for publishers. Thus, anytime someone clicked on a Google ad displayed on her blog, she'd get paid for the click. Some months she even cracked $1000. Not a bad income for a high schooler, and it certainly beats flipping burgers.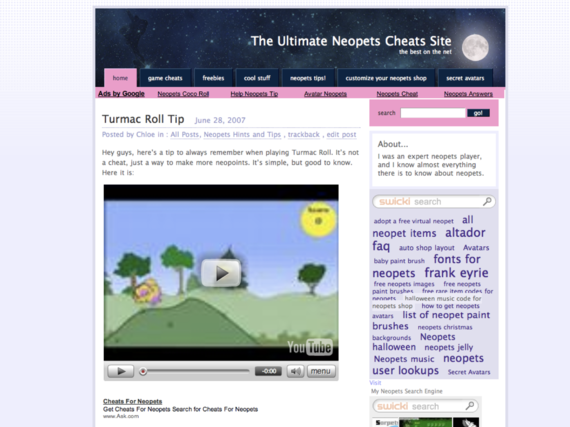 But none of this would have happened if she hadn't cracked the first page of Google. What's so special about the first page? The fact of the matter is: less than 5% of the time do users actually click on to the second page. Way fewer still click on to page 3. So you definitely want to be part of the first page club, or you'll be buried in the depths of the search results that no one visits.
Google is a bit finicky in the way it reads websites and prioritizes them in search results. Once you've identified the keywords that are not only relevant but also popular with Google searchers using tools such as Google Trends, there are certain principles you'll want to follow to integrate these keywords into your website. Here are 5 of those tips on getting on the first page.
1. Give your pages a good title
Help Google understand what your pages are about by being as descriptive in your title tag as possible. In other words, incorporate relevant keywords, within reason. This will assist Google in matching its users to the most relevant content. The search engines view the title tag as the most important element of the page, so make it count. For example, instead of labeling your home page "Home", title it what your content is about, such as "Los Angeles Dog Groomers". Even better if you can make it compelling to humans too. Here's a real world example that I found ranking at #4: "Sparky's Salon Los Angeles Pet Grooming. Dogs Love our Dog Grooming!"
2. Home page is the most important page
The home page of a website is typically the page that accumulates the most inbound links. Those links are like votes in Google's eyes. So don't squander the opportunity; make the home page keyword-rich and highly valuable to users. It's not enough the incorporate the right keywords into the page; you want to make sure people stick around and engage with your site. There are many ways to make a keyword-rich, valuable home page that attracts links from trusted and important websites. For example, offer viral content such as quizzes, infographics and listicles, in addition to your featured products/services and late-breaking news.
3. Make your site readable
Not just to the user of course, but to Google. The search engine has 'robots', if you will, that crawl across your site and 'read' the content, in order to index it in the results. But one key tip that many people overlook: the robots aren't good at 'reading' text that is part of a graphic. So whenever possible, incorporate keyword-rich body copy into the page, rather than relying solely on fancy images to convey your message.
4. Spread Content Across Multiple Pages
Having all your content on one long page is not very user-friendly or Google-friendly. One page websites can sometimes look cool (like this one, for example) but from an SEO perspective, they are a disaster. Much better to have a bunch of pages to your site, each focused on a unique keyword theme, versus having all the content and keywords jumbled onto one page. Think of each of your web pages that make up your website as a virtual salesperson attracting prospects in from the Google search results. Will your sales force of 1 be able to effectively compete with a sales force of 5,000, for instance?
5. Put your Best Foot Forward - First!
As mentioned previously, people don't always scroll down the page, so feature your most relevant and useful content above the fold (to clarify, the fold is the section on the page where users must start scrolling). This concept also applies to Google, because the 'robots' are not going to pay nearly as much attention to text or links hidden way down the page near your footer than text or links prominently positioned near the top of your page. So keep the most important keyword-rich body copy 'above the fold' whenever possible.
It really comes down to making sure your site is readable to both your target audience and to Google. Combine that with great content, an engaging platform, and a solid marketing plan, and your site will hopefully be ranking high in no time!
Calling all HuffPost superfans!
Sign up for membership to become a founding member and help shape HuffPost's next chapter