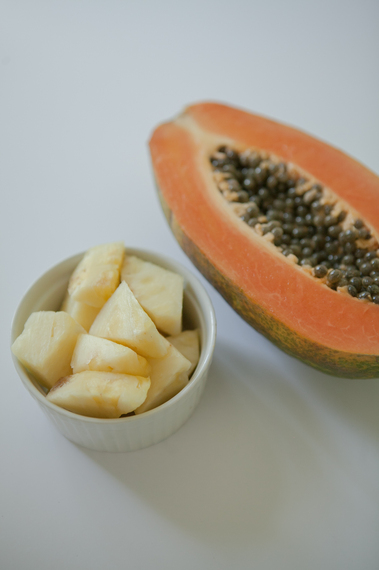 Papaya and pineapple aren't just for poolside cocktails. In fact, these two tropical fruits contain enzymes that many of the world's most sought-after facialists and skincare specialists use in their treatments.
The enzymes (called papain and bromelain) are protein-dissolving. When applied, they naturally work to dissolve and lift away dry, scaly skin that builds up on the outer layer of your face (creating a dull appearance). When the skin debris is removed, it minimizes the appearance of pores and gives off a radiant, natural glow.
But I've got some good news. You don't need to go to a skin specialist to get the amazing benefits of these fruit enzymes. You can easily make a mask with these two ingredients in the comfort of your kitchen, and it will be just as effective on your skin and fun to create.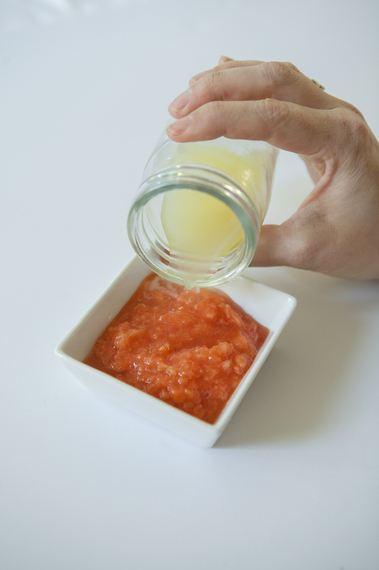 Papaya Pineapple Face Mask
1/4 cup ripe, raw papaya
1 tsp fresh, raw pineapple juice
Fork
To Make:
In a small bowl, mash the papaya with the back of a fork and add in the pineapple juice. Mix well to combine into a paste.
To Apply:
Gentle pat the mixture all over your face and neck with your fingers and lie back on a towel to allow the mask to penetrate your pores. Rinse with warm water after 10-15 minutes and follow up with a moisturizer.
Want to create a luxurious, evening facial ritual all in the comfort of your home? Check out my video guide.
Want to create a luxurious spa facial for free? Click here.
*Use on all skin types except burned or irritated skin
Related