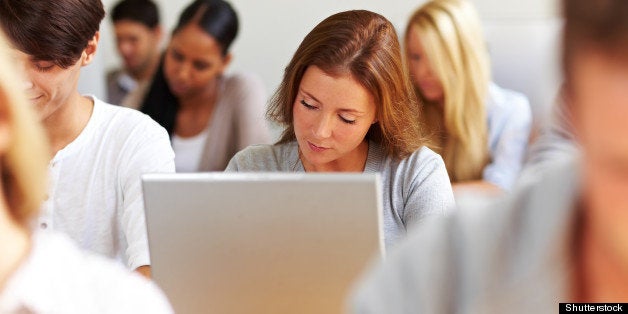 Editor's Note: This post is part of a series produced by HuffPost's Girls In STEM Mentorship Program. Join the community as we discuss issues affecting women in science, technology, engineering and math.
I wasn't always interested in going into a STEM field. I got into computer science by accident - a scheduling error in high school. Early on, I wasn't sure that computer science was where I was meant to be. It was important to me to see the fields of science, technology, engineering and math as a place where I could make a contribution that would actually impact the world for the better, and I didn't find that insight right away. But with time, I fell in love with computer science; even after achieving the highest degree in the field, I still come to work every day excited to learn something new. I had a lot of great advice and help along the way and I hope that I can pay it forward by sharing some of my experiences with you.
Lesson 1: Celebrate your progress, instead of comparing to others
The first part of this challenge was seeing that I was actually good at Computer Science. This was hard because I was comparing all of the challenges and insecurities I was feeling internally with the confident swagger I was seeing expressed by my male counterparts. I wanted to channel my energies into an area where I had aptitude and it took some time to recognize that my way of expressing expertise was just different from the boys'. My advice is to remember that your progress might look different from the way others measure their accomplishments, so find metrics of success that work for you and take time to celebrate achievements that are meaningful to you.
Lesson 2: Find what drives you
The second part of this challenge was that I needed to see how work in Computer Science could go beyond just being an interesting puzzle. I wanted to know how my efforts could help make the world a better place in ways as concrete as if I became a doctor or a teacher. It wasn't until my senior year of college that I actually got a chance to program something that I could see as being useful and show to others as the kind of contribution I hoped to make in the future.
When I got to this point, I was hooked! But, getting there was sometimes a struggle when I couldn't see the impact or importance of some aspects of my work. To me, it was about seeing the bigger picture of how Computer Science could change the world; for you, there may be a different driver that makes your work meaningful. So, find what drives you and actively seek out those experiences. Sometimes it means taking one project, one class, or even one day at a time until you finally get to do the kind of work that makes you excited to wake up in the morning.
Lesson 3: Make your own path
My path in STEM has included a computer science B.Sc., a Ph.D. in human-centered computing, various internships and now a research position at AT&T Labs. Through the process of finding my niche within STEM, I developed skills that are unusual for a Computer Scientist. I bring a knowledge of design and psychology to my work as an AT&T Labs researcher and the field of communications technology in the home. Psychology gives me the methods to understand if the technology that I made is something people will actually use, and design helps me bring my ideas to life in ways that are compelling to users.
I'm continuing to deepen my expertise through research that allows me to create the kind of impact I value by applying my knowledge to real innovations that are being developed by AT&T today. I'm still pursuing opportunities to both mentor and be mentored. And ultimately I've found a place where I can see the difference I'm making on people's lives - which is my personal measure of success.
Svetlana "Lana" Yarosh is an HCI researcher at AT&T Research Labs in New Jersey. She was born in Moscow, Russia and immigrated to the U.S. with her family in 1995. She received two Bachelors of Science from University of Maryland (in Computer Science and Psychology) and recently graduated from the Human-Centered Computing Ph.D. program at Georgia Institute of Technology. Her research falls primarily in the area of Human-Computer Interaction, with a focus on Ubiquitous and Social Computing and a special interest in Child-Computer Interaction. Lana has a passion for empirically investigating real-world needs that may be addressed through computing applications, designing and developing technological interventions and evaluating them using a balance of qualitative and quantitative methods. Her work has been featured on CNN, has won multiple innovation competitions and has been recognized with a Fran Allen Ph.D. Fellowship Award. Lana is honored to have been the recipient of numerous grants and scholarships including the AT&T Research Labs Graduate Fellowship.
Popular in the Community