Given the incessant pace of the internet, and the antics of the current presidential administration, staying up to date with American current events can be exhausting, if not harrowing.
Earlier this month, after former FBI director James Comey testified before the Senate Intelligence Committee, the web was buzzing with familiar hot takes and political predictions, mostly rehashing the same quotes and questions. A young poet by the name of Gordon Ip, however, packaged his take on the breaking news differently, breathing new life into yesterday's news.
"Kushner, Flynn, where does the truth begin?" he said, words flowing with urgency and poise. "Suspicion in the wind, static in our sleep, demanding our dreams, unquestioned loyalty. Our country is full of 'no questions, please.'"
Ip is a member of Get Lit, a troupe of young poets who make and perform slam poetry in and around Los Angeles. The nonprofit organization was launched by Diane Luby Lane in 2006 as an effort to increase literacy among elementary, middle and high school students through spoken word.
Slam poetry, or spoken word, is part creative writing, part performance, a means to finding your voice and expressing it ― loudly.
"Working with young people, it feels like you're helping to shape someone's idea of themselves," Lane told HuffPost. "Young people are so open, their lives can go so many different directions. There are so many young people that are artists, writers, performers, who don't know what to do with their talent. If they don't have that avenue, what a waste. It can be the difference between getting a scholarship to college and dropping out of school."
For the past 20 weeks, the Get Lit Players have been participating in a series called "Get Lit NOW," using current events as a springboard for poetry that melds the political and the personal, addressing national and global concerns in one unfiltered voice. Mila Cuda, a high school senior and newly elected Poet Laureate of Los Angeles, serves as the editor.
Topics broached in the series range from healthcare to climate change to rape culture, depending on the week's most recent happenings. Each subject is communicated, however, through the singular perspective of the poet, translated into an embodied and impassioned language all its own.
"Writing about politics is something I've explored more recently," poet Jojo Louis told HuffPost. "I had been seeing these shocking things on the news, but I never really wrote about them. Once I started, I realized how much my opinion matters. Poetry helps me spread the word about what I feel."
Louis, who is 19 years old, wrote and performed a piece addressing reports that President Donald Trump had ordered the launch of 59 missiles against Syria, which he initially misidentified as Iraq, while enjoying "the most beautiful piece of chocolate cake that you've ever seen," as the president described.
Louis' poem dramatizes Trump's bizarre description of his dessert, as well as his inability to recall which country he had attacked. Louis blasts Trump's machismo facade with a masterful mix of satire and solemnity. "Should we let them in? Lock them up? Shuffle up the deck and bomb the shit out of whichever card comes up?" he asks.
For the young poet, the challenge of making the political poetic rests in his ability to show the implications actions have on actual individuals. "When I see something on the news, I immediately think about how it directly affects me," he said. "After that, I think more about its universal impact. I try to put my all into it: my experience, my story."
Another poet, 18-year-old Samantha Healy, addressed Syria in her poem, which she performed just after a gruesome chemical weapons attack left scores of citizens, many of whom were children, dead.
"We could fund the arts or tear the world apart," Healy says, eyes burrowing into the camera. "Are we nationalists or just negligent? Are we nationalists or just negligent? Are we practicing policies of isolation? Trying to be bipartisan but only being bystanders? We are not innocent when we watch violent acts. And we are not innocent when we commit them."
Like Louis, Healy is relatively new to writing poetry about political topics. "I usually wrote about my own personal experiences," she told HuffPost. "When I first hear about something happening in the world, I am a very empathetic person, so there's a lot of emotion. I immediately write down the emotions, then I get the facts down."
While poetry is often written off too quickly as elusive, elitist or out of touch, the Get Lit Players show the art form at its most urgent and accessible, words pumping with adrenaline. "Poetry has a level of honesty to it," Louis described. "People bring more than just words to a poem. People bring their feelings. It can spark a fire in someone that influences their actions, or helps them look outside of their own personal experience."
Healy added that poetry is an especially potent medium for young people, who often encounter the art form when their lives and identities are still very much in flux. "You become part of a movement," she said. "Everyone is so vulnerable and open; it creates such a healthy way to get through your pain. We're changing something, we're moving forward and we're making a difference with our words and our honesty."
You can check out 20 young poets' musings on political happenings through the Get Lit NOW Facebook page, and be sure to check back each week as a new poem is added.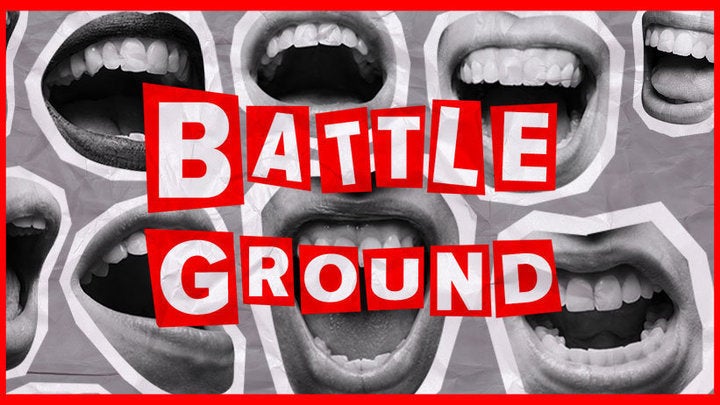 Popular in the Community