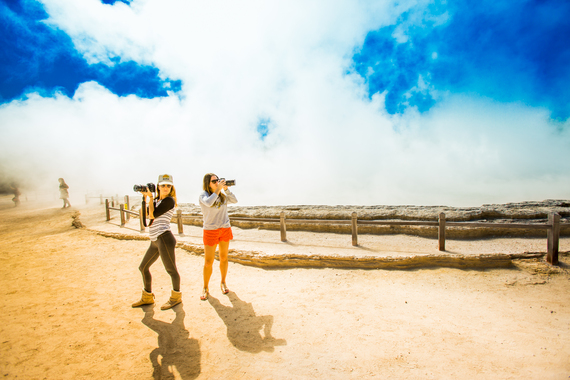 At 35 years old I thought I had finally figured it out. As a destination wedding photographer, I have seen what it takes to make it down the aisle. So I thought for sure that spending my birthday in a hut in Africa with my boyfriend of 4 years was going to be the "trip of a lifetime" that would end somewhere with him getting down on one knee and proposing. By my 36th birthday I would be planning my destination wedding somewhere exotic and I would be entering that next phase of my life. Instead, it led to an argument about how I am too obsessed with galavanting across the globe taking photos and that if I never learned how to be still, that I would never be able to "settle down", live a "normal life" or be "happy". This is what you are taught to believe as a woman of child bearing age. And most women who have reached their mid thirties have had their biological clocks ticking for quite sometime. I have always felt like the exception. I am not saying that I don't want to be a mother someday, I just haven't been in a hurry to start that chapter in my life. I have always felt that I have a lot of soul searching in the form of wandering that I have to accomplish first. I knew after my conversation that day in the hut with my boyfriend that sadly he was not going to be the man I was going to walk down the aisle with.
The man I would end up with would view my wanderlust as my work and passion in life and not as an obsession and would want to join me on my global adventures. I figured if I exist, there must be other "exceptions" out there. I can't be the only female world traveler trying to find a working balance between her passion to travel and her biological clock. I decided that I was going to prove him wrong.
So instead of planning my "would be destination wedding" on my 36th birthday, I found myself planning a different sort of trip. One of self-reflection and rediscovery. I knew I needed a "Girl's Gone Wild" trip, but not the kind you are probably envisioning. Instead, I wanted to get out into the wild... literally, experience new people, places, and get myself out of my comfort zone. I needed a trip that would reset my life, my expectations of myself, and the path that I was headed on. I needed a Jack Kerouac "stream of consciousness" kind of trip, where I could write and travel down the road less traveled, and add back in the spontaneity to a trip with so many personal expectations. And then it dawned on me, I need to do a road trip across wild, wonderful New Zealand! On a trip like this, though, you need a Thelma to your Louise. Someone to bounce ideas off of and share in the experiences with. I had no idea who this person would be or how I would find her, but since the universe works in mysterious ways, she ended up finding me.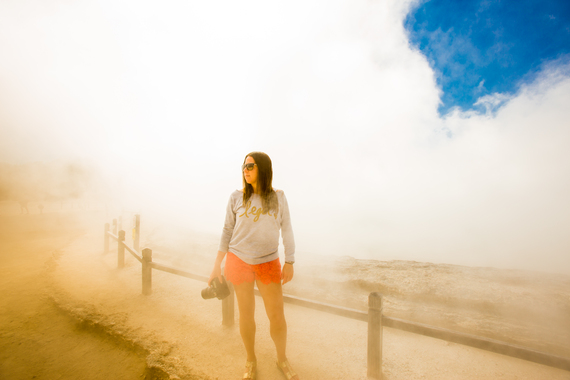 "So, do you want to go swim with a Jaguar with me in April?"?
I was standing at the Surf and Sand Hotel holding a cocktail at a wedding industry mixer when Shannon, a cinematographer, came up and asked me that question. I said yes, before even knowing the details, because that may have been one of the best one-liner conversation starters I have ever heard. That question sparked a ridiculous photo competition between the two of us comparing our selfies with jaguars, tigers, and sharks and I quickly realized that I had found my partner in crime. By the end of the day Shannon had booked her flight to New Zealand and our adventure had begun.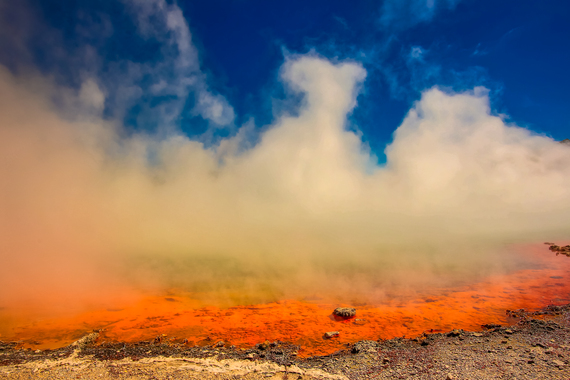 "Everyone is at a crossroads in some way, no matter what place you are in your life. There is always somewhere you are and always somewhere you are going." Shannon said to me. So what's a better metaphor than renting a campervan and going on an epic road trip?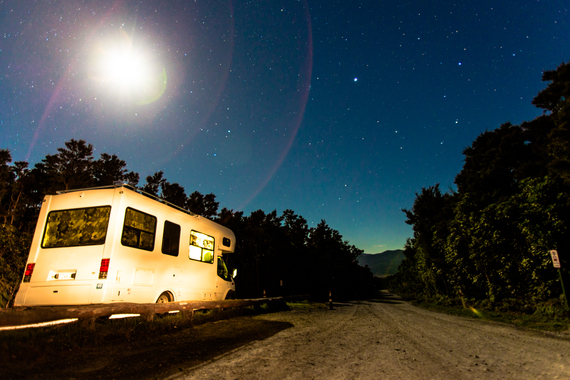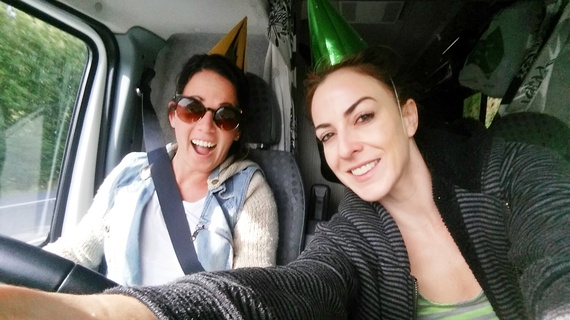 The more I thought about the benefits of hiring a campervan, the more I realized that it was the ONLY way we could really have this gypsy, soul-searching trip we were looking for. It was like traveling with our turtle shell on our backs. No more hotels and checking in and out or unpacking our suitcases over and over. No more set itineraries or places we had to be at a certain time. In fact, time in general goes out the window and naps become possible again. The best part was being able to create our own soundtrack and jam out to our music on the road. Because every good trip needs a soundtrack that no matter where you are in the future it instantly brings you back to that moment, place and time in your life when you heard that song and felt free.
All of those back country roads in Virginia learning how to drive stick paid off when we went to pick up our van and realized that not only is it a manual transmission, but we would be sitting on the opposite side of the vehicle and driving on the left side of the road. It was already like a teambuilding exercise just getting out of the parking lot, constantly reminding each other to stay on the left side of the road. One hour into our journey and already I was pulled over on the side of the road getting a speeding ticket written out in my name. Even though it was my birthday, the officer would not budge on the ticket and gave me the full service stop including a breathalizer test at 9:30 a.m. on the side of a country road. He parted ways congratulating us that we were at least on the correct side of the road. Welcome to New Zealand!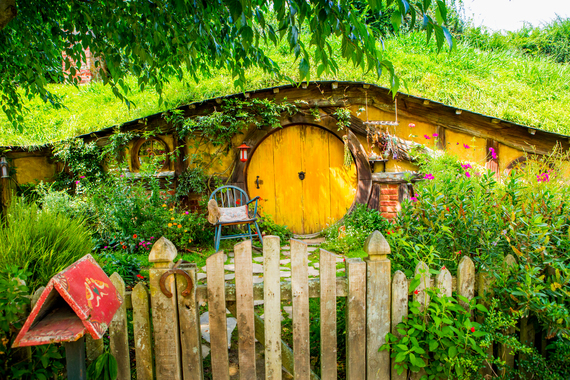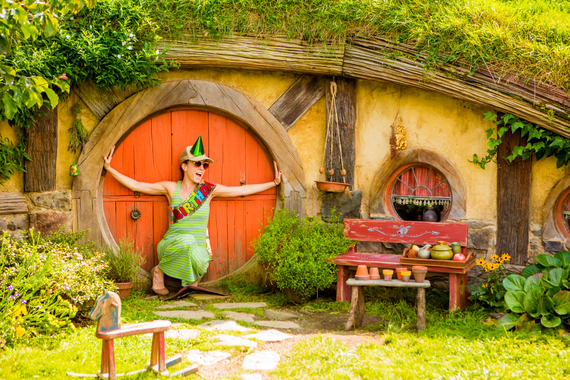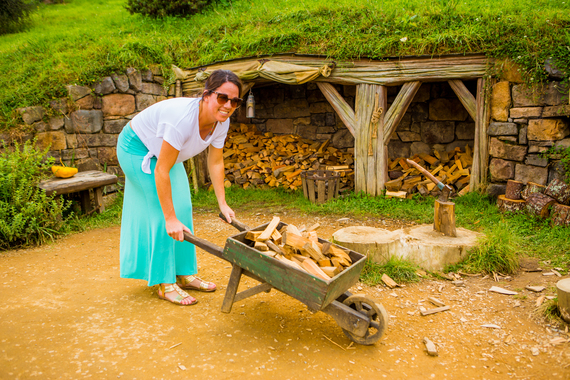 Get Out of Your Comfort Zone

Growing up, my parents were stationed around the world, and I have lived and traveled to some far off exotic places. I have been to 57 countries, but my best trips have always been the ones where you literally end up somewhere so surreal that you have no previous life experience to compare it to. It is in these "Where the bleep are we?" moments that you really can let go of what is currently happening in your life and just be present in the moment.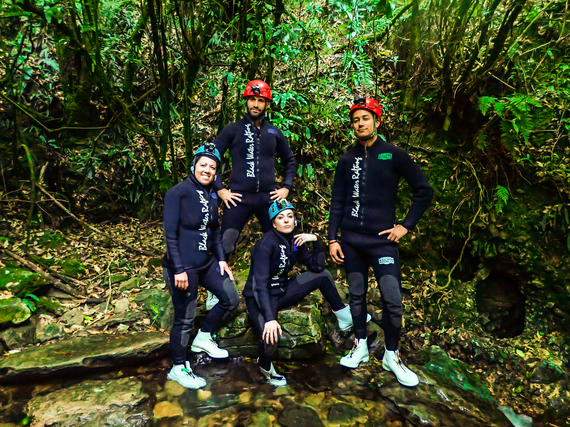 I had heard about the legendary Black Water Rafting at the Waitomo Glow Worm Caves by watching the Planet Earth series on TV years ago. I knew that I had to find and explore these caves one day. SO when Shannon and I were being fitted in full wet suits and helmets, with ropes and harnesses trudging through a sheep farm getting ready to descend 110 feet into a 3 foot hole in the earth, I knew that we were about to cross over from reality to surreality.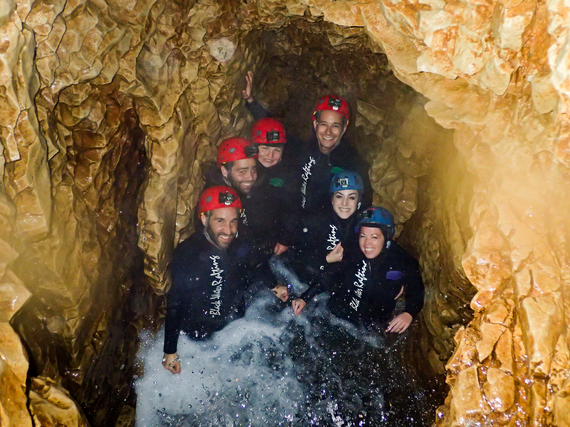 The next 5 hours of our lives were life-changing as we followed our Maori guide and abseiled into the abyss, ziplined across the cave in pitch blackness, scrambled up waterfalls, and sniper crawled through tiny crevasses. Two hours in, we were sitting on the cliff of an underground river drinking hot cocoa and we had to jump into near freezing eel-infested water. This was the moment we had been waiting for where we could float on our backs, turn off our headlamps, and just look up at the Milky Way galaxy, (which was really just thousands of glowworms), while our guide sang native Maori folksongs in the perfect acoustics of the cave. In this moment, everything in my life slipped away but her song. I was cold, exhausted, overwhelmed, feeling so many emotions, but the beauty of it all took over. I had no choice but to be present.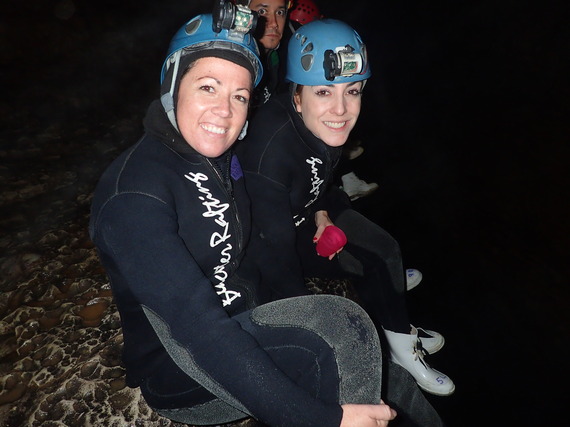 "Where are we??!", I said to Shannon, as I tried to wrap my head around the fact that we were thousands of miles from home, deep in the Earth, lit by the glow of insects that can't be found anywhere else on Earth, and listening to a hauntingly beautiful voice while floating down a dark river to a destination unknown.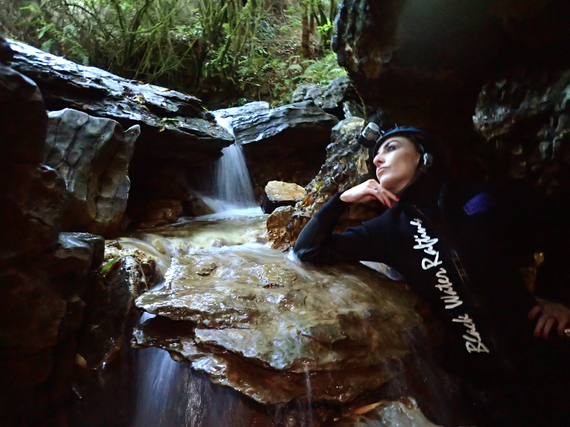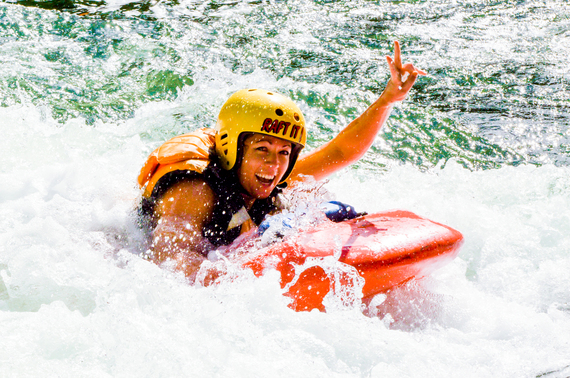 The next day, Shannon took over driving while I made peanut butter and jelly sandwiches in the back of our campervan. We were hauling ass through windy roads and sheep farms and listening to some upbeat music psyching ourselves up for our next adventure, Sledging. Think whitewater rafting, except without a raft and just a helmet and flippers. Leave it up to New Zealanders to create the wildest, most extreme sports that you have never heard of. My theory is that they took an old luge sled, realized it floated, and then decided that it would be even more insane to ride that down the rapids...and voila! A new adrenaline sport was born. I have always felt that pushing your personal fear boundaries is the next step in overcoming obstacles you are facing in life. When you live your life in fear, is when you become paralyzed. When you attempt something crazy, you build up your confidence, and then the change you feared isn't so scary anymore.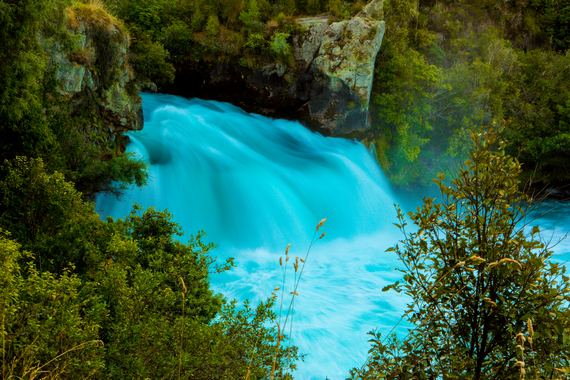 We rode a 20 minute bus ride with our Maori guides to the river where we had some quick safety instructions, before having to carry our heavy sledges down through the rainforest to a waterfall where we would jump in. The Maori regard and respect their land and rivers, so before carrying out any activity on the river, we would first have to perform a karakia, a prayer for protection. The fact that we were about to do something so dangerous that even the locals say a prayer beforehand to the river for survival, made me start second guessing the sanity of what we were about to do. Once we jumped in the river there was no turning back.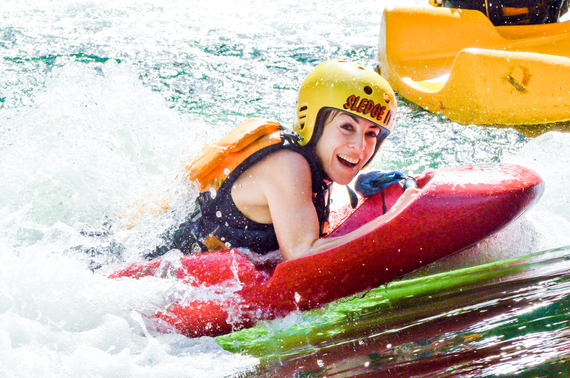 Sledging was by far one of the most fun and extreme adventures I have ever tried. Our guides put the fear of God in to "stay to the right or you will die" or "don't stand up in the river or you will die" or my personal favorite, "get out of the river to the left before the waterfall, or you will die". Shannon, who trains for triathlons, was like a little fish in the water with no problems navigating the rapids. I, on the other hand, found multiple ways to smash into the rock cliff walls and get flipped upside down in whirlpools, but despite my battles lost with the rapids we both made it to the end in one piece, stronger and definitely as more fearless women.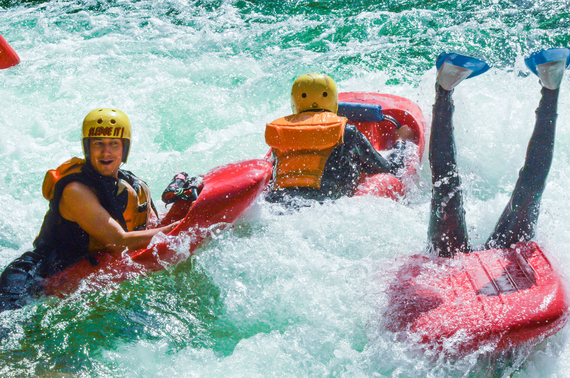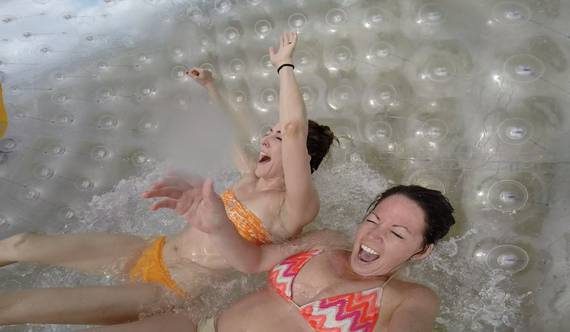 They say that laughter is the best medicine and sometimes as adults we all need a reality check that life doesn't have to be SO heavy all of the time. In our 30's we put so much emphasis on ourselves to have everything figured out in our lives and so much pressure on ourselves to be perfect and make the right decisions. I think it's important to remind ourselves once in a while that not every move we make has to be so calculated and riddled with meaning and maturity.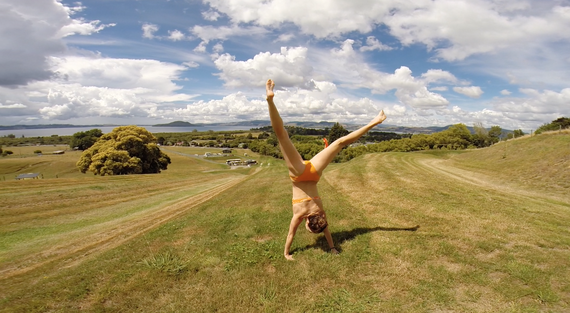 As we were driving along in our campervan towards Rotorua, we drove past what appeared to be huge plastic hamster balls rolling down a mountainside with a sign that said, Zorbing. Again, the New Zealanders are all about inventing even more ridiculous human being activities, so we thought we would pull over to check it out.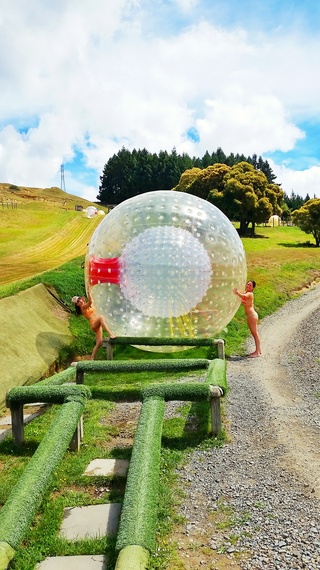 From first glance, it looked pretty boring and slow. Shannon and I didn't really know what all the fuss was about and it seemed silly to climb into a water-filled ball and roll down a hill. But looks can be deceiving and in the theme of our trip, we looked at each other, grabbed our GoPro camera, and said, "Why not?"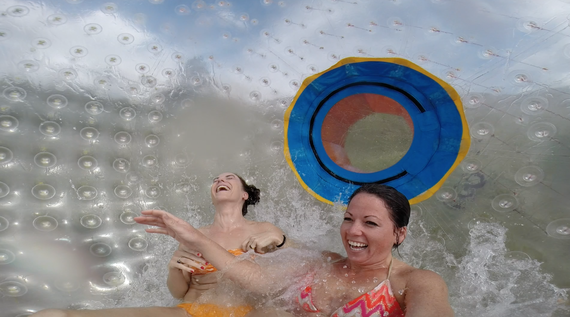 From inside the zorb, the only way I can describe the experience was like being inside of the womb with your adult fraternal twin sister, doing somersaults, and being able to consciously remember and live the experience together. There was nothing graceful about it. We were tossed around like rag dolls and I just clung to Shannon in the fetal position laughing so hard that no sound was coming out while she laughed uncontrollably. I honestly have never laughed so hard in my life that it almost hurt. It was like years worth of laughter packed into a ridiculous 2 minute activity and at the end you are delivered back into the outside world through a plastic hole. The entire experience is like a metaphor for being reborn. We wanted to relive this adventure over and over again. Even though you are an adult, for a few brief moments you can remember the innocence and protection of the womb, when we were all young and lucky enough to not have a care in the world.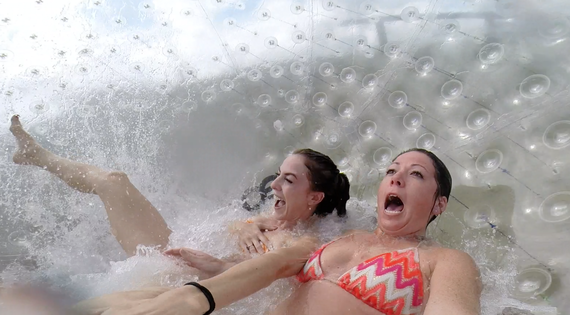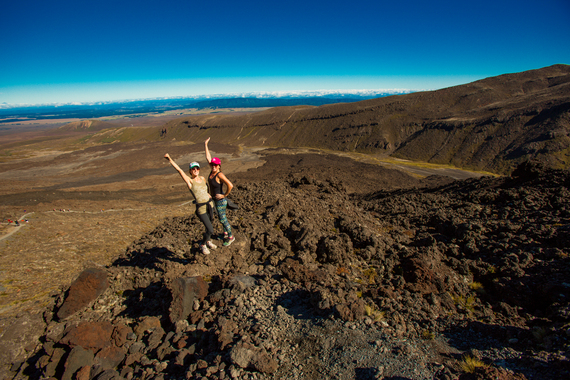 Slow down...those two words are my kryptonite and something that I know I need to be better at. Although, being a risk-taker and putting myself in uncomfortable life-changing situations is my forte and a great way to not think about what you are going through, sometimes just the act of slowing down is the hardest, most challenging thing to do. I know that slowing down isn't just about the body, but it is about refreshing and invigorating the mind and soul and just allowing your spirit to take it all in, process the thoughts and emotions, and make decisions. It's about actually DEALING with what you are going through. It is the act of "being" of "balance" and "Being one with nature". It's the thing that we try to achieve in our quickie LA-style yoga classes crammed in between rush hour and dinner.
As Americans, we are used to our instant-gratification lifestyles, sometimes we have to travel far and wide to check-out and slow down, when really it is something we can learn to practice in our everyday lives.
After the insanity of our first 4 days in New Zealand, Shannon and I were in the mode to elevate our minds, bodies and spirits, and we were told that we couldn't leave the North Island before doing the infamous Tongariro Crossing, AKA the trek to Mordor from Lord of the Rings. We drove a couple of hours around gorgeous Lake Taupo and stopped to go grocery shopping, go on a sunset run, and steal some internet from a local Indian Restaurant from our camper in their parking lot.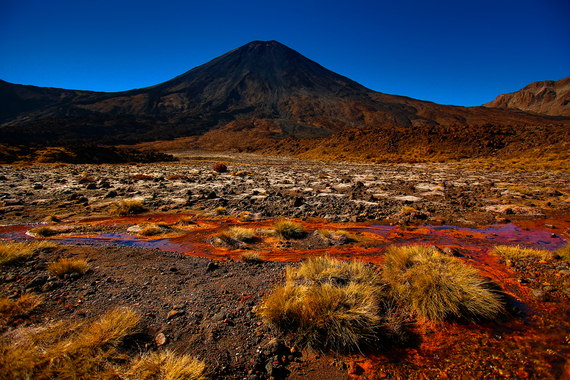 Our final task on the North island was to conquer a 20km trek over treacherous volcanically active land that starts out looking like the landscape on Mars. It was a hot, barren, landscape of volcanoes and armed with just our cameras, some water and packed snacks, we were about to wake up early and spend the next 7 hours testing our perseverance punctuated with long moments of solitude and reflection. We were ready at 8am to start, but we honestly didn't know what we were ready for.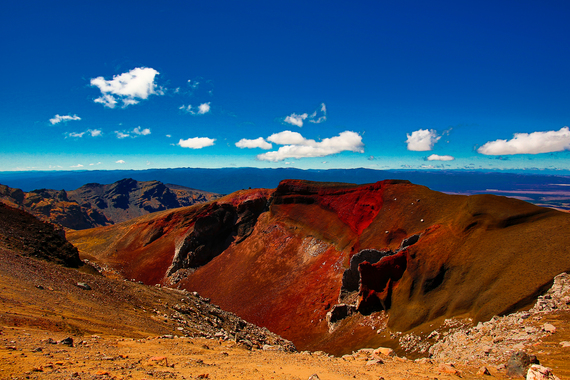 Your mind plays tricks on you when you attempt something this challenging on your body. You see a hill, get to it, take a break, tell yourself you have made it, but then there is another unseen hill or challenge ahead of you that you then need to climb. Each time the end seems near, it becomes almost further away. It is a trick of the mind and amazing how powerful our minds are to be able to overcome seemingly impossible challenges not just while hiking, but in life.
We started out chatting, playing music, and making conversation. Then conversation became a bit fewer and farther between and then forced. Then you cross over into the uncomfortable silence and self-reflection that you learn to avoid and before you know it, you are thinking long and hard about your life and where you are in it, stopping once in a while to take photos and try to take it all in.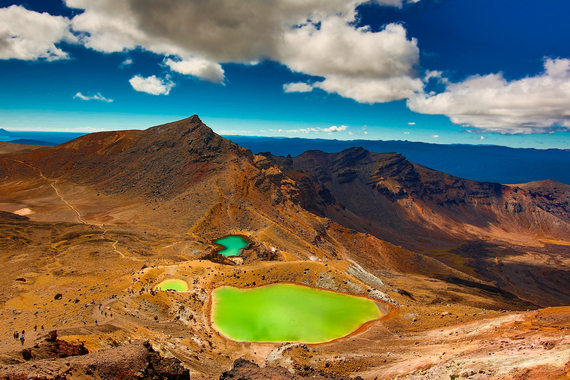 We hiked over multiple mountain tops, across emerald green lakes and geysers, through alpine meadows and butterflies, eventually descending into a rainforest of shaded walkways.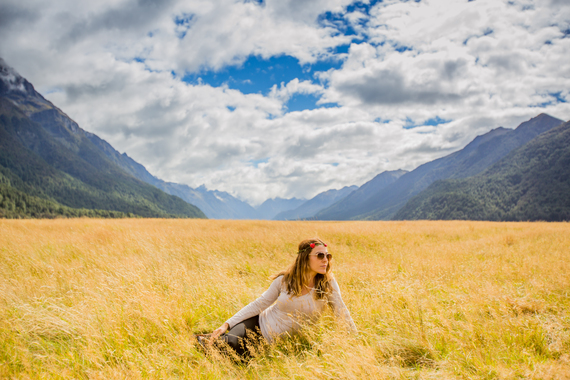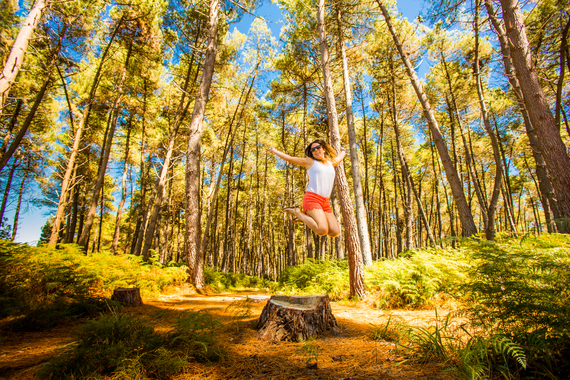 I looked over at Shannon and had no idea what inner personal journey she was going though, but I found myself thinking about how different of a person I was from my birthday last year in a hut in Africa to this year in New Zealand. I found that my wanderlust and my spirit was always in me and that everyone else's idea of "settling" or "normalcy" or even "balance" is different than mine in life. All this time I was told that the way I was living my life was some form of escape, when really I have no barometer to measure myself against and no previous generation of female explorers and mothers to really compare myself to. In a way we are female pioneers having to forge our own paths and break social norms and patterns. The best part is that I have finally realized that there is nothing wrong with me or the way I am living my life. I realized on the road and during the long Tongariro Crossing that I am still young, I am free, and I am happy. I had to travel many times around the globe this year to realize that I am just fine and always have been.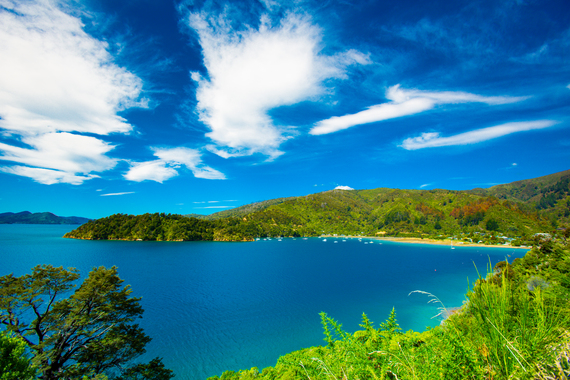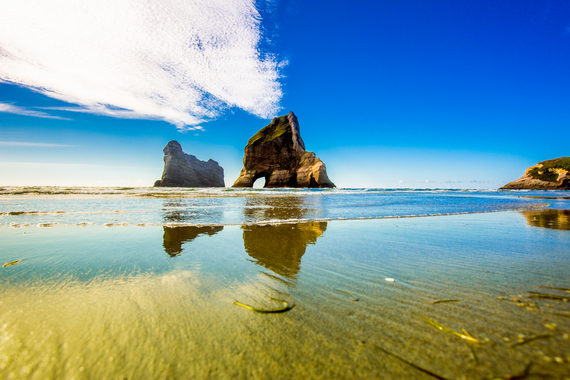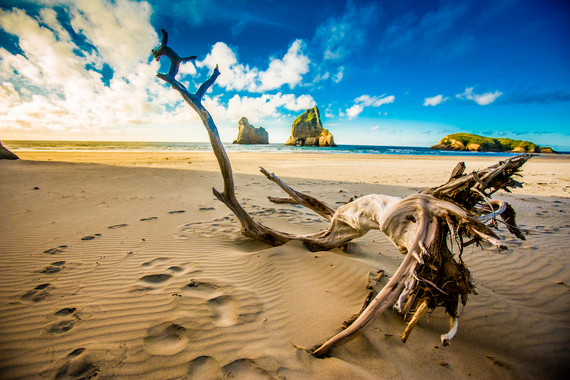 As we sit in our campervan crossing the ferry to the South Island feeling confident in our conquest of the North Island, we looked at each other and Shannon reminded me of her favorite quote in life, "No matter where you are, you are always at a crossroads...because there is always somewhere we are and somewhere we are going." We have no idea what adventures the South Island are going to bring, but we are ready and excited to face them head on.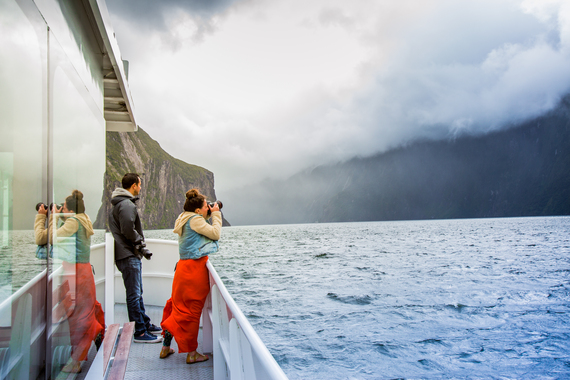 Related