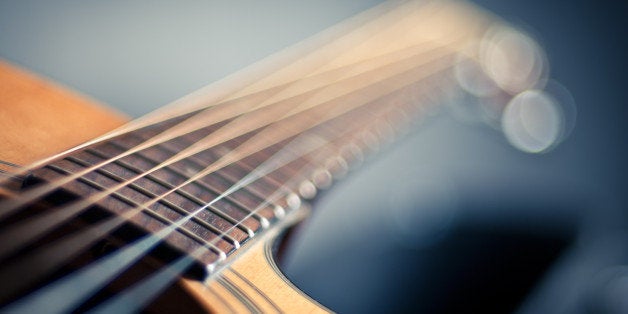 Coming of age in the '60s, guitarist Joe Beck was a ubiquitous presence embedded in much of the music that I was listening to at the time. Beck started his career in the early '60s at the age of 17 in Manhattan playing with some of the most heralded stars in the jazz world. He always said "I was just in the right place at the right time," but truth be told he was damn good. You had to have been good to have played with the likes of Stan Getz and Astrud Gilberto, Gil Evans, Maynard Ferguson, Louis Armstrong, Duke Ellington and Buddy Rich. Perhaps, most famously, he was the first electric guitarist to play and record with Miles Davis. He remembered the gig with Davis in 1967: "For years I had dreamed of playing with Miles, one of my heroes. But when I had the chance I wasn't prepared yet, and I played very badly on that session." The guitarist escaped the music for three years, operating a dairy farm before returning to become a staple of the studio and session scene in New York.
Beck's imprint was all over Creed Taylor's famous CTI label from the early seventies. He was practically Taylor's house guitarist, his work on sessions by Esther Phillips, Joe Farrell, J.J. Johnson, Paul Desmond, Hubert Laws and Idris Muhammad. He made his own fusion release, self-titled Beck, from 1975 that included keyboardist Don Grolnick and the breakout crossover star, alto saxophonist David Sanborn. Beck was a jazz player who could scream like a rock player but with chops, and he employed ample fuzz tone or wah-wah effects as required. The guitarist was in the studio constantly, playing sessions for others, writing jingles and eventually producing and arranging. In 1975, his studio work could be found on Paul Simon's blockbuster Still Crazy After All These Years. Not all his work was memorable. In 1977 he was enlisted to produce/arrange Frank Sinatra's disastrous plunge into disco on two singles "Night and Day" and "All or Nothing At All".
Despite being an in-demand sessions player, Joe looked back at time as being creatively stifling. In an interview in thelastmiles.com he summed up his experience this way:
"I was totally involved in the studio business in New York, which is basically playing bad music for good money. That's what recording musicians do. Every once in a while they do something of note and that's nice. I was moving from one house to another and my appointment book fell out of a drawer. I picked it up and noticed on one page that I had twenty-one sessions in five days. Now there are not twenty-one good sessions a week on the planet, so you know eighteen of them were absolute horror shows. Studio life is lucrative but musically bare."
By 1989 Beck returned to dairy-farming, an ill-fated investment that depleted most of his savings and by 1992 he returned to music at age 47, a little too old for the studio scene. He picked up his guitar and returned to playing what he called "real" music, touring Europe. In 1993, he was still on call and can be heard on James Brown's "Funky Side of Town" from Brown's Get On The Good Foot album. Sometime in the late nineties, after he and the guitarist John Abercrombie had finished a successful European tour, Joe Beck was diagnosed with lung cancer. Despite a positive attitude and extensive treatment Beck passed on July 22, 2008 in Woodbury, CT at the age of sixty-two.
And so, almost six years after his untimely passing, we get the release of a new trio album recorded live at Anna' Jazz Island in Berkley, California on September 14, 2006. Posthumously released albums are a hit or miss affair. We often give performers, especially one's we are fond of, a pass when we listen to something that we know is their final work, especially if they performed in failing health. On Joe Beck's final release, Get Me, there is no fear of sentimentality creeping into our judgment of this performance. Joe is in fine form and the session, brilliantly recorded by Adrian Wong is an unqualified delight. The performance documents a musician at peace with himself and simply wanting to play the music that he loves, unadorned and in the most personal way. If there is a surprise in this mix it comes from the knowledge that the rhythm section of Peter Barshay on bass and Dave Rokeach on drums play so superbly in-sync with Beck, having been chosen by the owner Anna De Leon and having never before played with the guitarist. At one point in the program Beck calls out his rhythm section as being "stupid good," a laudatory reference to Barshay and Rockeach's intuitive playing.
The set is made up of standards, but Beck proves his affinity for creating tiny masterpieces of invention- delicate introductions that lead us into the familiar melodies. The brilliant interplay is evident from the very beginning on Victor Young's oft played "Stella by Starlight," a creative highlight, which finds Beck weaving marvelous passages through the melody as Barshay provides equally facile responses. The guitarist plays Hoagy Carmichael's "Georgia On My Mind" on two versions on the album, the last one cut for radio play. Channeling his bluesier side either easily worth the price of admission. The guitarist employs beautiful single line runs, plays octaves ala Wes and compliments the melodies with delicate chord work using no effects, sometimes taking a ballad from a filigreed solo into a swinging jam.
Beck has an affinity for playing Brazilian music. He starts Bonfa's "Manha de Carnival" with a delicately played intro that quotes Jobim's "Insensatez" before playing the main theme. He has a telepathic communication with drummer Rockeach on this one and the effect is magical. The guitarist shares amusing anecdotes during the performance and they give you the feeling of being there. One story about his friendship with "Tom" Jobim, whom he describes as a man he would love to party with, precedes playing the maestro's song "Corcovado" in a stirring demonstration of octave and chordal work that sways like a palm tree in the Brazilian breeze.
Throughout the recording you are drawn to the guitarist's thoughtful approach to the standards "...my aim on the guitar is to try to get each chord to follow the preceding chord like it was meant to be there, and then sort of hint at what the next chord might be." The program includes a wonderful rendition of "Alone Together" a Bill Evans favorite, "I Can't Get Started," a rousing "You the Night and the Music" and a beautiful take on "Tenderly" that goes from a slow sensitive ballad to a more adventurous exploration of the theme with some of Beck's faster single line runs.
Listening to Joe play on this album is like being led down a newly discovered path in a familiar wood. You re-discover the wonderment and beauty of memorable melodies that he treats with such respect and creativity. Pure artistry by a man with nothing to prove; an adventure that can thrill if you allow your heart and mind to be openly immersed in the experience. If Joe Beck somehow had the desire, the dream to leave one last recorded legacy of what this music really meant to him, then surely the brilliantly recorded Get Me is a wonderfully realized dream. Thanks Joe you are missed.
Here are two very different performances by the inimitable Joe Beck:
Related
Popular in the Community