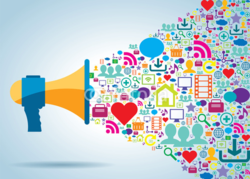 According to Shareaholic, last year social media shares drove more traffic to websites than search engines. This means that it's more important than ever to develop content with social sharing in mind.
Who doesn't want their content to go viral and get thousands of social media shares? I'm sure you've seen or even created great content that didn't get much attention on social media. In this article, I'll give you my top six best practices for developing content that will get plenty of social shares.
1. Distribute your content on your social media channels
Tip number one is to share the content yourself across all of your social media networks. You can schedule updates throughout the week with a number of tweets, for instance, all with a different spin.
As well, if you have a piece of valuable content, it's important to get it in front of industry influencers. BuzzSumo looked at more than a 100 million articles and found that having just one influencer share resulted in an increase of over 30% more total social shares. Here are some excellent ideas for encouraging influencers to share your content.
2. Feature a strong headline and image
Make sure you have a catchy headline and that you accompany your content with an interesting image that compliments the content and draws people in. As I've mentioned in some of my previous articles on HuffPost, "How to" headlines often perform well, in addition to those that arouse curiosity or make a promise. Also, research has shown that emotional headlines get shared more on social media.
3. Showcase curated content
Curated content can have a very good chance of going viral if it's done well. Sorting through the enormous sea of content on the web to find the "crème de la crème" on a particular topic is very valuable to your readers. They'll appreciate the time you saved them and you'll find that they'll be especially inclined to share your curated list with their network. Here are six powerful tips to effective content curation.
4. Feature guest blog posts
Think about what types of people your readers would want to hear from, such as industry thought-leaders or those who have some interesting, relevant knowledge to share. Then reach out to these people and ask them to contribute a piece of original content to your blog. Not only do guest contributors bring a fresh perspective to your blog, but both you and your contributors get the benefit of being able to leverage each others following and get new eyes on each other's content and/ or brand. And of course, your contributors will want to share their post on their social networks, further amplifying its reach.
At the end of the content, you can include a line suggesting that your readers share the post with their network if they enjoyed it. Of course, you need to make it easy for them to do so by having social media buttons at the end or side of the content.
6. Create videos and infographics
Infographics and videos are great because those who don't want, or have the time, to read a piece of long-form content appreciate the ease and convenience that these mediums provide. It's a simple fact that most people are drawn to visual content online. According to Wishpond, "Visuals are processed 60,000X faster in the brain than text." And SlideShare found that infographics are shared up to three times more frequently on social media than other content.
The tips I've discussed in this article are easy ways to boost the number of social media shares your content gets. Get your content in front of a much larger audience today by implementing these six important best practices.
Related