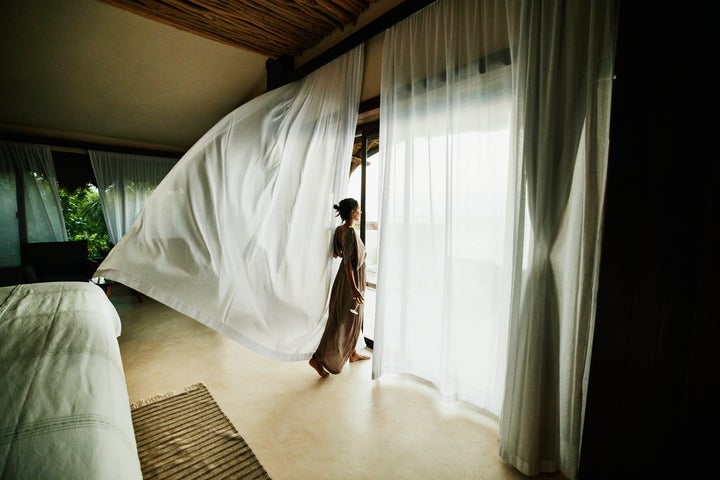 Staying at a luxury hotel is an unforgettable experience that most people don't get to enjoy too often. So when you save up your pennies or pool together your credit card points to splurge on fancy accommodations, you want to make it count.
To help you get the most of out your stays at nice hotels, HuffPost asked industry experts and seasoned travelers for their advice on taking full advantage of the experience. From complimentary services and niche amenities to booking and check-in hacks, read on for 12 tips.
Let them know if you're celebrating something.
"The teams at a hotel want to personalize your stay," said Nate Ferguson, the director of marketing at Four Seasons Hotel Baltimore in Maryland. "Make sure to communicate any reason for the stay when booking so they can curate the best stay for you, whether it is for business or leisure."
Take extra care to let them know if you're visiting for a fun or festive reason, either by informing the desk at check-in or emailing beforehand. You might get a free upgrade or bottle of champagne.
"When you first arrive to your hotel of choice, you can often expect a special welcome amenity upon arrival, especially if you are celebrating a special occasion like a birthday or anniversary," Ferguson explained. "The level of personalization might also include customized notes."
Check in early and check out late.
"To make the most of a fancy hotel stay, try to check in as early as you can and check out as late as possible," said travel expert and author La Carmina. "I like to request a later checkout, which they are often able to do for free. This way, you can take full advantage of the hotel's facilities during your stay."
And if you can't get an early check-in, she also recommended arriving before your designated time to hand off your bags and then go hang out by the pool or bar area.
Take advantage of free food offerings.
"My friends and I are pros at making the most of the free food at luxury hotels," La Carmina said. "Check if the hotel includes breakfast, or has cocktail hours or lounge access with small bites."
She noted that she and her friends often arrange their schedules around the food events ― and sometimes take leftovers back to the room for later.
Other free food options at hotels might include complimentary snacks and drinks at the spa or frozen treats and small bites periodically offered by the pool.
Make use of the concierge service.
"Luxury hotels pride themselves on their excellent concierge services, so I recommend making the most of their expertise," La Carmina said. "At The Upper House Hong Kong, my friend mentioned that he was interested in trying Chinese teas, but wasn't sure where to find them. The next day, the concierge surprised him with a package of the best local teas in our room ― which saved us the time and effort of going out to get them ourselves."
Concierge services sometimes have special connections to in-demand experiences that are hard to book on your own.
"Making friends with the concierge can be beneficial because they might be able to find you tickets to sold-out shows, reserve tables at booked restaurants, arrange last-minute celebrations for special occasions, supply access to the hotel's 'house car,' and much more," said Gordon Gurnik, the chief operating officer at Hilton Grand Vacations.
At the very least, let them know what you're looking to do during your visit. They might have some great ideas that you wouldn't find in a guidebook and can usually help you figure out the annoying logistics too.
"A concierge will know the city you're staying in inside and out, including the best restaurants and bars, and even some unconventional pieces of intel like where to find off-the-beaten-path activities and events," Ferguson said.
Try all the bath products.
"The bath products at nice hotels also tend to be on the luxurious side, and if you use them every day, they'll replenish them," La Carmina explained.
Rather than letting that half-used bar of fancy soap or mini bottle of shampoo go to waste when you check out, feel free to toss it in your suitcase before your departure. That way you can bring a little bit of the relaxing hotel environment home with you.
In addition to basics like soap and shampoo, upscale hotels often offer fancy body lotions, face products and even hair care tools that you can try out during your stay.
Familiarize yourself with niche complimentary services.
"Some luxury hotels offer complimentary pressing services and shoeshine, which can come in handy during a long business trip or special evening out," Ferguson said. "Luxury hotels typically provide incredible transfer services such as a top-of-the-line complimentary house car to take you anywhere within a short distance from the property."
He noted that the pool at Baltimore's Four Seasons even features complimentary sunglasses cleaning.
"There's a number of ways to use all the wonderful services the hotel has to offer," Gurnik said. "Always ask about potential upgrades and complimentary services because there may be some that are not openly promoted."
Don't forget about your credit card perks.
When you book a nice hotel stay ― or any type of hotel stay, for that matter ― make sure to take stock of your credit cards and whether you might get any perks by booking with a certain one.
"We take it further, ensuring personal touches like VIP check-in and welcome gifts for our Card Members" said Sangeeta Naik, the global head of strategic partnerships and marketing at American Express Travel. She added that other benefits can include "complimentary breakfast, guaranteed 4 p.m. checkout, credits to spend at the hotel, and room upgrades and early check-in when available."
Utilize the amenities.
"Luxury hotels offer the best and most versatile offering of amenities you'll ever experience during a hotel stay," Ferguson said, noting that these include "slippers and robes in the bathroom, five-star spa facilities, state-of-the-art fitness centers, both indoor and outdoor pools, golf courses and more."
He added that guests can easily keep up with their daily gym routines and afterward treat themselves to a steam or muscle recovery massage.
"A small but fun hack: The gym at many luxury hotels has free bottles of water," said Chris Hutchins, a "financial optimizer" who hosts the podcast "All the Hacks."
"And many nice hotels will let you use the spa facilities even without getting a treatment," he added.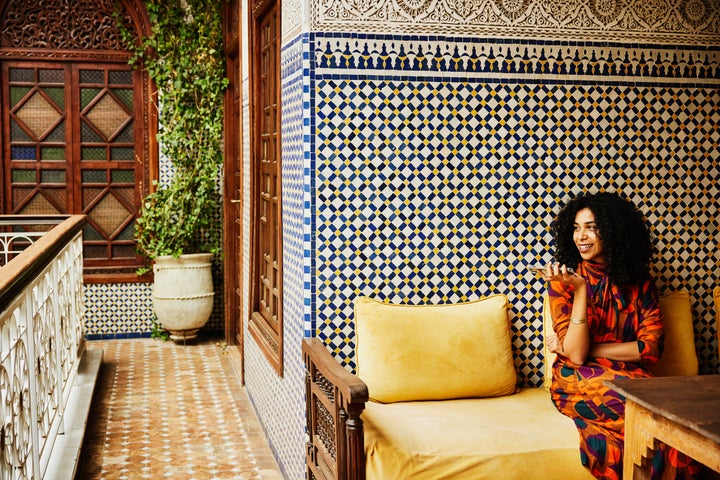 Remember that pets might get perks too.
Ferguson said the the concierge team at Baltimore's Four Seasons can provide a curated list of dog-friendly parks, trails and outdoor dining patios.
"Dogs who prefer to dine in the comfort of their own room can order from our special in-room dining menu," he added.
"All complimentary pet amenities are provided upon arrival, including plush bedding, a Four Seasons squeaky toy, a Four Seasons place mat along with food and water bowls, and waste bags allowing you to travel light," Ferguson said, adding that dog sitting can also be "arranged through a local partner who provides private pet sitters and frequent walks."
Don't be afraid to make requests.
Of course, you don't want to go overboard with requests during your stay, but there are lots of great options built into the luxury hotel experience. For example, you can often ask for certain types of pillows ― or even customize your whole bed, in some cases.
"A drawn bath could also be done upon request during turndown service," Ferguson said. He noted that his hotel chain has a mobile app that allows guests to send messages to the property teams before, during and after their stay to make certain requests or help plan their visit.
Some hotels even lend workout apparel and other gear to guests. You might also find free bike or kayak rentals at nice hotels, or utilities like sewing kits and phone chargers.
Book directly and keep checking the prices.
"To get the best service, book directly with the hotel or through a luxury travel adviser," Hutchins said.
Another way to get the most bang for your buck is to see if you can get a better price.
"Many hotels have flexible cancelation policies, so it never hurts to regularly check the hotel to see if the rate comes down," Hutchins said. "If it does and you can still cancel, then cancel and rebook at the lower rate."
Be nice!
"As with all travel situations, a little kindness and friendliness goes a long way," La Carmina emphasized. "Striking up a conversation with the staff and getting to know them can lead to unexpected perks."
When she stayed with a friend at the Royal Mansour in Marrakech, Morocco, they took the time to say hello to staff members.
"At one point, my friend mentioned it was almost my birthday," she said. "The staff took note, and surprised me with a birthday cake and candles!"