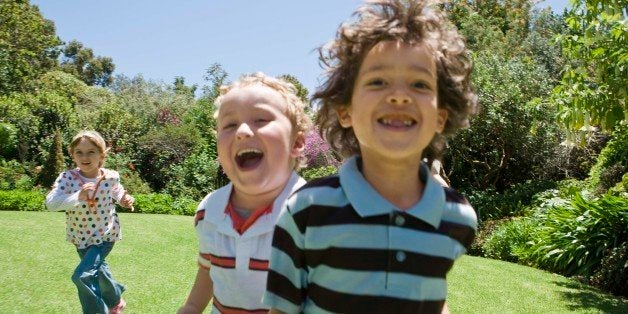 One day when my children were young I was leaving the park with them, plus the 6-year-old friend of my son. My hands were full with the remnants of the long, Florida day: an emptied picnic cooler, a basket of sandy toys, muddy changes of clothes, a soggy wind-up boat. I was tired from pushing swings and swinging a toddler; I was desperate to get home.

The children were walking a few yards behind me as we made our way out of the park. My destination -- the car, where I could sit! -- was finally in view when my daughter discovered an inchworm on the ground. Suddenly, all three kids dive-bombed for a closer look. "No! We have to go," I pleaded, anxiety oozing out my every pore as my mind raced to where I wanted to go: the car, then home.

The pearl of wisdom, a Zen-like reminder of what it's all about, came from my son: "Mom, how often do we see a worm? We want to watch him get off the sidewalk."

Living in the moment. Enjoying the journey. Taking time to survey the moment before you -- including those tiny inches beneath your feet. In my unmindful haste to get home, I had forgotten this crucial spiritual practice. This important, impromptu moment in the inchworms' life, and indeed, in ours, was almost missed by my children and by me for the simple reason that I was operating on adult time, not kid time -- and adult time says it should take no more than a minute to get from the park bench to the parking lot.

I put down my heavy load and suddenly I realized we had all of the time in the world. Who cared if dinner got to the table a little late? If the kids took a shorter bath before bed? It didn't matter where I thought we were supposed to be; where we were was surely the perfect spot for now.

We settled in to watch the worms make their way across the walk. And the most thrilling part is that I don't even know how long we sat there, because I was able to let the moment unfold in its own, magnificent way. Getting lost in my focus on the inchworm made this final piece in the park the most meaningful of the day.

Just about every parent is in a hurry -- getting Emily to school, racing Elizabeth to soccer, lugging Eli to the store -- it's no wonder we're frazzled and frayed. But while the world, with its cell phones, 24-hour news cycles, unending emails, may be spinning ever faster, I have come to realize that no law says you must grab hold and constantly race along.

Begin slowing down your life by taking a lesson from your kids: it's okay to at least occasionally divert from your original plans and spend moments in unscheduled endeavors. Instead of wishing that your dawdling children would finally grasp adult time, discover the value of kid time from them. Consider the joy you could create in the morning by creating an impromptu tale after putting on your child's left shoe but before lacing up his right, or by taking a pause to all breathe in the beautiful begonias on your way out the door.

I remember wondering as a child why I always rushed to get dressed before racing off to grammar school in advance of the bell, yet I had so much leisurely time during our lunch break. It was only later that I realized I could have had more space in the morning if I had only gotten up a little earlier.
Move your alarm up a half-hour tomorrow, so you can find that extra space in your day. (If you have to go to bed a little earlier, do so; the energy of the world waking up is so much more magnificent than that of late night, anyway.) Don't pack in extra obligations for the now-longer morning -- the idea is to have the time to go with your family's flow, wherever it may take you. If possible, have an unhurried meal with your children; there is nothing like calmly breaking bread with the people you love to nourish your soul.
Pull back on your agenda for the remainder of the day. Despite what we all fear, no one suffers from letting go of over-scheduled activities. Everyone will instead benefit by being able to focus completely on the activity at hand, without worrying about what's coming next.
When cultivating a bit of slowness, though, be careful not to fall into the habit of sloth. Your family is aiming not to slog through fewer activities with partial energy, but to do everything with a crystal focus and a sense of ease -- indeed, with a heart full of love.
Meryl Davids Landau is the author of the upcoming book of essays on spiritual parenting, "Englightened Parenting," where this essay will appear. She also wrote the spiritual women's novel "Downward Dog, Upward Fog," which ForeWord Reviews calls "an inspirational gem that will appeal to introspective, evolving women." Her articles have been published in Parenting, Parents, Glamour, Whole Living, Reader's Digest, and other national magazines.