Papa's got a brand new movie: Tate Taylor's "Get On Up," the story of iconic singer James Brown, arrives in theaters this weekend with the backing of some surprisingly strong reviews ("Get On Up" has an 81 percent Fresh rating on Rotten Tomatoes) and one titanic breakout performance (we'll get to that in a moment). Will audiences want to ... get on up and dance in the aisles during "Get On Up" or will they merely bemoan the fact that this is still a traditional biopic's world? If we had to guess, probably a little bit of both. Say it loud, these the are best parts of "Get On Up." (That concludes the pun portion of this piece.)
Chadwick Boseman Is Incredible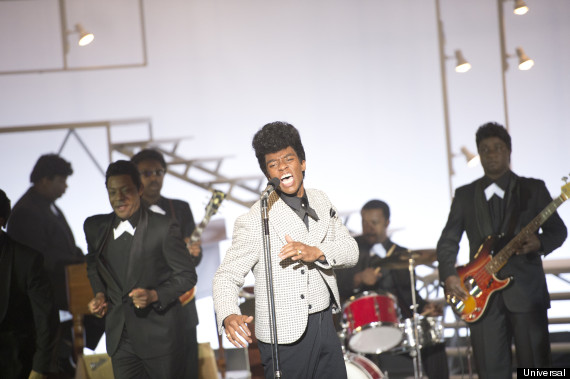 Audiences headed to the movies this weekend have the chance to see two of Hollywood's stars of the future. There's Chris Pratt, who owns "Guardians of the Galaxy" with a devil-may-care attitude that positions him as Harrison Ford for millennials, and then also Chadwick Boseman in "Get On Up." As James Brown, Boseman -- who played Jackie Robinson in "42" -- is a lightning bolt of energy, movement and personality. He's also fearless: James Brown was not a good guy all the time, and Boseman isn't afraid to make the singer an unlikeable monster (even if the movie itself sometimes glosses over Brown's indiscretions). Last August, Forest Whitaker found himself mentioned as an early possibly Best Actor nominee for "Lee Daniels' The Butler." Well, Boseman's performance is better than Whitaker's in every single facet -- up to and including the scenes when Boseman is buried under old-age makeup. This is the kind of career-making role that deserves awards recognition.
The Supporting Cast Is Dynamite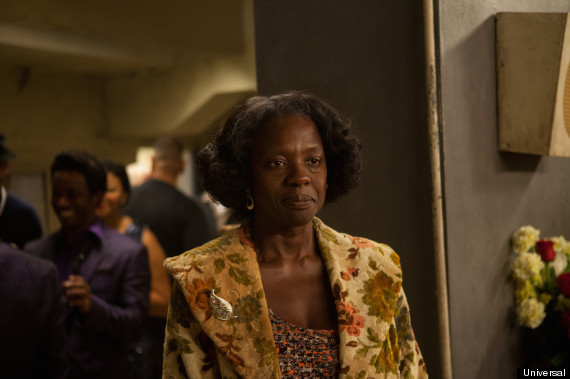 As he did with "The Help," director Tate Taylor has populated "Get On Up" with an array of excellent veteran actors and scene-stealing newcomers. Supporting Boseman are Viola Davis and Octavia Spencer (both of whom starred in "The Help"), Jill Scott, Nelsan Ellis, Lennie James, Dan Aykroyd and Craig Robinson, and all are given at least one moment to shine. Special mention, however, must be made of Brandon Smith, who plays Little Richard and does more with one scene than most actors would dare dream. Petition for Brandon Smith's Little Richard movie -- coming to an Oscar season near you -- starts now.
James Brown's Music Is Still Great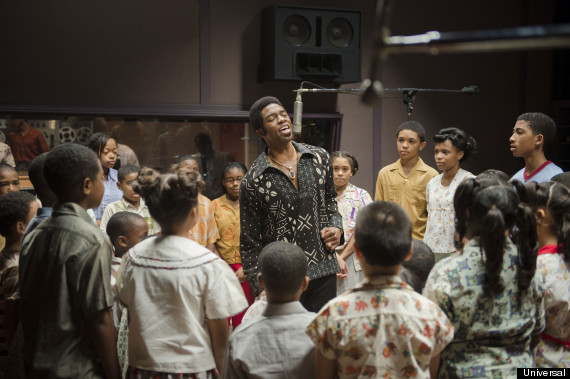 Unlike Jamie Foxx in "Ray," Boseman doesn't sing in his performance as James Brown. That's good for the audience, since it means Brown's actual songs are used in the movie.
But Really This Is Chadwick Boseman's Show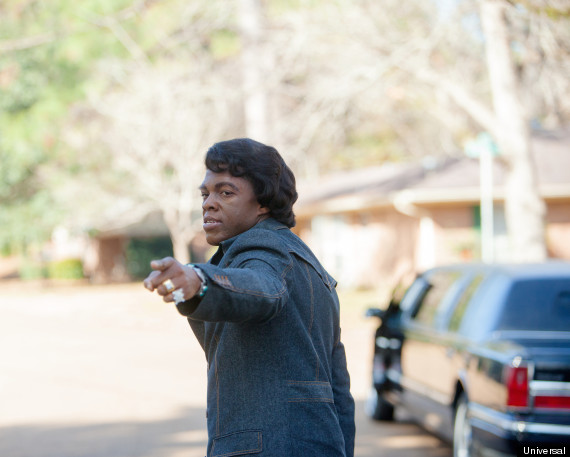 Despite the fact that "Get On Up" eschews traditional narrative expectations by jumping back and forth to moments in Brown's life, it's still a pretty traditional music biopic. Nothing that happens here will come as a surprise to people who have seen "Walk the Line," "Ray" or "Jersey Boys." That structure, coupled with how Taylor deemphasizes Brown's history of domestic abuse and barely acknowledges how Brown spent three years in prison late in his life for leading police on a high-speed chase (which is shown in the film, though the consequences are not), give "Get On Up" less impact than the story of James Brown might deserve. Never mind, though, since Boseman is just so good that it's easy to forgive "Get On Up" for all its foibles. This is Boseman's show. He's the hardest working man in the movie, and he deserves all its kudos. (Okay, so there was one more pun.)
Calling all HuffPost superfans!
Sign up for membership to become a founding member and help shape HuffPost's next chapter
BEFORE YOU GO
PHOTO GALLERY
"Get On Up" Photos