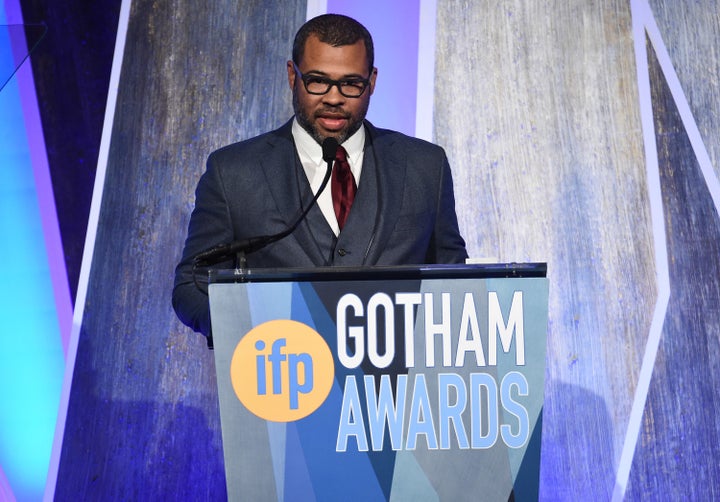 NEW YORK ― As the Oscar race comes into soft focus, two movies whose buzz dates back to January look ready to define the derby. "Get Out" swept several top honors at Monday night's Gotham Awards, while "Call Me by Your Name" seized the top prize.
The Gothams inaugurate awards season about two weeks before the Golden Globe and Screen Actors Guild Award nominations arrive. They offer a peek at the independent films vying for Oscar's love ― at least the American ones "made with an economy of means," per regulations.
"Get Out" and "Call Me by Your Name," which both premiered at the Sundance Film Festival in January, have been two of the year's most acclaimed releases. The former picked up the Gothams' Breakthrough Director Award and Best Screenplay (both to Jordan Peele), as well as the Audience Award. "Call Me by Your Name" nabbed Breakthrough Actor (for Timothée Chalamet) and Best Feature.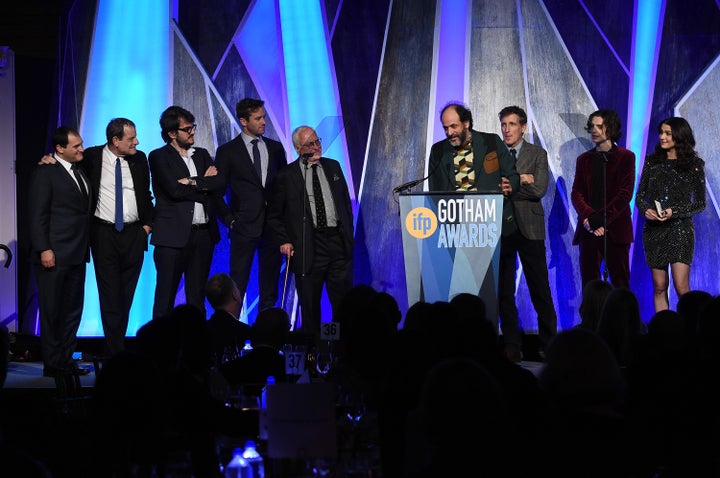 Throughout the ballroom at Cipriani Wall Street, where Hollywood dignitaries were plied with wine and fêted with three courses, "Get Out" and "Call Me by Your Name" generated the most enthusiastic reactions. Much of the crowd gave "Call Me by Your Name" a standing ovation as director Luca Guadagnino and company made their way to the stage to accept Best Feature.
Meanwhile, in the press room backstage, where winners appeared with their trophies in hand, Chalamet was the clear favorite ― well, other than a barefoot Nicole Kidman, who'd taken off her heels before receiving a tribute. ("Please, don't shoot my feet," she told the scrum of photographers.)
Chalamet had given a rousing speech onstage, expressing humility at being placed in a category alongside "tremendous inspiration" Mary J. Blige and thanking other New York-based artists like Al Pacino, John Patrick Shanley, Greta Gerwig, Edie Falco and Cardi B. He clearly knows how to give a speech, which is key as Oscar campaigns gain steam.
Despite all the "Get Out" enthusiasm, James Franco did manage to beat Daniel Kaluuya for Best Actor with his uncanny portrayal of cult film director Tommy Wiseau in "The Disaster Artist." (Franco had the benefit of not competing against "Call Me by Your Name." Will Armie Hammer's supporting performance take home honors when the bigger prizes come calling? TBD.)
And Saoirse Ronan avoided the "Get Out"/"Call Me" juggernaut altogether, winning Best Actress for "Lady Bird" without having to compete against the hot pair. Hammer presented her award, after which the two bantered in the press room, with Ronan pretending to hand off her statuette to him.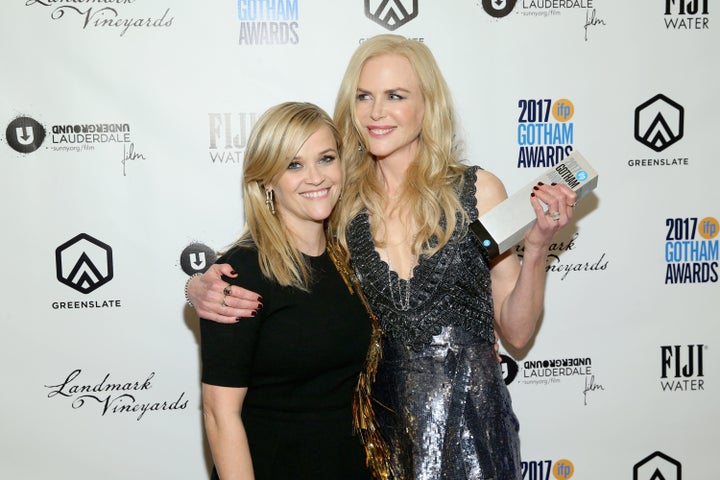 Of course, the awards season is still young. The Gothams, presented by the Independent Filmmaker Project, have only limited voter overlap with the Academy of Motion Picture Arts and Sciences, which presents the Oscars. Various critics select the Gotham nominees, and groups of industry veterans determine the winners. But many of those latter individuals are also Academy voters, and others who were there on Monday have a say in the Oscars too. The night's events could help to influence their future selections.
Last year, "Moonlight" won the most Gotham Awards, including Best Feature, and generated the event's loudest kudos. It went on to win Oscar's Best Picture. There's no obvious front-runner this year ― keep an eye on Steven Spielberg's "The Post," with a timely Pentagon Papers tale that could boost its profile. But for now, it looks like "Call Me by Your Name" and "Get Out" are setting the early pace.
The full list of Gotham winners, including documentary and television cateogries, appears below. Winners are marked in bold. The Oscar nominations will be announced Jan. 23.
Best Feature
"Call Me by Your Name"
"The Florida Project"
"Get Out"
"Good Time"
"I, Tonya"
Best Documentary
"Ex Libris – The New York Public Library"
"Rat Film"
"Strong Island"
"Whose Streets?"
"The Work"
Audience Award
"Call Me By Your Name"
"Columbus"
"Ex Libris – The New York Public Library"
"The Florida Project"
"Get Out"
"Good Time"
"I, Tonya"
"Lady Bird"
"Menashe"
"Novitiate"
"Rat Film"
"Strong Island"
"Whose Streets?"
"The Work"
Bingham Ray Breakthrough Director Award
Maggie Betts, "Novitiate"
Greta Gerwig, "Lady Bird"
Kogonada, "Columbus"
Jordan Peele, "Get Out"
Joshua Z. Weinstein, "Menashe"
Best Screenplay
"The Big Sick," Emily V. Gordon and Kumail Nanjiani
"Brad's Status," Mike White
"Call Me By Your Name," James Ivory
"Columbus," Kogonada
"Get Out," Jordan Peele
"Lady Bird," Greta Gerwig
Best Actor
James Franco, "The Disaster Artist"
Willem Dafoe, "The Florida Project"
Daniel Kaluuya, "Get Out"
Robert Pattinson, "Good Time"
Harry Dean Stanton, "Lucky"
Adam Sandler, "The Meyerowitz Stories (New and Selected)"
Best Actress
Haley Lu Richardson, "Columbus"
Melanie Lynskey, "i don't feel at home in this world anymore."
Margot Robbie, "I, Tonya"
Saorise Ronan, "Lady Bird"
Lois Smith, "Marjorie Prime"
Special Jury Award For Ensemble Performance
"Mudbound," presented to Carey Mulligan, Garrett Hedlund, Jason Clarke, Jason Mitchell, Mary J. Blige, Rob Morgan and Jonathan Banks
Breakthrough Actor
Mary J. Blige, "Mudbound"
Timothée Chalamet, "Call Me by Your Name"
Harris Dickinson, "Beach Rats"
Kelvin Harrison Jr., "It Comes at Night"
Brooklynn Prince, "The Florida Project"
Breakthrough Series – Long Form
"Atlanta"
"Better Things"
"Dear White People"
"Fleabag"
"Search Party"
Breakthrough Series – Short Form
"555"
"Inconceivable"
"Junior"
"Let Me Die a Nun"
"The Strange Eyes of Dr. Myes"

Tribute awards
Jason Blum
Sofia Coppola
Al Gore
Dustin Hoffman
Nicole Kidman
Ed Lachman
Popular in the Community