Daniel Kaluuya glowed at the 2018 Oscars on Sunday. It might've been because the British star was up for his first Academy Award, but it also might've had a little something to do with his foundation.
Makeup artist and groomer Amber Amos revealed that at the awards show the "Get Out" actor was wearing a shade from Fenty, Rihanna's beauty line. Back in September 2017 when Fenty debuted, it released 40 shades of foundation products, and it has since been lauded time and time again for its impressive inclusivity.
Amos revealed Kaluuya's 30-minute prep for the Academy Awards in an interview with Billboard over the weekend. To give the actor's skin a refreshed appearance, she used numerous products ― mainly Kiehl's ― and finished his look with Fenty Pro Filt'r Soft Matte Longwear Foundation in shades 480 and 490.
"We've done a great job of making sure he has glowing, beautiful skin," Amos told Billboard. "That's the most important thing; I want him to go out there and be golden."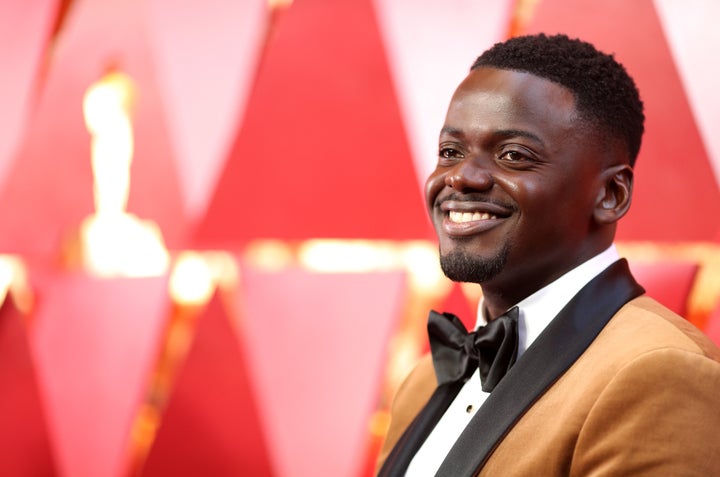 "I think [this look] is the perfect fit for the Oscars because he's just going to look regal and effortless like I think someone should look at the Oscars," she added. "It's such a grand night, and such an amazing honor to be nominated; he won't look like it's his first time, he's going to look like he belongs here."
On Tuesday, Fenty tweeted out a picture of the 29-year-old actor on the red carpet and captioned the shot, "Who said men don't use #FENTYBEAUTY?!"
Fans on the internet were equally obsessed with Amos and Kaluuya's use of Fenty:
Amos was clearly proud of her client attending the awards show and wrote him a sweet message on Instagram.
"Closing out Baby's First Award season," she said. "So grateful to be apart of this team, and to see Lil Bruv flourish and get recognized for the dope and talented WOAT™️ (Waviest Of All Time) 🌊 he is. Mans just getting started!"
To read more about the products Amos used, head to Billboard for the full interview and be sure to check out her Instagram here.