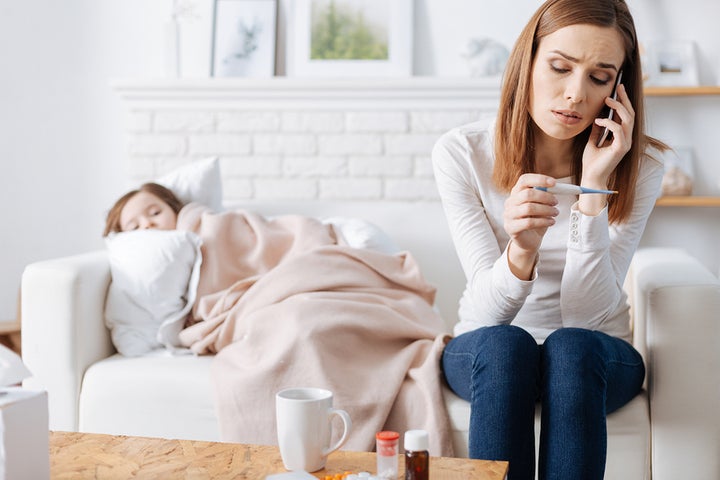 The kids may have gone back to school, but bacteria and viruses are ready to visit. It's that time of year again. Colds, the flu, pink eye, lice – they are all just waiting to for their turn to spend time with your family. And nothing causes more disruption to household harmony than sick kids or, even worse, a sick partner.
Looming in your future is time off work (not the fun kind), doctor's visits, disinfection, and overall ick. You know it's going to happen, so what can you do to prepare? Take a look at this list to make sure you are ready for the biggest fall and winter disruptors.
With Your Partner
You are not likely to avoid it, so better talk it out now. If you have children, then one of you will need to be prepared to handle things when they are home sick.
Spend some time discussing how that will work.
Who will get called first if kids need to come home? If one of you is more flexible, or generally easier to reach than the other, arrange things with the school office so they are aware of that. That way you avoid missing the message or having both of you jump through hoops when you get that inevitable call.

Who can take the time off work if needed? If one of you has days during the week off, or the ability to work from home occasionally, then there may be an obvious answer to this question. Otherwise, you may need to figure out who has more time-off available. Knowing this ahead of time can stave off arguments and the scramble to make sure your child has a parent at home.

If you have more than one child, who will handle transportation for the other? Yes, the school-to-soccer-to-Boy-Scouts shuffle. If you have kids, they likely have activities. Knowing ahead of time who your possible go-to parents are for carpools and help with transportation when you are juggling a sick child, work and other life issues will be helpful. If you can, making sure that you at some point can reciprocate will go a long way in gaining support too.

Are you financially prepared for doctor appointments and prescriptions? Maybe you have the best insurance ever and you don't have to worry about this, but most of us don't. Check your co-pays and prescription coverage and try to ensure you have enough money stashed so that when someone in the family needs antibiotics it doesn't derail your budget. Get prepared for next year by starting a Flexible Spending Account (FSA) during your next benefits enrollment period so you can save even more by using pre-tax money for these health-related expenses.
Where do the sick people hang out when they are sick? At home, of course. You can save yourself a lot of trouble and errands if you have your house stocked for those eventual sick days. Have on hand the following to make sure things go as smoothly as possible.
DISINFECTANT. Germs will be everywhere during the cold and flu season. Make sure you have enough of the disinfectant of your choice to be able to clean-up the contaminated areas.

Ibuprofen, acetaminophen, cough and cold medicine, lice remedy, ice packs and possibly a heating pad. These things have a long shelf life, having them on hand means no one is making a mad dash to the drug store in the middle of the night.

Chicken soup or broth and saltines. It doesn't have to be these, but when you are sick, if you have an appetite, it is likely that you have some favorite foods that help you (or your family) feel better. If possible, have these stocked up so that you are not running out at the same time as when there is a shortage on your favorite soup.
At Work
Most work places are fairly understanding of handling family needs. However, you make things that much easier if you know ahead of time what you need to do if you or a family member is sick.
Check your PTO/sick time or however your employer classifies days off. Knowing ahead of time what you have to work with will help you plan with your partner for handling the kids, or better understand what you need to do when you are sick.

Understand your non-paid time off. There are programs that can protect your job (paid or non-paid will depend on the program), if you are forced into taking more time off than is regularly allowed in order to care for a family member. Colds, the flu or lice are not likely to require you to use these, but knowing your options is always a good idea.

Ask your boss how they prefer sick time handled. Most employers will appreciate your interest in doing things right and being proactive to keep the process smooth.
Sickness, even in its mildest forms, is an unwelcome interruption. It is, however, generally unavoidable. If you are not prepared, you can find yourself scrambling, stressed, and battling with your partner on how to take care things, the kids, or each other. While no amount of preparedness will make the experience fun, being prepared can at least make things much more manageable.