It would be difficult to overestimate the strange appeal that the American Civil War holds on people. Historian Ken Burns notes that more than 50,000 books have been written on the conflict. There are eight Civil War magazines, tens of thousands of re-enactors and millions of tourists who visit battlefields each year.
"Any understanding of this nation," historian Shelby Foote wrote, "has to be based on an understanding of the Civil War....It defined us."

Well, America's about to be defined again. The 150th Anniversary of the Civil War will kick off in April 2011 with more festivities, events, books, articles, movies, documentaries, re-enactments and memorabilia than the country has seen since the bicentennial.

Grab some hardtack, download "Dixie" on to your iPod, and take a crash course on 5 ways to become a Civil War buff.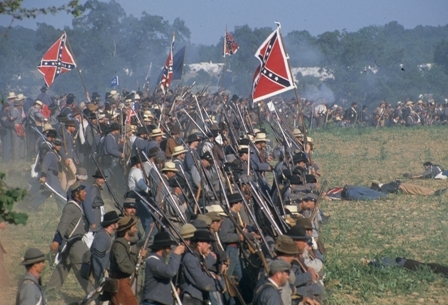 1. Walk the battlefield of Gettysburg. The Civil War was fought in a documented 10,000 places over a battlefront 1,200 miles long. More than 620,000 young men were killed - about the same as in all other U.S. wars combined. Nothing can bring this home more than walking the ground where they fought and died. Brilliant leadership at Gettysburg National Park has led to an attempt to re-create exactly what the land looked like on July 1-3, 1863. Forests that grew up are being clear-cut, orchards are being replanted and 40 miles of picket fence have been replaced. An incredible new museum and visitor center have been built, while the old one - located actually on the battlefield - is being torn down. All of this makes Gettysburg the one "must" visit. Plan at least two days to see it all. www.gettysburg.travel
2. Attend a Re-enactment Yes, many of the re-enactors are old, overweight and odd, but put 15,000 of them together, add 100 cannons, 500 cavalry charging on horses and state-of-the-art pyrotechnics with explosions both on the ground and in the air, and you have a spectacle worth seeing. Go to: www.campchase.com, the monthly magazine for re-enactors, to learn more. Some tips on attending re-enactments: be prepared for traffic and long dusty walks on dirt roads. There are no perfect seats because the re-enactment may stretch over ground more than a mile long, but the spectacle is unforgettable. Every state tourism office is preparing for the sesquicentennial; Virginia is the most advanced at: www.virginiacivilwar.org
3. Subscribe to a Civil War Magazine There are eight Civil War magazines that make great gifts for buffs. Most popular general magazines: Civil War Times and America's Civil War Magazine, www.civilwartimes.com; more scholarly with top historian authors is North and South Magazine, www.northandsouthmagazine.com; and for those "who still hear the guns" and like to tour battlefields, Blue and Gray Magazine, www.bluegraymagazine.com.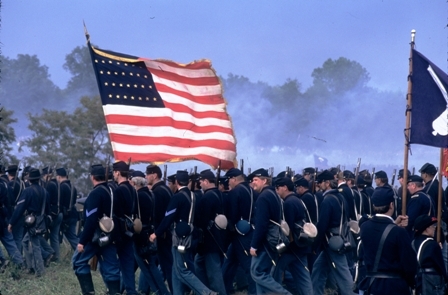 4. Drive a Civil War Trail. The Civil War Trail system started in Virginia and has now expanded to Maryland, Tennessee, West Virginia and North Carolina with more than 800 new historic signs erected that let travelers follow major campaigns of the war. The tours are part "road rally," driving across countryside that has changed little since the Civil War, looking for road markers that will direct you down a maze of farm roads to some forgotten cornfield that was once the site of a skirmish where men fought and died. Brilliantly produced color maps and driving guides are available for free, or can be downloaded at the absolutely terrific travel site: www.civilwartraveler.com/.

5. Save a Civil War battlefield. Only 20 percent of the major battlefields have been preserved - the rest are unprotected or already destroyed by housing, industry and roads. Experts say another acre of hallowed ground is lost to development every hour. The Civil War Preservation Trust, www.civilwar.org, has saved 25,000 acres of battlefields in 19 states.