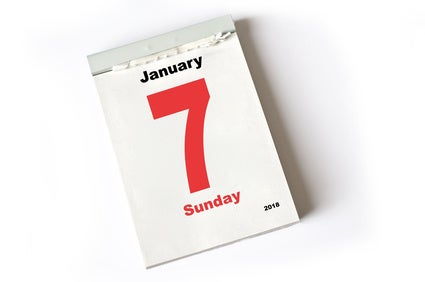 With the first week of the New Year in full swing, is finding love on your resolutions list?
For singles looking for love in 2018, I have great news for you. Your chances will increase dramatically on Sunday, January 7th, according to most dating sites and apps.
Match has proclaimed the first Sunday after the New Year as Dating Sunday for several years, now an official holiday for those of us in business of love. Activity on the site will be at their highest, up by 42% on Sunday evening.
They've been tracking data since its inception in 1995 to determine the best time and day for online dating activity, and to be exact, they say peak time will be 8:55pm/ET, where the largest amount of users will be online.
Plus, your chances of snagging a date will be four times greater if you're an active member of a dating site and app.
As a guest on ABC-7 in Los Angeles, I spoke about why this Sunday is the most popular day of the year for dating sites, stating that it's the "Trifecta of Dating." With more singles joining the dating pool from pre-holiday and post-holiday breakups, New Year's resolutions including love, and the ticking clock and calendar countdown leading up to Valentine's Day.
In my opinion, it's the best recipe for singles looking for love online during peak season, which runs from December 26th - February 14th, just in time to find a Valentine.
Dating Sunday by the Numbers
At Plenty of Fish, Public Relations Coordinator Kate MacLean tells me they expect 117,139 new signups at 9pm local time, with a 14% increase above the average rate for conversations.
Dating Apps Tinder and Bumble agree with the dating frenzy coming up on Sunday. Tinder saw 44% more matches on Dating Sunday, with peak times at 1-4pm/ET and 4-7pm/PT.
OkCupid's CMO Melissa Hobley says they see a 45% surge in signups on New Year's Day, with growth continuing during the first half of the month. The site recently removed user names in favor of first names to be in alignment with dating apps to create a more authentic feel for users.
What should you do to get your profile ready?
Ditch 2017's Profile and Start Anew - While you're busy posting photos to Instagram and Facebook, pick some of your favorites and use them on your dating profile. My recommendation is to post 5-7 photos to your profile. Take it a step further and link your dating profile to Instagram if that option is available to you.
Make the First Move - I always say, "The squeaky wheel gets the digital love deal," so go ahead and write to someone first. Check out who's viewed your profile when you log on, and reply back the same day. If you don't respond quickly, someone else will.
Log on Twice a Day - Your soulmate can't find you if you're not at the digital party. Just like exercising to stay fit, you need to keep a love routine, so your profile will remain active. Sundays and evenings have high activity, so check out who's favorited you or liked your photos.
Be Unique and Specific - On Match you can fill in your bucket list and on other sites you can get creative about your passions. If you say you hike every weekend, but have a dream of climbing Mt. Kilimanjaro, it will be easy for someone to ask you out on a hiking date. If politics is important to you, say which way you lean and ask someone to swipe left if they voted for the other candidate.
Get Ready to Push. Check your settings and make sure the push notifications are set to ON, so you'll get notified if your digital crush responds to you. Then start swiping, big time and start filling your date card.
Know that you'll be in good company, since half of singles in the United States have already tried online dating and 1 out of 3 people have met their dates online.
Wishing you much love and joy in cyberspace, or wherever you may roam. xo
Julie Spira is America's Top Online Dating Expert and Digital Matchmaker. She's the CEO of Cyber-Dating Expert and as an early adopter of Internet dating, has been coaching singles on finding love online for almost 25 years.
SIGN UP for the FREE Weekly Flirt Newsletter for Dating Advice Delivered to your Inbox
FIND OUT How Irresistible Profiles Will Help you Find Your Dream Date in 2018
Calling all HuffPost superfans!
Sign up for membership to become a founding member and help shape HuffPost's next chapter
This post was published on the now-closed HuffPost Contributor platform. Contributors control their own work and posted freely to our site. If you need to flag this entry as abusive,
send us an email
.