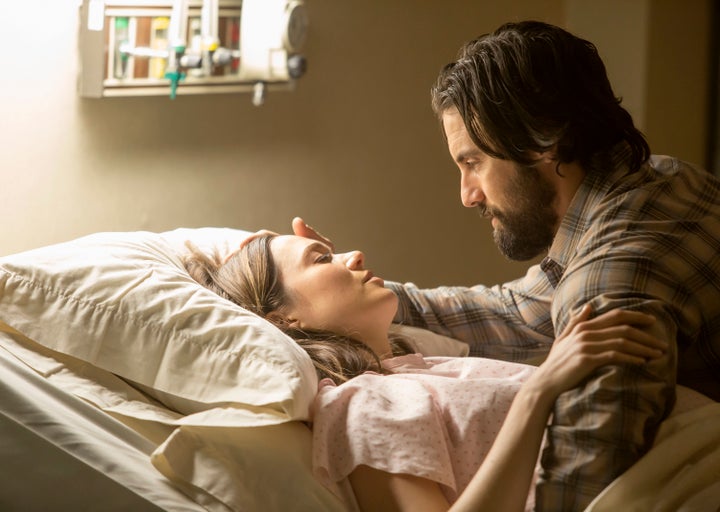 If you're not one of the 64 million and counting who's watched the trailer for the fall's buzziest new series, "This Is Us," then let us break it down for you. Imagine if your favorite actors of the early 2000s came together to create a series with enough emotional heft to make you send a mid-episode "I love you 😭" text to mom only to slightly regret the unabashed sincerity later once you'd taken a deep breath and remembered that it's just a TV show.
Oh, and there's Milo Ventimiglia in his birthday suit.
Real emotions in 2016? Shocking, we know, but this is how series creator and prolific producer Dan Fogelman has carved out a niche for himself in Hollywood. While the rest of the industry traffics in dragons, death and Daenerys Targaryen, Fogelman has been busy perfecting a dramedy cocktail palatable to modern audiences who've been there, done that and watched the reboot on Netflix.
Following the stories of five interconnected characters turning 36 on the same day, "This Is Us" takes an honest look at life's curveballs (no, that's not a reference to Fogelman's other series debuting this fall, "Pitch") and the resilience of the human spirit in our most trying moments. Starring Mandy Moore, Milo Ventimiglia, Justin Hartley, Sterling K. Brown and Chrissy Metz, the series has already clinched top spots on many "Best of Fall" TV lists, and for good reason.
Before the cast and crew gathers in Los Angeles for the 10th annual PaleyFest Fall TV Previews on Tuesday, we talked to Fogelman about what inspired him while creating the series, how the passion project became a family affair and why the world needs "This Is Us" now.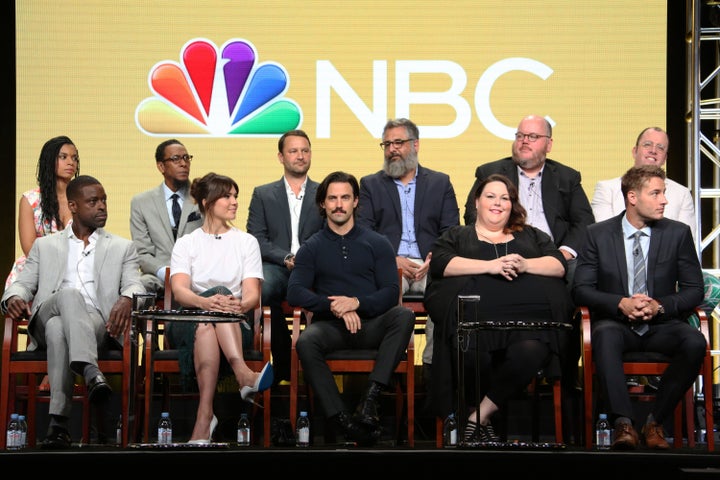 "We have a lot of heavy, weighty or dark stuff in our high-end entertainment these days," Fogelman told The Huffington Post. "I think with everything going on in the world, maybe it's a good time for a show with heart and some humor that is just about people."
It's worth noting that throughout the interview Fogelman refers to the characters that populate the fictionalized universe as people, because in his eyes that's what they are. Inspired by real-life friends and family, as well as some of his favorite dramadies like the 1983 tearjearker "Terms of Endearment," "This Is Us" is a deeply personal project, brimming with more sincere emotion than some of his other endeavors like "Crazy, Stupid, Love" and "Danny Collins."
"When I sat down to write this show, I wanted to write about people in my life," said Fogelman, who, like his characters, was 36 when he wrote the script.
In fact, "This Is Us" was originally conceived as a film, but Fogelman couldn't contain his creations in some 90-minute rom-com. He wanted to live with them for years instead, so he reformatted the script and pitched it to NBC.
If there's one "person" in the series that embodies this ethos, it's Kate. Played with a refreshing complexity from Metz, Kate is a woman who covers the refrigerator in Post-it notes to stop her from eating birthday cake prematurely. She's also struggling in the romance department, until an inappropriate crack at a support group for people with weight issues leads to what could be her first relationship in years.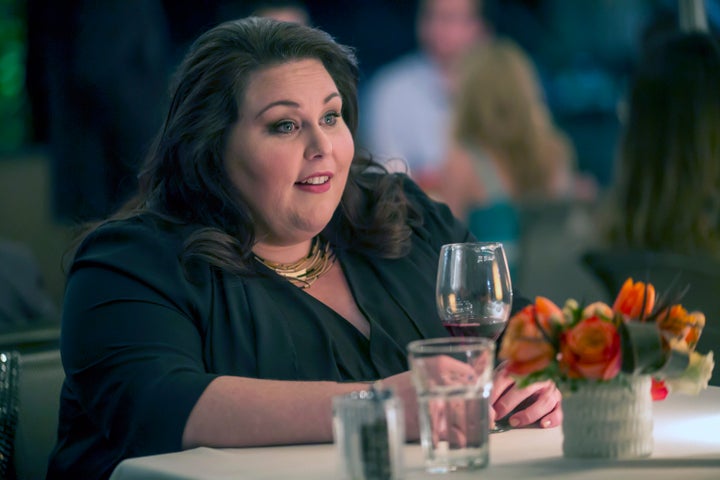 But it's the connection to Kevin (Hartley), a famous TV actor who's prized more for his selfies than acting abilities, that hits closest to home for Fogelman. The relationship was inspired by the one he shares with his sister, who also consults on the series. In the pilot episode, despite their vastly different lifestyles, Kate and Kevin ― to use a "Grey's Anatomy" term ― are each other's person. He encourages her to make a lifestyle change and she let's him sleep on her couch when his career goes up in flames.
"I live this very strange and increasingly bigger Hollywood life ... so I understand a small version of that character's life which is a slightly overwhelming bubble," Fogelman said. "My sister is much more introverted and salt of the earth. We lived together for a brief period in Los Angeles after my mom passed away, so [the relationship] is versions of that."
That's why Fogelman does not take the onus of representing body types that challenge primetime television norms lightly, mining his sister's own life experiences to provide an authenticity to Kate's struggle. In fact, he says a monologue in the second episode was almost entirely lifted from a recent phone conversation between the two.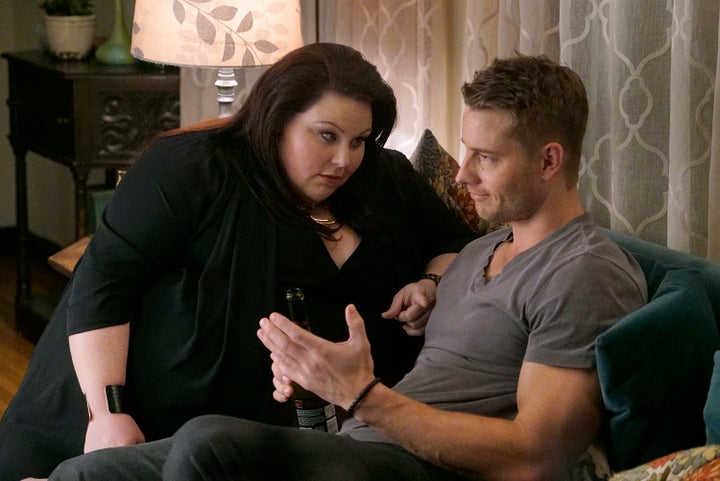 "Weight has been something that's touched one side of my family through generations," he continued. "I always wanted [the series] to be something that really explores a person battling weight on a real level, but also as the series moves on ... it's just one element of her story."
By the pilot episode's end, it's revealed how each of the characters are connected in what's becoming a signature Fogelman twist that's better left unspoiled. Despite the narrative Olympics that are required to satisfy seasoned TV audiences, however, what makes "This Is Us" undeniably compelling are the relationships that harken back to a time of feel-good TV fare, which has become unfortunately all too rare.
With the cancellation of series like "Friday Night Lights" or "Parenthood" and the "Gilmore Girls" revival release date still months away, there's a blank space in the programming slate for a show that the whole family can sit down and watch together. We hate to break it to you, but your sister is not enjoying "Ballers." If "This Is Us" can build upon the the emotional gratification of the pilot, it has the potential to become a series that will be remembered not for its plot twists, but for how it made us feel.
"There's a type of television and film I've always been drawn to, which is something that can really move you," Fogelman said of his career. "I've been given this great opportunity to make television and films and I'm not interested in making something that makes someone feel shittier than when they walked into the movie theater or turned on the television."
With "This Is Us," it's mission accomplished.
"This Is Us" premieres Sept. 20 at 10 p.m. ET on NBC.
PaleyFest Fall TV Previews is a week-long festival featuring exclusive screenings and panel events for TV fans from Sept. 8-15 to get a first look at highly anticipated series premiering this fall, and enjoy panel discussions with the stars and creative geniuses behind them. Buy your tickets here.
Before You Go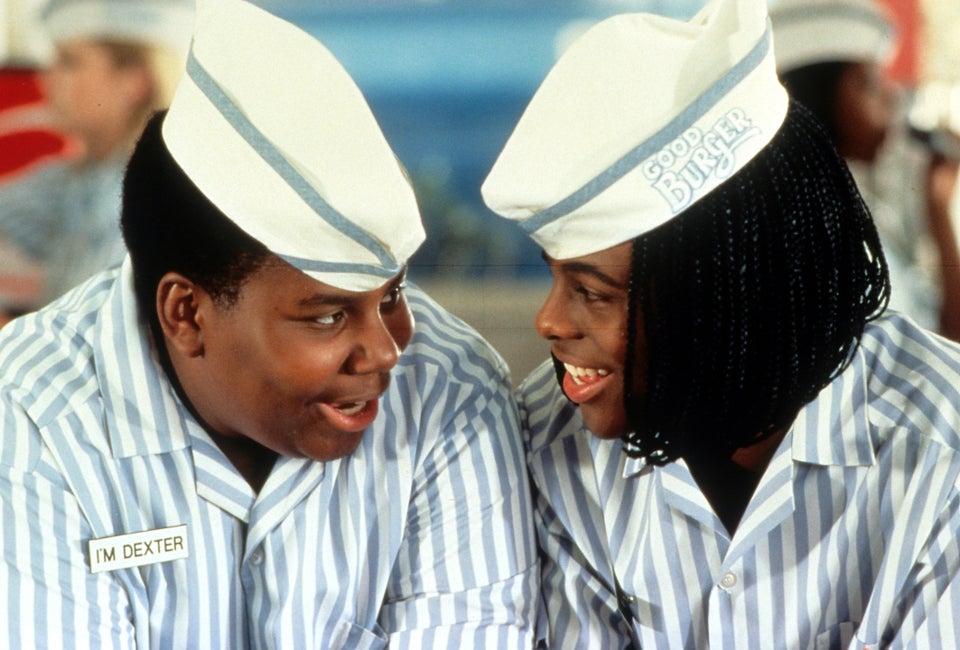 14 TV Shows Netflix Should Remake
Popular in the Community