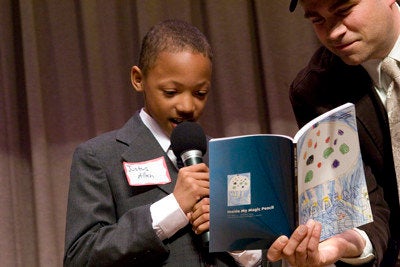 Last week, in Washington, D.C. for National Children's Mental Health Awareness Day, InsideOut's Ariana Washington was one of only six young people invited from across the country to perform for "Heroes of Hope" -- a program dedicated to the heroes who have helped young people through devastating life events. Receiving the evening's Heroes of Hope Special Recognition Award was Cyndi Lauper, for her work with True Colors that aims to end homelessness among gay, lesbian, bisexual and transgendered youth.
It is always humbling for me to observe Ariana's courage, passion, talent and compassion. For one so young, she has surmounted many challenges. As I wrote in my last post "Speak Poetry, Speak Peace," I believe deeply in the power of poetry to help us rise above sorrows and give voice to the universal spirit that heals us all. Ariana, as you will see on this video (toward the end, at 1:35), transmutes pain into gold. Following noted speakers such as Eric Holder and Kathleen Sebelius and leading in for Cyndi Lauper, Ariana performed a flawless and moving tribute to her aunt Asura who helped Ariana grow and mature despite the shadow of her mother's brutal murder at the hands of her father when Ariana was only 18-months-old.
It was also humbling to have shared a panel with Ariana's InsideOut writer/mentor/mother Aricka Foreman along with IO Senior Writer Peter Markus at the Society for Arts and Health Care's Conference just the week before, both so moving and so selfless in their dedication to helping our young people grow as writers. At IO we open many doors to self-expression so that young people may "think broadly, create bravely." We know that writing helps them to grow and be strong.
This dedication of our writers was in full sway this past Thursday as well, when IO held its second "Who Understands Me But Me?" teen writing conference. Photo One hundred and forty-five Detroit youth from 10 participating InsideOut high schools came to Wayne State University's McGregor Memorial Center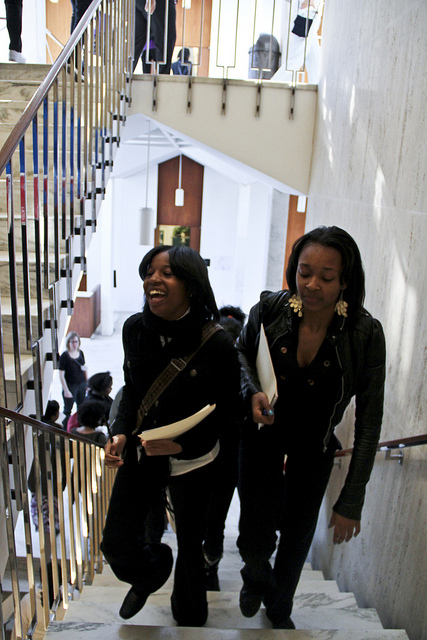 to take part in workshops with local writing stars such as Samiya Bashir and Invincible, and then listen in rapt attention as our beloved Poet Laureate Naomi Long Madgett gave a keynote address.
Ms. Madgett honored each and every student with her direct, nurturing message -- a message that our often traumatized young people cannot hear enough of.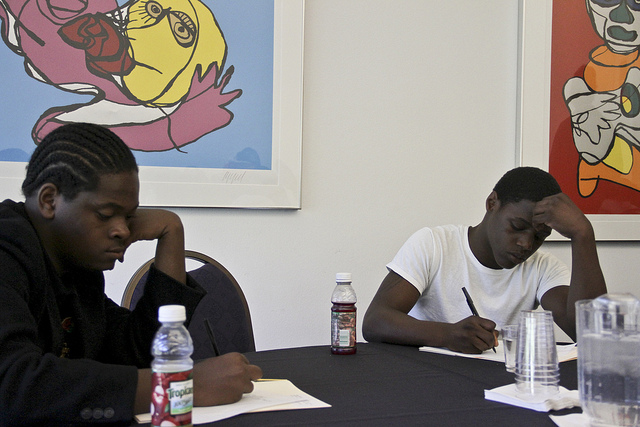 'Things affect you' she told them, 'as they affect nobody else in the world. In your uniqueness, you and your life experiences are extremely important. I want you to realize that everything in your life matters and everything you do and everything that happens to you, as well as your reactions to it, is important and worthy of being recorded in your writing.'
As I watched the video of Ariana's performance on Mother's Day, I thought of my own mother, now 10 years gone, and of many motherly inspirations. Naomi has been the godmother for so many stars in the world of African American poetry, so it was a pleasure to find her poem "Woman with Flower" in The Hundred Best African American Poems (2010), a new to me anthology edited by Nikki Giovanni who has blazed such a grand poetic trail across our sky. Fitting to this Mother's Day reflection, Giovanni dedicated the anthology to her aunt who had stepped in, as Asura did for Ariana, when her mother died. The anthology opens with "The Aunt" by Mari Evans, whose simplicity and directness capture a child's experience of loss.
When your mother dies
your aunt comes in
to make sure your
ribbons are straight
your hair
is combed right
and your legs
are not ashy
and before you know it
you are living at her house
and every night
instead of your mother
your aunt is handing you
dinner
and telling you
when
when it is time to go to bed
and pulling the blanket up over your shoulders
and saying "goodnight sunshine"
and sometimes have a smile
in her voice
This is what an aunt does
Whatever losses our youth experience -- and in this city they are legion -- we can help make sure that 'aunts' are there to mother and support them, to encourage their words or help find them shelter from oppression. It is estimated that 26 percent of U.S. children will witness or experience a traumatic event before age four. Julia Ward Howe's Mother's Day Proclamation in 1870 called on mothers to use their position in society in fighting for an end to all wars -- a call that we must extend to include the violence in our homes and neighborhoods today. Ariana's cry at her fate, delivered through her powerful poem, and the simple compassionate gesture of her arm guiding her aunt as they left the stage, will stay with me. The care we give them is returned tenfold by our young people, and their talents and generous hearts will make a better world for us all.
P.s.: It's not too late to GET VERSED, our annual showcase of youth talent at the Detroit Institute of Arts. Tickets are available online. As the slammers say, "They are ONLY FIVE dollars." Of course, you can stay update with Get Versed and all of IO's events by joining our Facebook page. Here's a sneak peek at the treats that are in store at Get Versed.
Photos courtesy of Erin Kirkland, a 2012 intern for InsideOut through a partnership with University of Michigan's Semester in Detroit Program.
REAL LIFE. REAL NEWS. REAL VOICES.
Help us tell more of the stories that matter from voices that too often remain unheard.