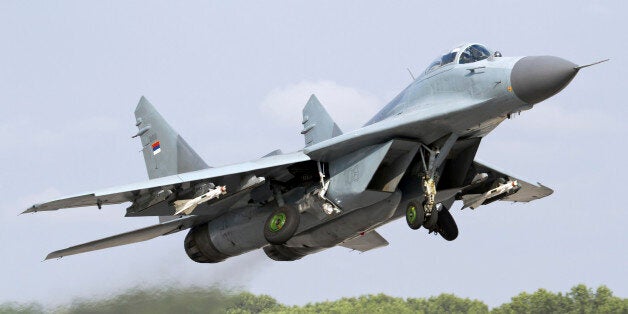 I was shocked to wake up and read that Russia was furious over the deaths of Syrian government forces -- from a US airstrike -- and that it was calling an emergency session of the United Nations Security Council.
Are you kidding me? Seriously?
There are two reasons why this is absurd.
The first is that Syrian government forces are actually the cause of over 94 percent of deaths in Syria. Where does ISIS sit? 1.3 percent of deaths. This is according to the well-respected Syrian Network of Human Rights.
Furthermore, since the Russian intervention (really, could things get worse?) 12, 366 barrel bombs have been dropped indiscriminately on rebel held areas.
I've written about this before. But let me remind you why barrel bombs are the equivalent of hell on earth: made of scrap metal and high explosives, they are rolled out of regime helicopters onto hospitals, homes and schools since the UN banned them. These aerial attacks are the biggest killer of civilians.
The image of five year old Syrian boy, Omran Daqneesh, who was the victim of a barrel bomb, ignited a new wave of anger last month. Sitting startled and not even crying, this picture is horrific because it symbolises the new normal.
Is that new normal ok with you?
These crimes ladies and gentlemen are committed by the Assad regime - that's right, the Syrian forces. The same forces that were hit accidentally by a US airstrike. How are they even different to ISIS? They are more than 90% effective in killing their targets.
The second reason why Russia's anger is completely misplaced is the insane hypocrisy it is bringing to the Security Council. Russia has used its veto powers four times in the UNSC to protect Assad.
This includes a resolution calling for the crisis in Syria to be referred to the international criminal court - ignoring support for the measure by 65 other countries and all other members of the security council (bar China).
This includes vetoing a resolution in 2012 which was a plan proposed by the Arab League to stop the violence. The US representative to the Security Council, Samantha Power said that her delegation was "disgusted" that the text had been blocked and explained that the Council had been held hostage for months while the same two members (Russia and China) had held fast to "empty arguments and individual interests", trying to "strip bare" any measure that would call on the Syrian regime to change its tactics.  "Wrecking amendments" proposed at the last hour to delay action further were reprehensible, she said, especially because they had come as the Assad regime was ratcheting up its "horrific campaign" in Homs.
It was this campaign that had led to the death of renowned journalist Marie Colvin who was basically hunted down and targeted by the Syrian regime for reporting on the unrelenting military aerial campaign in Homs.
You're angry and want to bring the matter to the UNSC?
What a joke. Maybe if you hadn't vetoed four UNSC resolutions to try and keep Syrian civilians alive it might be a legitimate ask.
But quite frankly, you're in the same pot as Assad. And there are almost half a million dead Syrians that you've played a huge part in ensuring their slaughter.
REAL LIFE. REAL NEWS. REAL VOICES.
Help us tell more of the stories that matter from voices that too often remain unheard.