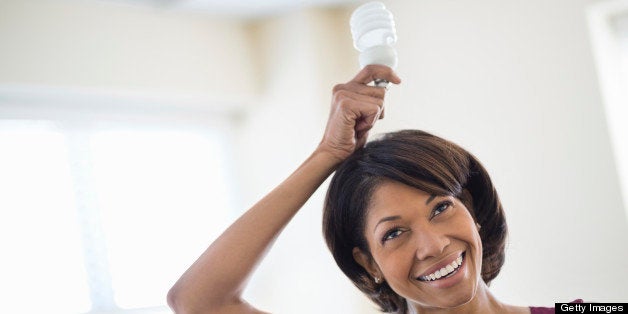 Most children grow up aspiring to become doctors, lawyers, police officers, firefighters or nurses. Parents stress the value of getting a good education to grab hold of the American dream. It's wise advice. I got a good education and was offered great job opportunities.
But what happens when you find yourself doing everything you were told to do and achieving the American Dream only to discover that what you're doing doesn't challenge, excite or fulfill you in the ways you expected? Millions of people in the workforce feel this way today.
Job dissatisfaction runs rampant. We're staying put not because we love our jobs but because we need the health benefits and seniority perks we get: more vacation and more clout. But too many of us find ourselves a in race toward a paradise of professional challenge and satisfaction, only to discover that we feel torn, unhappy, dissatisfied, or depressed after we've won the race.
Before 2012, that's where I was. My burning desire was to help people and make a difference -- two goals I'd been squelching for years.
I had what most people would consider a "great life". With a job at one of the top investment banks in the financial services industry, my own place, a car, and frequent travel, I was the poster girl for success and the envy of many. It wasn't nearly enough.
At the close of every business day I felt dissatisfied and apathetic about what I'd accomplished. My true purpose in life wasn't being expressed. I became aggressive and short-tempered because I was desperately unhappy. I inhaled comfort foods and drank alcohol to excess in a hopeless effort to outlast or outrun the pain I was feeling day in and day out.
Cruelly aware that I required more from life than this, I developed an exit plan. I saved, enrolled in nutrition school, and invited the universe to determine my exit date.
The day I decided to follow my heart's desire marked the beginning of my journey as an entrepreneur. Deciding to steer my own ship is one of the best decisions I've made, even though I was completely aware of the many risks that lay ahead.
Of course I fretted mightily beforehand. I worried, "What will my parents/peers/friends think?" "I'll have to make drastic changes in my lifestyle. Am I making the right decision?"
Deciding to take the bull by the horns was one of the most frightening things I'd ever done -- but I mustered the guts to leave my career behind because I knew if I didn't, my mind, spirit and body would end up in ruin.
Two months after I resigned from corporate America, I founded Unhealthy No More, Inc. Here, I coach women and work with families so they can live happier, healthier lives by making nutrition and lifestyle changes. I help my clients get out of their own way and develop a plan of action so they develop the confidence to pursue their goals.
My clientele ranges from women in corporate America, to women entrepreneurs, to stay-at-home moms, children and families all wanting to take charge of their health. I offer tailored coaching, not one-size fits all programs.
Starting my own business has it challenges: wearing many hats, feeling alone, longer hours, fear of the unknown--the list goes on. Some days are definitely easier than others. But I keep my eye on the vision: I want to touch and impact lives in ways that help my clients experience the "Yes!" in life. And of course being surrounded by other intrepid women entrepreneurs -- and the love, support and encouragement I receive from them -- makes the journey worthwhile (and endurable).
You're exchanging a day of your life every day for what you're doing right now. Is it worth it?
If you're reeling pretty much non-stop -- in a state of emotional conflict and exhaustion because of the work you're doing -- it's time for you, too, to develop an exit strategy.
If what you're doing to make a living no longer feels right to you, I encourage you to get some guts and make the decision to go after what you want.
If a desire won't let you go, it's your cue to develop a new destiny. Believe in it.
Want to feel alive again? Then hire yourself. Go for the golden opportunity you seek. In this global village, when you have a persistent passion and a product, service, or a cause that can bless the world, you'll find clients and customers. You just have to believe enough in your own power to receive what you want.
Givers gain. What do you want to do for the world?
Vanessa Cunningham is a health & lifestyle coach and dynamic speaker based in New York City. She coaches women and children in how to move from "I can't" to a place of enthusiastic action so they can become healthier, more confident and able to take charge of their health and wellness. Trained in over 100 dietary theories, Vanessa creates customized plans for all her clients that are fun, sustainable and empower them to meet their goals. Follow her on Twitter and find her on Facebook or visit her at her website.
Check out her latest free video series: "How to Have Long-lasting Weight Loss Success" here.
Related
Popular in the Community