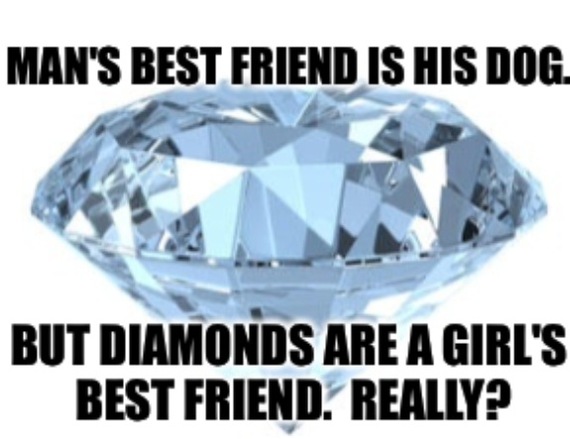 Myself: 17 percent
Together: 25 percent
I gave guidelines: 11 percent
I gave direct hints: 13 percent
He surprised me: 34 percent
What are these statistics for? These are the results of a survey given by The BAA (Bridal Association of America) to recently married females. The question: "Who picked out your engagement ring?"
I am focusing on the bottom 34 percent. This is NOT directed at couples who decide together to get engaged and then opt to go together to get the woman a ring. Nope. I am thinking about that hopeful guy who has gathered up all his courage after a thoughtful shopping trip and then goes the extra mile to propose marriage inside a fortune cookie or on a Jumbotron at a basketball game.
This is also the result of a conversation I overheard today in a Starbucks. (Warning: Yes, I AM on the loose, eavesdropping in public places, for ideas to write about for Huffington Post!)
Bride-to-Be: Just look at this pathetic ring.
Friend: I can't. I left my magnifying glass at home.
Bride-to-Be: OMG -- How can I ever put this on Instagram? Doesn't he know he's supposed to spend at least three months of his salary?
Friend: Maybe he thought that was after taxes?
Bride-to-Be: Can I say "yes" to his proposal of marriage, but "no" to this ring?
I cannot ignore this poor bride-to-be (and others like her) in her time of need. But first a guide to preventing this in the first place.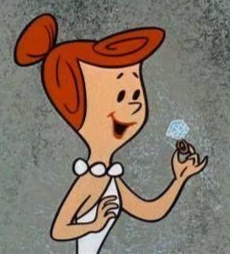 Who remembers this episode? "Only a real diamond will cut a glass window!"
How to Get the Ring You Deserve and Still Be Surprised
Drop hints with food: 1. When you order fish in a restaurant, bypass the shrimp on the menu by looking coy (not Koi!) and exclaiming, "I think size really does matter, don't you?" (Expect this conversation to carry over into the bedroom that night) 2. Consistently munch on two or three whole carrots whenever you're in his presence. 3. Keep digging through boxes of Crackerjacks, remarking that you can't wait for the "prize."
Sesame Street Is Brought to You By The Letter C: Tell him how important you think the 4 Cs are (and not caviar, cars, children, and chutney!)
Marilyn: Dye your hair platinum and sing verses like, "A kiss on the hand may be quite continental! A kiss may be grand but it won't pay the rental."
Names: Tell him your parents almost named you Tiffany. And that he looks like a Harry Winston.
Movies, Television and Music: 1. Keep renting the James Bond film, Diamonds Are Forever. 2. Rewind the Cave of Wonders scene in Aladdin where Jafar calls him a "diamond in the rough." 3. Cheer and applaud every time Charlie Brown mutters, "I got a rock." 4. Sing anything by Neil Diamond (except "You Don't Bring Me Flowers Anymore" which will cause him to pull roses from a neighbor's garden.
Symbolic: Explain that you believe the size and quality of a diamond represents the depth and strength of your commitment, not to mention that it will be interpreted as a measure of his success in other people's eyes. Does he really think it's a coincidence that "ring" rhymes with "bling?"
Fidelity: The larger the diamond, the more visual a "stay away" sign sent to other men. And the larger a reminder for you not to flirt -- otherwise you might forget and he wouldn't want that.
Aging: Don't hesitate to add that if it's too small, you will be forever squinting to see it -- and that will cause wrinkles.
Cubic Zirconia: Tell him how romantic it would be for him to propose with a "placeholder" ring. And then once you say "yes" you can go shop together for the real diamond ring. Awwww.
Sports: Take a sudden interest in baseball diamonds and boxing rings.
Telephone: Instead of telling him to call you later, ask him to "give you a ring." Also most phones have an emoticon shaped like a diamond or a ring. Use it in your texts to him often, but first increase the font size.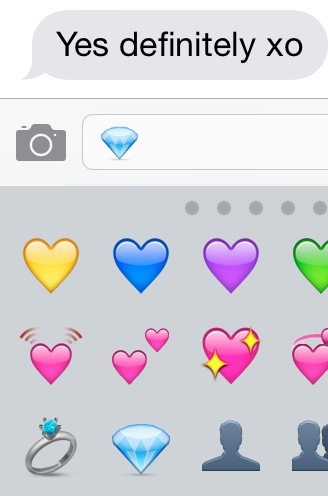 The size of this diamond emoticon simply will NOT do!
If None of This Works And You Still Don't Get The Ring You Want . . .
1. Get a pink satin jacket, bob your hair and wear the ring on a chain around your neck, claiming you're a product of the 1950s.
2. Tell him you're highly allergic and break out in a rash with any diamond under a full two carats.
3. Explain that the ring didn't fit, but when you took it in to be resized, the jeweler dropped it down into a floor heater grate.
4. First make sure he's not an I Love Lucy fan. Next, tell him the ring slipped off your finger and fell into a bucket of mortar. And now it's somewhere inside a brick BBQ that you were building with your friend Ethel.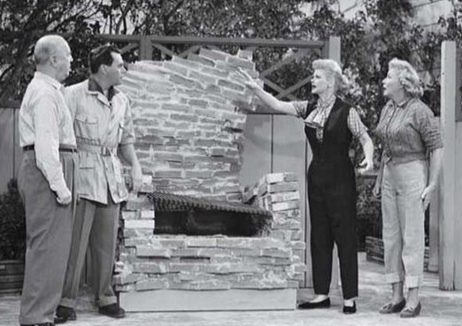 Even Lucy didn't care about the size of her diamond. She went through all of this just to find her ring for purely sentimental reasons.
5. Tell him you are superstitious and if a woman permits another woman to try on her engagement ring, the other woman will steal the heart of her betrothed. Whom did you let try on your ring? Your mother.
6. You take your Beatles very seriously and while listening to "Lucy in the Sky With Diamonds," your ring flew away, attached to a kite.
7. There's a Tooth Fairy, so why not this? Place the ring under your pillow at night with a note that says, "Facebook-worthy, please."
OR... just do him a huge favor and try the honest approach. Say this: "I want a large diamond to compensate for the fact that I have a very small heart. If you can't understand why this issue would be so important, maybe you should find a girl that doesn't care about such things."
He will get down on one bended knee to thank you.
Popular in the Community