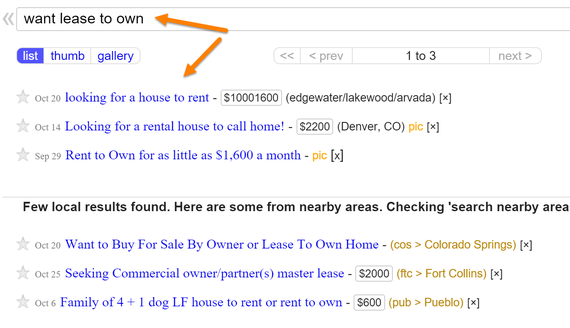 The image is of the Craigslist search results for a search in the Real Estate Wanted category on the phrase "want lease to own." Some of these are likely investors, but others are individuals who want to ultimately own a home, but for various reasons they need to lease it right now.
There are other ways you can locate opportunities for lease to-own-homes, from the classifieds to Web searches and even on the social sites. Are you in a situation that keeps you from buying right now, but you are stable in the area and wanting to own at some point?
Saving up for a down payment.
Repairing credit history.
Expecting higher income in the future, want a larger home than you can buy now.
There could be other reasons unique to you, but the point is that you want to own a home in your local area, but you're not ready to pull the trigger on a mortgage right now. For many people, they are fine with paying a little over market rent for the right home if they can get the option to buy it after a specified period of time. The idea is to get a feeling of permanence, not feel like a renter.
Another advantage is that you can begin to do minor modifications and renovations if you want in order to make this your home. Of course, you aren't going to take these improvements with you if you leave, so don't get carried away unless you're really sure you are going to exercise your purchase option.
Sometimes you can make an agreement with the current owner for certain improvements the property needs and that will improve its value as well. There can be a rent tradeoff, so you aren't footing the entire cost. The owner's motivation to agree is that the home will be worth more if you're taking good care of it and making value-enhancing improvements. So, if you leave without exercising your purchase option, they have a property worth more in the market.
So, how does lease-purchase (rent-to-own) work?
A homeowner wants to sell, but for some reason can't at the time. Perhaps they just need to move in a hurry for a job, and they can't afford to keep the home and rent in their new area both. Renting it out is a temporary solution, but they still have to sell it when they can. And, they worry about the condition of the home with tenants in it and them living far away and unable to check the home from time to time.
Whatever the reason, there are owners out there who would be willing to rent you their home with an option to buy. Let's be clear that it is an "option," not a requirement. You do not have to buy it. The lease could for example be structured for three years at a set amount for rent that will cover the mortgage and escrows for taxes and insurance. It will state a price at which you can buy the home on or before the expiration of the lease.
The agreed upon price can be a hard number, or it can be the value from an appraisal company that is independent and acceptable to both of you. If you expect home values to rise, setting the price at the current value is best for you, the tenant-buyer. The amount of the rent is negotiable, and it can be more than the mortgage and escrow, and can even include a monthly amount to go toward the down payment.
This is a simplified example, so you'll want to do your research and get an attorney to review the lease-purchase agreement. You can move into your new home today and buy it later.
REAL LIFE. REAL NEWS. REAL VOICES.
Help us tell more of the stories that matter from voices that too often remain unheard.