Those who were forced to read the Iliad and Odyssey in high school often wondered how Homer's epic poetry could have any relevance to their lives. And yet, during the past year and a half, Bay area theatregoers have been treated to a series of new works inspired by Greek mythology and great works from classic Greek theatre.
As part of its Matchbox series for plays in development, Crowded Fire presented Elena McKernan's fascinating adaptation of Lysistrata as a piece of total immersion theatre. In The Lysistrata Project , the audience was divided into three groups and taken on a tour of a Berkeley home in which women in different rooms were seen exploring early concepts of feminist politics against a backdrop of the McCarthy era.
Boxcar Theatre's 35-minute reworking of Ion (a play believed to have been written by Euripides between 412-414 B.C.) was performed on a windy slope in Dolores Park. The performance became an exercise in storytelling for three actors who, by taking over a prop or shred of cloth from another performer, would step in and out of their roles as if participating in a game of theatrical round robin.
Cutting Ball Theatre had a resounding success with Marcus Gardley's ...and Jesus Moonwalks The Mississippi, in which the myth of Demeter and Persephone was transformed into a piece of epic theatre set in and around a plantation in Proctorville, Louisiana following the siege of Vickburg, Mississippi in 1863.
The Magic Theatre's triumphant production of Oedipus El Rey had its run extended several times. Luis Alfaro's brilliant updating of Oedipus Rex (written by Sophocles and first performed in 429 B.C.) was set in a California State Prison with a heavily Chicano population guilty of committing urban crimes in Los Angeles. In lieu of a traditional Greek chorus, Alfaro's adaptation used the "Coro" tradition from Chicano culture.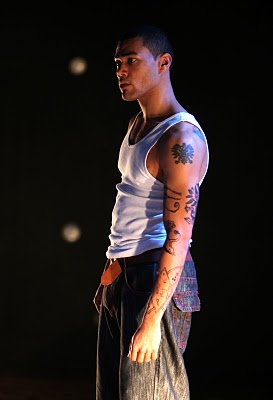 Joshua Torrez as Oedipus El Rey (Photo by: Jennifer Reiley)
This summer, Bay area audiences had a rare opportunity to see fully-staged adaptations of both the Iliad and Odyssey in productions that varied drastically in size and style. Director/writer Jon Tracy is a theatrical wunderkind who, in addition to his work with Shotgun Players, is director of artistic development at SFPlayhouse. According to his bio "Jon Tracy is an unsubstantiated myth. He dreams big raconteur-like things and sings small raconteur-like dreams. He keeps meeting happiness for coffee and the coffee is good."
Last year, Tracy wrote and directed The Farm, a hugely successful adaptation of George Orwell's allegorical novel, Animal Farm. In August, he returned to John Hinkel Park with a new adaptation of Homer's Iliad entitled In The Wound. Once again, with minimal funding, Shotgun Players accomplished what many larger theatre companies could only dream about: creating a vibrant new piece of theatre that is relevant, accessible, and consistently thrilling.
In The Wound has 30 athletic actors constantly on the run performing what, at times, looks like a Greek version of color war. Tracy has updated the action from ancient Greece to August of 1944, labeling the Grecian Task Force's invasion of Troy as Operation Tyndareus. Although his soldiers first appear with bright red and blue plumage in their helmets, by the end of Act I, many are on crutches or limping across the stage with the help of aluminum walkers.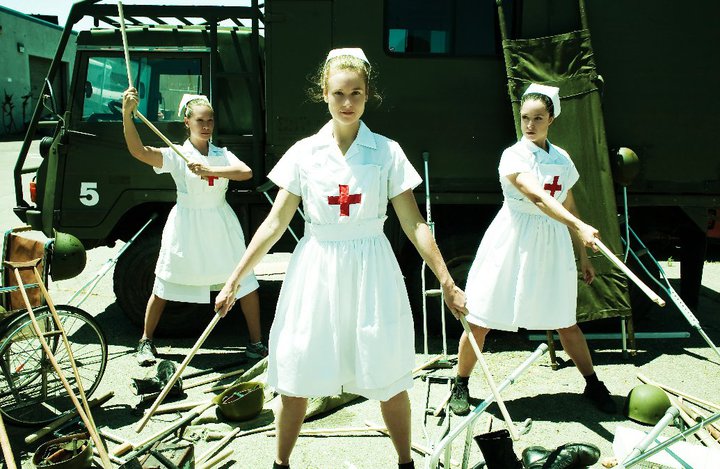 In The Wound's three goddesses: Charisse Loriaux, Elena Wright,
and Emily Rosenthal (Photo by: Jessica Palopoli)
Whether Tracy's nurses/goddesses are pounding out rhythms on war drums or taking turns galloping across the stage disguised as a stag (seeing is believing), his imagination is so rich -- and so clearly articulated -- that he manages to make Homer's epic understandable to a modern audience that, like the ancient Greeks, has grown tired of constantly being at war. Tracy's wry, sarcastic writing also contains some golden comic moments:
"The other day I had lunch with the head of Medusa." "Oh yeah? How'd that turn out for you?"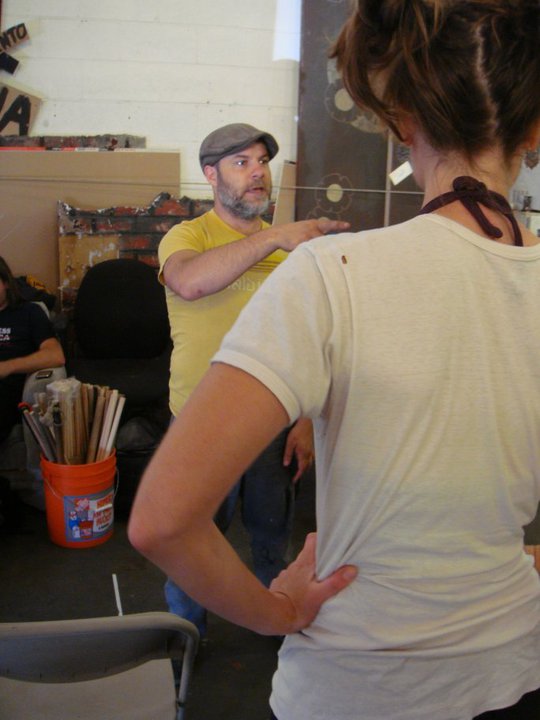 Jon Tracy rehearsing In The Wound (Photo by: Torbin Bullock)

Tracy has taken care to explain how the Trojan War resulted from the oath of Tyndareus -- a plan concocted by Odysseus, who describes himself as a "social mathematician" (the Greeks had all vowed to uphold the oath of Tyndareus, in which they swore to support Helen's choice of a husband and unite against anyone who tried to steal her away). Unfortunately, they had never considered the possibility that Troy's most rowdy lover, Paris, would abduct Helen from her elderly husband, Menelaus.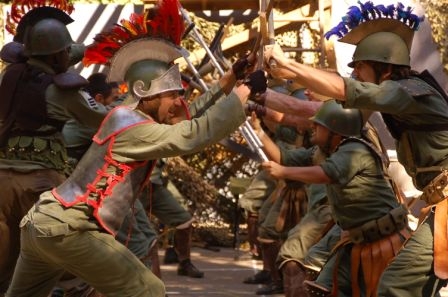 A scene from the Shotgun Players' production of
The Salt Plays: Part I - In The Wound (Photo by: Benjamin Privitt)
Family ties and sacred oaths being what they are, Agamemnon (brother of Menelaus) is quickly drawn into battle. Not even the sacrifice of his daughter, Iphigenia -- who was, for a very brief time, the wife of Greek's greatest warrior, Achilles -- can save him from years of war-torn misery.
Nina Ball's unit set features three towers (which hide musicians beneath camouflage netting) and a series of wagons that help with transitions while masking entrances and exits. Christine Crook's costumes range from simple Army fatigues to three amazing costumes for Athena, Hera, and Aphrodite that incorporate angel's wings made from the crutches of dead warriors. Brendan West's original score includes music for the waterphone, harmonium, and wind chime. I'm pretty sure I saw one Greek soldier playing a harmonica as well.
Tracy (who could easily become his generation's equivalent of Peter Sellars) has created a rollicking, walloping piece of epic theatre about the evil and stupidity of war. In addition to its literary and dramatic value (you've never seen paper planes make such a powerful anti-war statement), In The Wound is an impressive achievement in traffic control.
Down in Palo Alto, the Stanford Summer Theatre presented The Wanderings of Odysseus using Oliver Taplin's translation. The tiny Nitery Theatre was used as a black box arena for relating one of the greatest stories of all time. As director Rush Rehm explains:
Homer creates a world of memorable characters, archetypal conflicts, flights of imagination, and gritty details that never lose sight of human corporality and mortality. With over 60% of the narration in direct speech, the Iliad and Odyssey ask for performance, with actors moving between enactment and narration. Arising from an oral tradition, the greatest of these stories took shape some 2,700 years ago, eventually finding the form we know as Homeric epic. Once written down, the Iliad, Odyssey, and other stories now lost -- The Sack of Troy, the Little Iliad, various nostoi ("homecomings") -- became the performance texts for rhapsodes. These protocol-actors competed at festivals in Athens and throughout the Greek world.

In 1992, the Getty Museum and the Mark Taper Forum commissioned Oliver Taplin to translate the stories of Odysseus's journey home to Ithaca. With five actors and a musician, I developed a four-hour piece, The Wanderings of Odysseus, which played for a month in the inner courtyard of the Getty Museum in Malibu. I have compacted and intensified Oliver's original script, working with a group of eight actors, a percussionist, and a choreographer."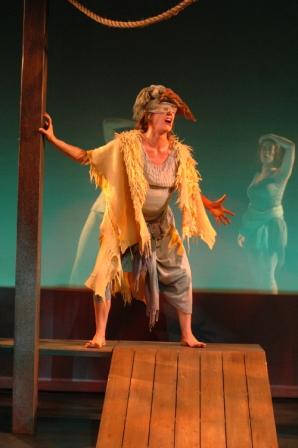 Courtney Walsh as the blinded Cyclops in
The Wanderings of Odysseus (Photo by: Stefanie Okuda)
Rehm's intense two-act staging required the eight members of his ensemble to take on multiple roles. Four actors (Paul Baird, L. Peter Callender, Luke Taylor, and Alex Ubokudom) portrayed Odysseus as he aged over the course of the story.
Baird also appeared as Hermes (the messenger of the Gods) and Elpenor (the member of Odysseus's crew who fell to his death prematurely after a night of heavy drinking).
Callender impersonated two gods: Zeus and Poseidon (ruler of the sea).
Taylor appeared as Hephaestus (Aphrodite's husband) and Eurylochus (who warns Odysseus about Circe's power to turn men into pigs).
Ubokudom portrayed Alcinous (the ruler of the Phaeacians) and the great warrior, Achilles.
Ariel Mazel-Gee delivered moving portraits of Nausicaa, Polites, and the blind prophet, Teiresias.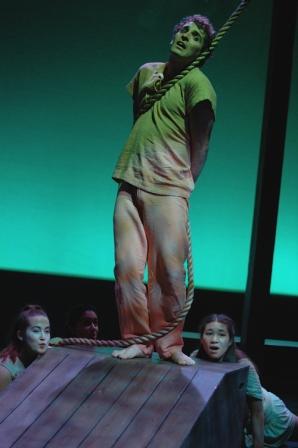 Polites (Ariel Mazel-Gee) tries to resist the sirens in
The Wanderings of Odysseus (Photo by: Stefanie Okuda)
Of the three women in the cast, Courtney Walsh stood out for her portrayals of Calypso, Arete, and Polyphemus the Cyclops (Poseidon's son) while Bronwyn Reed portrayed Athena, Aphrodite, and Circe. The unexpected star of the evening proved to be percussionist Taylor Alan Brady, whose improvisations added a solid foundation of music, magic, and rhythm to the production.
What lies ahead for Bay area theatregoers during the fall season?
Related
Popular in the Community