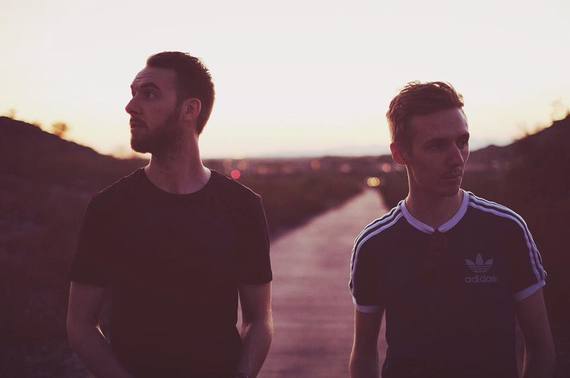 Andy Clutterbuck and James Hatcher are the modern-day Beatles. The British electronic soul duo formed HONNE back in 2014 and have been capturing the hearts of fans ever since. It is no surprise why music critics love these guys. When I had the opportunity to sit down and chat with the rising stars, they were incredibly charming and entertaining. With the success of their debut album, Warm On A Cold Night, the future is looking brighter than ever. It should be noted that life wasn't always rosy for the two men. When they first broke into the industry, they faced an uphill battle.
When I asked HONNE how they met, they had a hilarious story to share with their fans. Andy Clutterbuck said, "We met around six or seven years ago at university. We were the first people that met each other in college. We didn't know anyone. We were staying in a YMCA." James Hatcher followed up by saying, "Our university didn't have halls. There was a YMCA next to the university. The university staff told the students that they should just live in the YMCA. It was a YMCA filled with students. It was quite interesting." Clutterbuck laughed, "It wasn't the greatest." Hatcher nodded his head. "Things would get stolen. For example, stuff would happen where mattresses would wind up being incinerated," he told me. Despite beds being burned to the ground, the guys were able to push forward and create the dynamic duo. Andy Clutterbuck grinned, "We met at a dinner one time. Skipping forward four years, we were working together all the time. We would write music together. It was just a case of figuring out how to do stuff. About two years ago we officially started HONNE." After forming HONNE, the guys needed to figure out a way to develop a following.
James Hatcher went into detail about the challenges they faced while they scratched and clawed their way to the top. He told me, "Our very first HONNE gig, oh boy. Before we first started HONNE, we did other projects and worked with various musicians. We've done a lot of shit gigs where nobody turned up. We were like, 'Ugh. Nobody gets anything from this.' People who come there think you are shit because no one is there and you think you are shit because no one is there. The next thing we did is that we sat down and said to ourselves, 'We are not going to do a gig until we are able to sell tickets to fill up a small venue with people who actually want to see us play.' We put out our first track called, 'Warm on a Cold Night', and it sort of took off, to our amazement. We were just hoping to get a little bit of blog coverage and it went very quickly to the top. It got 100,000 plays in a week." Andy Clutterbuck followed up by saying, "There was one place where I could get the tiniest bit of a signal. I was brushing my teeth. I refreshed the page and it had gone up to thousands of listens. Hatcher smiled, "It was really strange. It was the first time that we were doing something where people were actively choosing to listen to it." Clutterbuck was in agreement. "It was an incredible feeling," he said. Victoriously, Hatcher stated, "About four months later we put on a gig where it sold-out and it was such a great feeling." After putting the song "Warm on a Cold Night" out there for the entire world to enjoy, the guys then focused on creating an amazing album.
Andy Clutterbuck explained what kind of work it took to put their debut album together. He told me, "It was a hard thing to do actually. In the two years we had while we were writing we had between 30 to 40 songs. The hardest part was trimming it down to the final 12 that were put on there." James Hatcher agreed. He said, "It was really hard. You want to put the tracks on there that have helped define you and get you moving but you also need to put enough new tracks on there otherwise it's all the old stuff. It was a balancing act of putting five old tracks on it while combining it with the new stuff." Clutterbuck chimed in. "It was an incredible feeling being able to put out a whole body of work that was two years in the making. Now it's nice where we can play our shows and have people know our songs," he told me. Hatcher followed up in agreement. "Even when you put an album out, people then ask why a specific song isn't on there. That's what we are really looking forward to now. We now have a clean slate to write music for a new album. We have a year to write new music that nobody will hear until we put it out there," he said.
When HONNE played at Warsaw in Brooklyn on October 5th, the entire crowd was entranced by their incredible performance. They weren't the only ones who loved HONNE's distinct sound. James Hatcher broke out into laughter. "We found out our album has gone gold in South Korea. We didn't do any promotion over there apart from one interview. We have worked hard everywhere else. It's very strange," he chuckled. Andy Clutterbuck jumped in and said, "It's great though." Make no mistake about it, HONNE is taking over the world.
When I asked the guys why their music connects with so many people, Andy Clutterbuck told me, "We choose to write lyrics from personal experiences. Something that has either happened to me or to James or people around us. Sometimes there would be a slightly awkward situation where you've written a song about your mate." James Hatcher had to agree. He said while shaking his head, "You would have to sit your friend down and go, 'The more I play this, the more it is about you. Sorry old pal.'" Clutterbuck explained why they wrote songs that were personal to them. He said, "It's much more fun for us that way. When you get up on stage and start singing a song about something you relate to. I think people can tell if you are singing it from the heart." Hatcher jumped in by saying, "People can pick up on the fact if an artist is writing it for the sake of putting out a cliché pop song." What wasn't cliche was how HONNE's music video for "Someone That Loves You" came together.
Clutterbuck sighed, "It was shot in Japan--however we weren't over there." Hatcher then said, "We were in the video, but in a dodgy club in south London somewhere. It looked amazing and fit the aesthetic." Clutterbuck followed up by saying, "We really tried to get to Japan but we didn't get to go over there because we were playing a gig. We are really, really picky with everything. The creative people know they are in for a bit of a tough time with us because we are so particular. With this one, we automatically knew this was something we wanted to do. We were flabbergasted with how it all came together. It was so cool. With the blossom falling and the shape of the branches." HONNE proceeded to laugh together in unison. You could tell that the guys were loving life. They were open to talking about all subjects--including their own love lives.
Many fans have said that HONNE's songs are a soundtrack to their own love lives--falling into and out of love, hitting major milestones in a relationship, or even just the initial stages of the dating game. When I asked them what advice they would give to people who are looking for romance in today's world, James Hatcher laughed, "Get on Tinder or Grindr or whatever you need to do to get it done. That's what I did. I went on Tinder and met my girlfriend about two years ago." After we all shared a laugh, he continued, "But seriously. I would tell them--try to get off the phones after that and try to see what's in front of you. There's loads of people out there if you just keep your eyes open. Be open, keep your head up and stop looking at your phone. What if you sat next to someone on a train for example and had a chat? That's how you meet people and possibly get a romance going on. People must be missing that all the time." Andy Clutterbuck agreed, "Don't spend too much time communicating via the internet. Spending countless hours scrolling on Facebook. Just be real in the moment." Clutterbuck then put it all together in a pretty bow by saying, "I think our songs are a lot about relationships. We would write them from both sides of the story. I would have my verse and then I would write something of how it would be like from the other side of the story."
When I asked HONNE what fans can expect from them in the future, James Hatcher said, "We would love to collaborate with more people. Guy or girl singers. When you get in the room with other people's ideas you make magical things happen." Andy Clutterbuck hinted that new music was on the way. He told me, "It's going to be nice with the new album as we are making it to experiment a bit more. As James said earlier on, we were writing songs on an individual basis. And now, we can write an entire body of work. We can really figure out what would be best for the album."
Calling all HuffPost superfans!
Sign up for membership to become a founding member and help shape HuffPost's next chapter