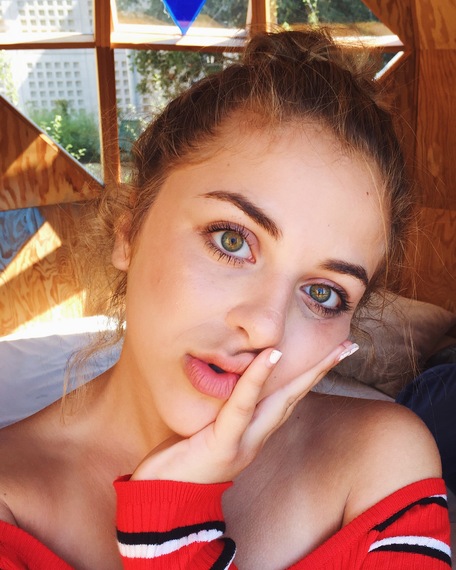 Social media apps are absolutely life-changing. They can be used for fun, business, or even a career path.
People around the world are gaining notoriety for all sorts of digital content they share online. From YouTube videos and Instagram photos to Vine, Snapchat and Musical.ly clips, you don't need to just be a singer or an actor to break out into entertainment.
For nearly a half a decade, The Streamys have shined a light on the digital community, honoring the best in online video and the creators behind it with the annual Streamy Awards held in Los Angeles. The 6th annual show will take place this Tuesday, October 6th at the Beverly Hilton in Beverly Hills, and Celeb Secrets had the opportunity to catch up with nominee Baby Ariel this week to talk about her nomination, being the most followed user on Musical.ly (she has over 13 million followers), and using her voice to communicate a positive anti-bullying message to her audience. To read the full Q&A, click here to read it.
Baby Ariel is nominated for Entertainer of the Year. Fans can cast their vote at streamys.org/vote and/or on Twitter by including the Baby Ariel's name, any form of the word "vote" (ex: vote, voting, voted) AND #streamys in their Tweets. Fans can vote up to 100 times per day on both streamys.org and Twitter.
Check out our profile with Baby Ariel  to learn more about her below and make sure to tune in to the 6th Annual Streamy Awards live on Tuesday, October 6th on YouTube!
FULL NAME: Ariel Rebecca Martin
DATE OF BIRTH: November 22, 2000
MOST FAMOUS FOR: Her musical.ly channel, where she lip syncs her favorite song at the moment for a few seconds. She currently has 13 million followers on the app.
HOW SHE GOT STARTED ON MUSICAL.LY: "I started on Musical.ly a little over a year ago. I just went on the app just to have fun my friends and we started making lip synching videos and I actually incorporated a hand motion and also using different facial expressions. And one day I got featured on the app, which means everybody who has the app sees my video. And when that happened I guess they liked the kind of videos I did so I started gaining followers on Musical.ly, which transferred over to Instagram, and I made a YouTube channel where I began to post weekly videos. And then from there I started connecting with my supporters more and talking to them more, making more videos, better content, musical.lys every day even while I was traveling and everything."
WHAT SHE'D BE DOING IF SHE WEREN'T A 'MUSER': "I actually wanted to be a lawyer! I'm really happy I found social media because I thought about being a lawyer but also tried gymnastics. I didn't love it so I thought maybe I could try dance too? But I really didn't know what my thing was. I felt like all of my friends had their thing. Some of them were really passionate about gymnastics and dance. And when I discovered social media I thought it was super fun and I loved it. I love making people happy and so I realized that was my thing."
DREAM COLLAB: "Miranda Sings and Justin Bieber. Either one is fine with me!"
IDEAL DATE: "I really love traveling a lot so maybe do a road trip somewhere. I know that's a really big first date because usually on first dates people go to dinner. I would love to be taken on a road trip to somewhere I have never been before."
BIGGEST FEAR: "I am terrified of lizards and tornados! Because I once had a dream that a tornado came and that my whole house got destroyed. Also probably just get kidnapped or losing my family. That always freaks me out."
BIGGEST SECRET: "I guess probably because I've been doing lip syncing on musical.ly people think that's all I can do. But I have actually been working on my singing voice and I think I am getting pretty good at it! People wouldn't expect that from me as I got followers from a lip syncing app but I am working on it! So we'll see what happens..."
HARDEST PART ABOUT BEING A 'MUSER': "I think looking for new ways to improve my content on YouTube and Musical.ly. That's the hardest part. It's also a lot of fun but sitting there and thinking of new ideas and brainstorming, sometimes I will sit there for hours thinking what is the next thing that I can do? What's a new type of video I can make? Just so I can show my supporters something new for them to have fun."
This post, written by Juliet Schroder and Diana Espir, originally appears on Celeb Secrets and can be viewed here. Ariel is partnered with Collab (www.collabcreators.com), the leading digital influencer network for multi-platform talent. Photo courtesy of Collab. Additional reporting from Diana Espir.
Calling all HuffPost superfans!
Sign up for membership to become a founding member and help shape HuffPost's next chapter