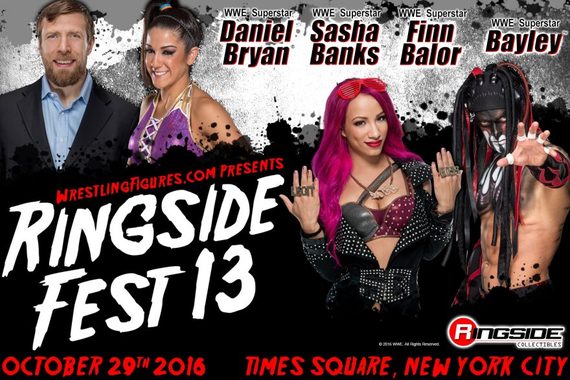 Forget Halloween. Christmas has come early for professional wrestling fans. The thirteenth annual Ringside Fest is coming to New York City on October 29th. Some of the biggest superstars from World Wrestling Entertainment are set to take pictures and sign autographs for fans who attend the event. This year's lineup includes the first ever WWE Universal Champion Finn Balor, the current and defending RAW Woman's Champion Sasha Banks, the huggable Bayley and Smackdown General Manager Daniel Bryan. Meet Jonathan Piontkowski, the man who put this extraordinary spectacle together. In an exclusive interview with the Huffington Post, Piontkowski told me the history of his annual event. He said, "Basically my company is Ringside Collectibles. We are the number one online retailer for wrestling action figures. In 2004, we decided to put on an event where the collector community can gather. We put on the event as a way to meet our fans and give our fans the chance to meet the superstars from the WWE. We also bring in the toy manufacturing company Mattel, who has the latest action figures that are coming out next year. Overall, it's a big gathering of wrestling figure collectors and wrestling fans." I followed up by asking Piontkowski how he got involved in the wrestling action figure business. He told me with a gigantic laugh, "When I was 12 years old I was on the AOL wrestling figure message boards doing a lot of buying and selling. I've always been a lifelong wrestling fan and it's been a big passion and hobby that grew into a business over time." When I asked Jonathan about what excited him in a WWE ring these days, he said without missing a beat, "I'm happy to see that Goldberg is back. He is one of the few big names that they can bring back from the Monday Night Wars era that are left."
Wrestling fans are some of the most passionate people on the planet. When I asked Piontkowski how he decides to book the wrestling talent that appears for Ringside Fest, he told me, "We kind of gauge the interest of our customers and our fans. We put in our request with the WWE and we try to align that with their talent availability. We do have some say in it but not total say." Fans of the WWE have been begging the company to showcase their female competitors in a more serious light for many years. In recent months, the women's revolution has been captivating the wrestling landscape on a mainstream level. Piontkowski elaborated, "The women's revolution is very popular with fans. Obviously Sasha Banks and Bayley are two of the key women who are part of it. Sasha, Bayley and Finn Balor have been on the main roster for a short period of time but have made a deep connection with the fans. I think it is a testament to their characters and their wrestling ability along with Vince McMahon's marketing genius." Piontkowski then explained how Finn Balor helped his business. "Finn Balor has been great, especially for our primary business which is wrestling action figures. His attire is so unique, so over-the-top and so cool looking that it has really connected with our customers just in terms of a consumer product level. His products have been flying off of the shelves which showed us his connection with the fans," he told me. He followed up by saying, "The detail of the action figures these days is insane. Now it's all done on computers. With all the scanning and the digital sculpting. It's so crazy."
Being someone who used to play with dozens of wrestling action figures growing up, I was curious to find out what Jonathan Piontkowski's favorite action figure was. With confidence, he told me, "My favorite has to be the 'WWE Classic Superstars Series 1 Ultimate Warrior' action figure." He then made the comparison to one of the superstars who is appearing at Ringside Fest this year. "Ultimate Warrior's character--you can kind of see that in somebody like Finn Balor who is over-the-top, super unique and someone that connects with the fans on that personal level," Piontkowski said. Out of all the Ringside Fests that Piontkowski has put on, there are a few that stand the test of time. Reflecting back on some of his favorite memories from putting on Ringside Fest, Piontkowski told me with great glee, "The first one we did in 2004 because The Ultimate Warrior appeared for us and he didn't do any appearances for years. We also had Sting there. It was being able to pull the entire first one off which was incredible looking back at it. A few years later we had the nWo--Scott Hall, Kevin Nash and X-Pac and that was the first time that they appeared together in a very, very long time."
When I asked what people can expect from this year's Ringside Fest, Piontkowski said, "Fans can expect to meet some of their favorite WWE superstars and see some of the newest up-and-coming WWE action figures. We also have an exclusive nWo Wolfpac Sting figure this year that will be available starting at Ringside Fest." After I told Jonathan that I still showcase my old 1993 Hasbro Marty Jannetty action figure on my desk, he grinned, "Has he gone through the barbershop window yet?"
REAL LIFE. REAL NEWS. REAL VOICES.
Help us tell more of the stories that matter from voices that too often remain unheard.